SteemNews.Online Logo Contest - Top Contenders!
It's no hype to say that the designs we received were far beyond our expectations. Within the first hours of the announcement going out last week, we already knew we had a logo far beyond what we'd hoped for.
As the votes came in, it was fun to see the comments and watch the different entries move up and down the list. Each entry was unique, which was very central to our goal. And we wanted something iconic, which was delivered as well. As you can see, each one is readily identifiable too, providing wonderful branding opportunities.
Great Diversity
With the creativity involved, we had to wrestle with different ideas. As one commenter noted about a design, it was "newsy". Of course that works.
But another entry was so unique that we had to spend some time discussing it. This wasn't because it wasn't good, but because it was great in an unexpected way.
Tough Decisions
And there was just the overall feel of the entries to consider, from polished professionalism to friendly and trustworthy. Of course, we loved @son-of-satire's quippy slogan, "Where censorship is censored." We're not convinced that it's what we want to use, but it's awesome.
When we got done discussing it, narrowing it down to a few entries was agonizing. But, as the Highlander says, there can be only one. Which design will be the banner for SNO?
Each artist stepped up to the challenge and did a great job. @rigaronib clearly had the most entries, though @krnel's entry was actually several in one post, offering us greater challenges in narrowing it down too. @cebymaster and @yadamaniart offered great work too. We want to thank you very much for your efforts.
Each of you gets 50 TRAIL as a token of appreciation for your work. Please get a hold of @instructor2121 or @joe in the SteemTrail Discord server to claim the reward for your hard work. You'll need an Open Ledger account too.
@steemvest17 and @son-of-satire's late posts were appreciated as well.
Let the Voters Decide
We decided to just make it easy on ourselves. Since @krnel had several entries in one, we just chose the one from his string we liked best. His entry(ies) got the most votes, but was hard to compare because of multiple entries in one. The others were the second and third for most votes. Ahh, the beauty of contests...
Here they all are.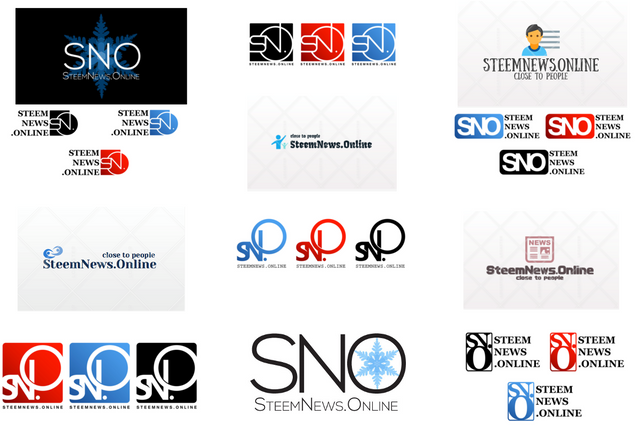 The next two came in close to the deadline, so didn't get much attention.
The other two were late, but we appreciate the artists sharing.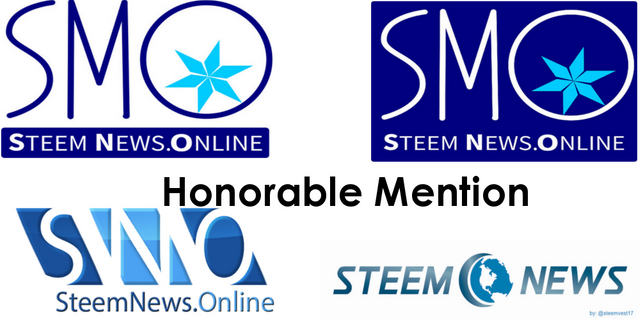 We appreciate all your hard work, and the encouragement it's been to the editors of SNO, as well as the TRAIL team.
Below you will find the top five entries listed in no particular order. We've not included the artists' names on purpose. Please don't claim them if they're yours, and don't mention the author's name if you know who they are. Let's focus on the design at this time and pick the best one according to their skill, avoiding any popularity contests.
Whichever entry receives the most votes wins 200 Steem and 500 TRAIL. The winner will be announced within a week. Please vote on your favorite. If it's one that's offered in different colors, please let us know which you prefer.
Again, thank you for your entries. And thank you to everyone who's encouraged SNO along the way.
Your editors,
Steemit News
LOGO GOES HERE!!