Who can use the most mana?
Steemmonsters continues to amaze me. When I first joined the Splinterlands 14 moons ago, this game was merely an entertaining way to pass the time. Then the team made a game changing update when they made the rules change for every battle. The game then became a brain stimulating challenge. There have been many great updates since then including new cards, new rules, new currencies and tournaments.
The most recent update involved the new edition of Untamed cards, as well as the expansion of the mana caps. This has certainly been a game changing update as now there is a seemingly endless choice of possible decks to set. I have enjoyed learning about the new cards and the new abilities they have.
My favorite part of the newest update is the 99 mana cap. I've enjoyed every battle where you can play your best monsters without worry about the mana. Obviously it would be impossible to use 99 mana, but I did manage to set a line up using 52 mana today. This is the most mana I have ever used in a single battle. A month ago I would have never thought it would be possile to set a deck using 52 mana. Here is a replay of a battle using 52 mana.
https://steemmonsters.com?p=battle&id=b7f5a99552d18ee9aee289a2f49bcdeb7bc0227c&ref=themightyvolcano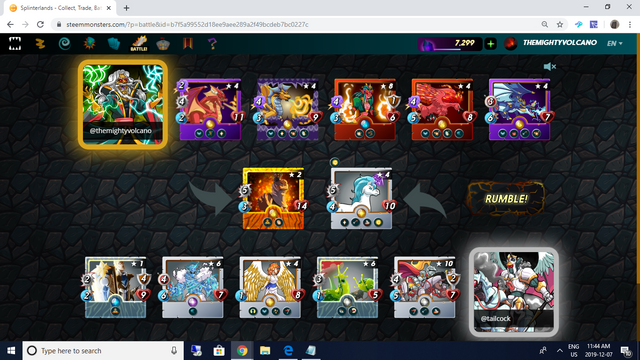 This was a good line up from @tailcock. I would like to applaud his use of the Taunt ability in the back of his line up. This is something I am sure to use in the future.
Please share your battles using the 99 mana cap in the comments. I will upvote all the replays shared.
Thanks for reading. See you on the battlefield.