Steemmonsters League of Champions Champion
I emerged victorious in today's League of Champions tournament in the Splinterlands. I held an 8-0 record entering the semi finals, where @mellofello tested me in a tough three set match. My final match against @pacolimited was another thriller that went the distance. Congratulations to both of these fierce competitors, and to all other competitors as we are all winners when we play this great game. Here is a replay of the fifth and deciding battle in the finals.
https://steemmonsters.com?p=battle&id=7d7aae4d7fb6e720cc18d3fdf4cbf230522d3579&ref=themightyvolcano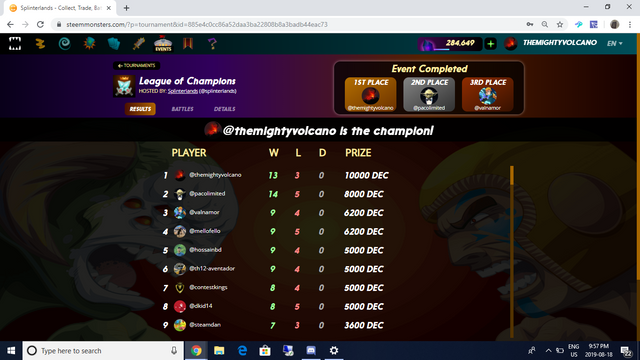 Another fun weekend of Steemmonsters tournaments is now complete. These tournaments are even more fun now with the recent addition of the double rule sets. The challenge they present is even more fun when the stakes are high. I look forward to participating in more of these great tournaments in the future.
Thanks for reading. See you on the battlefield!