NextFleet Rumble
Another great weekend of Steemmonsters tournaments has completed. These tournaments are loads of fun with some awesome prizes as well! Steemmonsters tournaments have awarded a whopping $34,974! Congratulations to all my fellow players who have taken part in these tournaments. We are all winners when we play this great game.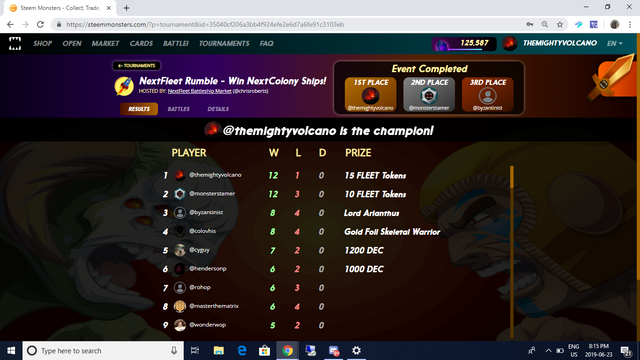 I was fortunate enough to emerge victorious in one of these tournaments this weekened. I took first place in the Nextfleet Rumble. I received 15 Fleet tokens for my win, which I have already spent on some Corvettes. These will be my first ships, so I look forward to getting out there and exploring the galaxy in between my Steemmonsters battles.
I'd like to thank @chrisroberts for hosting this fun tournament. Another great part about these Steemmonsters tournaments is that anyone can host one to promote whatever they'd like to promote. This tournament was successful in promoting NextFleet as one of my brothers has already purchased Fleet tokens after learning about it from this tournament. I don't have anything to promote, but I still intend to host a tournament one of these days just to give back to the community.
There are many more great Steemmonsters tournaments on the schedule.
Thanks for reading. See you on the battlefield.