Steem Monsters Kickstarter Countdown!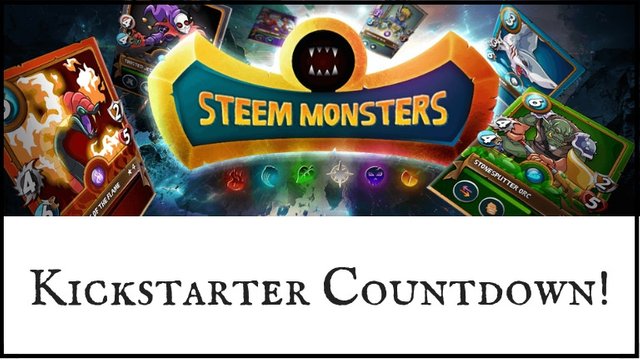 Battles are Coming!


We're about 1-2 weeks from fighting on the public server. It's already up and running on the private server. Hundreds of matches have been played.
The game is fast taking 3 min or less, it's highly addictive, and it's going to have prize pools. At the start we're looking at a minimum of $50 dailies and $1000 weekly tournaments. We'll keep that up for at least a year.
While you could feel initially disappointed that you don't get to play turn by turn just like a Hearthstone clone, and that would be understandable, you'll quickly realize you don't miss it. The games are super quick. The iteration and competition make it wicked fun. Games don't take 15-20 minutes and they are largely won by skill and just a touch of luck.
The game itself is enough to draw you in, but wait! There's more!
In the beta budget we have over $500k dedicated to tournament prize pools, which should amount to roughly $10k/week. This game is fun to play and it rewards you with crypto for playing. Like... a lot of crypto. On top of that you'll be able to rent cards to players seeking riches and glory, but don't have enough money to own all the cards outright. So, there's multiple ways to earn.

Kickstarter Countdown!


Right now we have a limited opportunity. In just over two days this crowdsourced funding round is going to end. Alpha cards will never again be for sale. These exclusive cards aren't available any other time or any other way. This is quite literally your last chance.
Please go to Kickstarter or Fundition and pledge to make sure you don't miss out on this once in a life time opportunity.
Also, it's important to note that if we hit $75k every person that puts in more than $200 is going to get 50 booster packs, which is worth $100! In addition if we can get to $80k then we'll do daily prize pools of $80 and if we catch some lucky breaks and make it to $100k we'll do daily prize pools of $100.

Exclusive Cards


There are four exclusive cards being offered through the crowdfund. These cards will be playable in the game and they will have competitive stats relative to their rarities. You will still need just as many of them to combine and level up as you do the regular Alpha edition cards.
They will never be sold again so the next 48 hours is your only opportunity to get these cards. After that your only option is to buy them on the market.
If you aren't aware, you can purchase as many of these as you want individually through the Kickstarter or Fundition campaigns. Simply add the extra amount to your pledge and once the campaign is over we will reach out to everyone to ask what they want from any extra pledge amounts. Here are the details of the costs of each type of card:
You can purchase a set of the 4 Kickstarter EXCLUSIVE REGULAR FOIL CARDS:
Each common Dragon Whelpling Runt costs $1
Each rare Neb-Seni costs $5
Each Royal Dragon Archer Costs $10
Each Shin Lo Dragon costs $50
Get the set of all four cards for $60
You can purchase a set of the 4 Kickstarter EXCLUSIVE GOLD FOIL CARDS:
Each gold foil common Dragon Whelpling Runt costs $5
Each gold foil rare Neb-Seni (summoner) costs $40
Each gold foil epic Royal Dragon Archer Costs $100
Each gold foil legendary Shin Lo Dragon costs $600
Get the set of all four gold foil cards for $700
There's a lot to gain, there's fun to be had, and this opportunity goes away in 48 hours. Don't miss out!

Steem Monsters Contact Info
Official Account: @steemmonsters
Website: https://steemmonsters.com
Discord: https://discord.gg/CAFJRjY