Steem Monsters Automated Tournaments Now In Testing!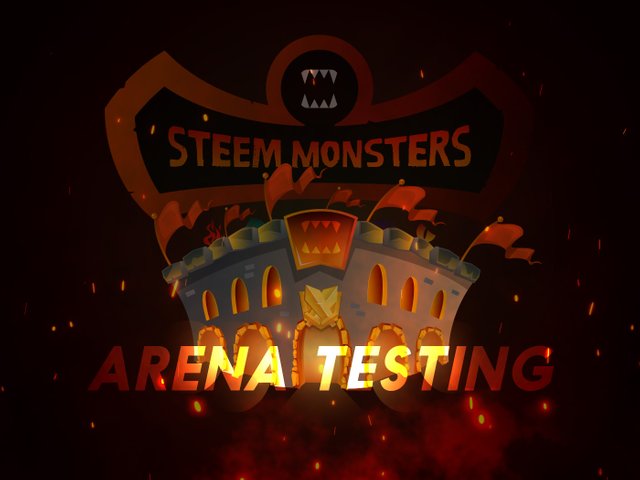 Hey Monster fans! We thought many of you would like to know that tournaments are being successfully tested on the Steem Monsters test servers.
The tournament system has been met with solid reviews by the Monster Mavericks who found it quick and seamless. Rather than using several different websites and having to manually coordinate everything, as has been done for tournaments to date, everything will now be handled automatically and presented in a simple and easy to use interface right within the steemmonsters.com website. Since everything is also recorded on the Steem blockchain, other sites are welcome to create their own interfaces for tournaments as well!
Additionally, the tournament system will be open and available for anyone to use. That means that any potential sponsor can come in, setup a tournament in just a few minutes, and get attention on their project in return for a tournament purse. Communities can also use tournaments as a way to reward their members, and causes can even run a tournament with an entry fee as a way to raise funds!
There will also be a small fee required to create a tournament to prevent spam.

20,000 Steem in Prizes in March!!!
That's right folks. Now on top of the ability to earn daily quest and season rewards, you can also compete to get your piece of 20,000 Steem that we'll put up for grabs! This is all in addition to any tournament prizes put up by other brands or businesses which could be anything from cryptocurrencies to physical products!

Direct Marketing to Players through Tournament Sponsorship
Our tournament sponsorship opportunity turns traditional marketing on it's head. Companies or brands that want the attention of an international, crypto saavy audience with disposable income can now set up sponsored tournaments that give their tokens and prizes directly to their intended audience. Want to build an emphatic fan base? Reward them!
It only takes a few minutes to set up and companies can get thousands of eyes on their projects, even for relatively small amounts of prize money.

Product Roadmap
With tournaments functioning on the test server and nearing completion to launch on the main server, it's time to look forward to what's next.
Over the course of the rest of February into March/April we have a variety of quick wins that we want to get into the game to make the gameplay experience better than ever, and provide additional rewards to players of all levels.
Tournament Updates - After the first version of the tournament system goes live, we have a number of additional features and options that we plan to add.
Pack Tokens - We plan to allow both Alpha and Beta edition booster packs to be represented as tokens on the Steem Engine platform. This will allow pack HODLers to trade them for STEEM on the decentralized market that is expected to launch there shortly. It will also allow us to re-publish the algorithm for generating the cards in the packs.
Card Delegation - This long awaited feature will allow players to rent out their cards to other players, without any counterparty risk, so that active players and passive investors can work together to get the maximum possible value out of the available cards.
Market/Collection Updates - We have a number of updates planned for the Market and Collection pages on the site that will make it easier to trade, view, and manage your collection of cards.
In-Game Currency Token - We plan to release a token on the Steem Engine platform which will be the primary in-game currency for Steem Monsters. Players will be able to earn this token directly through gameplay, or by "burning" cards. We then plan to create an in-game store with some exciting items that can be purchased with these tokens, and they will also factor heavily into our planned "guilds" feature and our first expansion later this year.

Medium Term
As alluded to above, in the medium term we have some pretty large new features planned, including a robust "guilds" system which will allow groups of players to work together and battle against other guilds, and a major expansion to the game which will include "empire building" game mechanics that tie into and enhance the core game play.
We are also in the process of raising funds in order to expand our team and build a native mobile app for iOS and Android. The world will be able to collect, trade, and battle in the Splinterlands more easily than ever before!

The Vision
The tournament system is just one of many stepping stones to being able to turn Steem Monsters into a best-in-class and first-of-a-kind blockchain esport. We envision streamers describing card combos as they compete for Glory and Riches to raving fans who help bring in loads of sponsors.
Along the way we'll do our best to integrate other communities, and provide gateways to onboard new users faster than ever.
Every day we have 2,000 players, 5,000 market transaction, 20,000-40,000 matches, 100,000 page views, and we make up roughly 10-20% of the total transactions on the Steem blockchain. For the last two months, even in the bear market, we've sold $50,000 worth of cards! These accomplishments are huge for crypto gaming, but we're barely scratching the surface of what's possible.

The long wait is nearly over!
Tournaments are coming. They're a major step towards changing the face of Steem Monsters and potentially the Steem blockchain. We're committed to taking this project to the highest level of gaming possible, and we're looking forward to bringing unprecedented coverage to the Steem platform!
If you like this vision, if you like what we're trying to do, and you can see how this product and project still has so much room for growth, please consider buying some cards, playing our game, fighting some tournaments, and telling your friends what's possible.
Tournaments start soon. Many other features and changes are right over the horizon. Make sure you're there for the ride!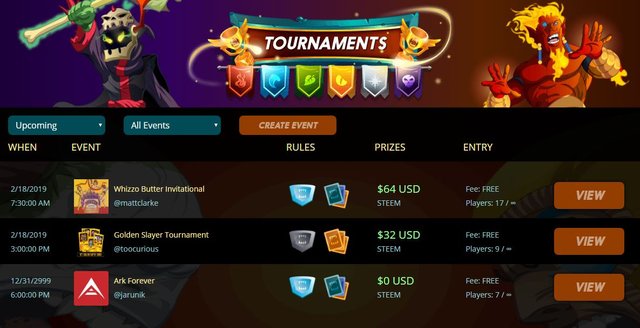 Thank You for your continued support!
Steem Monsters Contact Info:
Steem Monster Tournament Calendar