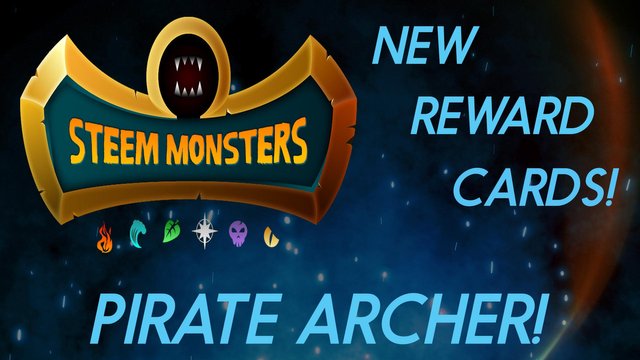 In this post we announced that we would be releasing a
New Reward Edition Card every day for 20 days!
The Cards released so far:
Legendary Life Splinter card - Sacred Unicorn
Common Earth Splinter card - Wood Nymph
Common Neutral card - Creeping Ooze
Epic Death Splinter card - Phantom Soldier

We're excited to see people already starting to make good use of these cards in battles!

Reward Card Number 5!!!
Today we will be releasing a new
Rare Water Splinter card - Pirate Archer!
At 2 Mana the Pirate Archer is the first Water Splinter Monster with a Mana cost below 3. But don't let the low mana cost fool you, he packs a punch by shooting a flaming arrow at his target which explodes and does blast damage to adjacent enemies!
All ye scurvy swashbucklers should let us know what you think of this new addition to the pirate crew, lest ye be made to walk the plank! Stay tuned for the next card release announcement tomorrow!

Thank you for your continued support!
Steem Monsters Contact Info: