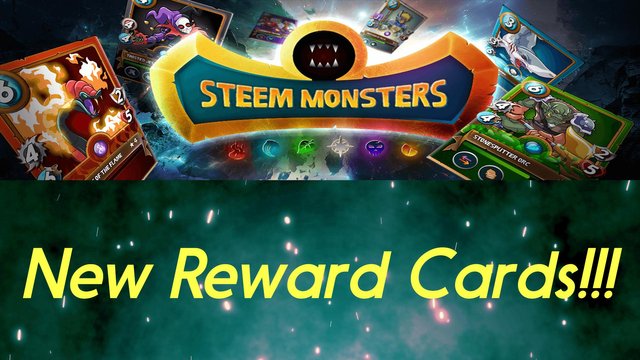 We're super stoked to see how well the manually-run tournaments have been going so far, and want to give a huge thank you to the organizers, sponsors, and players who have dealt with the issues and frustrations that come from trying something new and worked through them to make it a success.
We're working as quickly as possible to build the automated tournament system into the website and sign up some major sponsors, but in the mean time we have some other changes and updates to announce!

New Reward Cards
We are definitely aware that there are an abundance of reward edition cards in circulation right now, which decreases the value of the rewards you can earn in the game. The intention of the reward edition was for it to be a full set of cards, similar in size to the alpha edition, in which case there would be many fewer of each card available.
Unfortunately, with everything we have going on and a very limited team, we were only able to initially release 10 cards. But now we're excited to announce that we have 20 new cards ready to add to the reward edition, and we plan to release one new card into the game each day for the next 20 days!
Many of these new cards will have either very high, or very low, mana costs. This is intentional as we plan to introduce a wider range of mana caps in higher level games going forward. This will create even more variety in the matches and require even more skill in team creation to reach the top.

Reward Card Caps
As we mentioned when the reward edition cards were first released, there will be a cap for the total number of each reward card that can be created. We wanted to wait a little bit to see how things went with the new cards before setting the caps, and at this point we feel we have enough data to do so.
Each reward edition card will be limited to the numbers shown below, based on the card's rarity. Once the cap has been reached for a particular card, that card will simply no longer be included in the list of cards used by the algorithm to randomly generate new reward cards when they are earned by a player. As cards start to run out we may replace them with new cards if that makes sense at the time.
Common cards will be limited to 400,000 each
Rare cards will be limited to 100,000 each
Epic cards will be limited to 40,000 each
Legendary cards will be limited to 10,000 each
While these numbers might seem high at first glance, please note that this means there will be less than 1,000 max level versions that will ever exist of any reward edition card. It may seem like there is an abundance of reward edition cards now, but if the player base of the game continues to increase (and we are working very hard to make sure that it does) these cards, along with the Alpha and Beta edition cards, will be very hard to come by.

Show The New Card Already!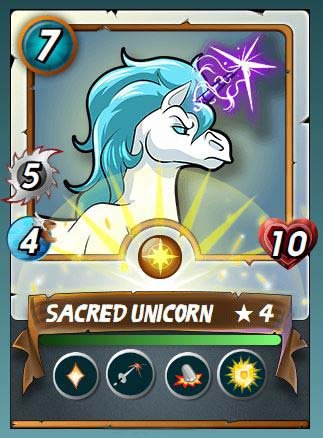 Here it is!
The Life Splinter is getting a second Legendary card - the Sacred Unicorn! With Heal, Divine Shield, Piercing, and Trample at max level, this card should be a very strong tank (hopefully not too strong though!) especially in higher mana-cap battles.

Thank you for your continued support!
Steem Monsters Contact Info: