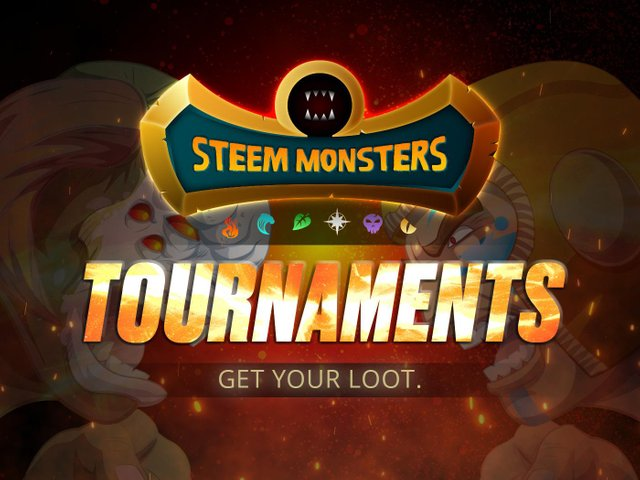 Many people in the community have expressed feedback about the entry fees that we implemented for the Steem Monsters sponsored tournaments. In the announcement post we mentioned that the entry fees were there to limit those tournaments only to "serious players", but in retrospect, we should have clarified that a bit more.
The reasoning behind the entry fees for the tournaments with higher card level limits was that only players with higher level cards would really be competitive in those tournaments, and we wanted to avoid a situation where lots of players with lower level cards entered just because it was free and had large prizes.
That would really not make for a good experience for either type of player. The players with lower level cards would not really have a chance and those with higher level cards would have to sit through much longer tournaments unnecessarily.
After seeing the community's response to this, however, it is clear that there were better ways for us to address this concern than to add entry fees for everyone in those tournaments. As a result, we are putting in place a new system which we hope will address the community's concerns while still avoiding having large numbers of players in tournaments where they're not competitive.

From now on, tournaments sponsored by Steem Monsters will be free to join for anyone who is currently in the league specified by the tournament or higher.
This means, for example, that a Gold League tournament will be free for any players with a current rating of 1,900 or higher. Players whose current rating is lower than the tournament's league may still join, but they will be required to pay the fee.
Please note that this only applies to tournaments sponsored by Steem Monsters and created by the @steemmonsters account. Any other tournaments will require the fees set by the tournament creator from all entrants.
Additionally we will be refunding anyone who has already paid a fee to enter an upcoming tournament that starts after these changes have been put in place. This may take a day or two so please be patient.

Other Tournament Changes
We have also made the following, smaller changes to the tournament system based on player feedback so far, and we have many more to come over the coming weeks:
Entry fees will now be automatically refunded when leaving a tournament
Players will not be able to enter Gold or Alpha card only tournaments unless they have at least one Gold or Alpha Summoner and at least 5 Gold or Alpha Monsters.
We have removed the two-minute delay between each tournament round. Since each player has up to 5 minutes to enter into the next battle anyway, this additional time was unnecessary and just made the tournaments take longer.
We have made a few changes to the tournament list screen to make it easier to filter tournaments and identify which ones you have already entered.

Off to a good start

As you can see after only the first few days we're at nearly $1,000 USD paid out and will reach over $5,000 in the first two weeks! We're looking forward to watching this grow over time as tournament sponsors join us to show case their good and services to our thousands of players.

Good luck out there and happy hunting for loot!
Steem Monsters Contact Info:
Steem Monster Tournament Calendar