The tournament Sunday Shenanigans - Novice Tournament was sucessfully finished.
34 participants register for the single elimination tournament.
Description
---
SUNDAY'S TOURNAMENT -
FEBRUARY 3RD, 2019 @ 6PM CST
ENTRY FEE: FREE
Level Limits: NOVICE - NO LEGENDARY
Single Stage/Single Elimination
Best 2 out of 3 moves to next round.
MAX FIGHTERS: 16
Sign up even if FULL. No-shows get knocked out.
THE PRIZES
1st- 10 STEEM
2nd- 7 STEEM
3rd- 5 STEEM
4th- 3 STEEM
RANDOM LOSER- GOLD FOIL GOBLIN SHAMAN
Total Prize Pool- 25 STEEM
CHECK IN on challonge is open 15 MINUTES early.
👉If you do not check in you will be auto removed from the bracket. So do it!😍
Tournament chat will be in the
Tournament sponsored by @steemmonsters
---
The tournament was manually started and finished.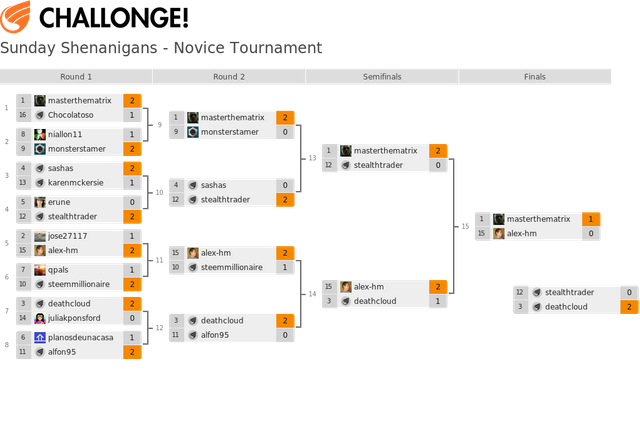 Participants ranking
| name | rank | wins | loses |
| --- | --- | --- | --- |
| masterthematrix | 1 | 4 | 0 |
| alex-hm | 2 | 3 | 1 |
| deathcloud | 3 | 3 | 1 |
| stealthtrader | 4 | 2 | 2 |
| sashas | 5 | 1 | 1 |
| monsterstamer | 5 | 1 | 1 |
| steemmillionaire | 5 | 1 | 1 |
| alfon95 | 5 | 1 | 1 |
| jose27117 | 9 | 0 | 1 |
| erune | 9 | 0 | 1 |
| planosdeunacasa | 9 | 0 | 1 |
| qpals | 9 | 0 | 1 |
| niallon11 | 9 | 0 | 1 |
| karenmckersie | 9 | 0 | 1 |
| juliakponsford | 9 | 0 | 1 |
| Chocolatoso | 9 | 0 | 1 |
---
You can use @smtournament for your steemmonster tournament. You can read more here: post