The tournament Mega Monster Mash - 3 was sucessfully finished.
29 participants register for the double elimination tournament.
Description
---
Gold Limits, gold foil tournament
600 steem worth of monsters as prizes
Bof3 until the finals, then bo5
Double Elimination
Sunday at 4pm est
discord = https://discord.gg/CBfjFSr
---
The tournament was manually started and finished.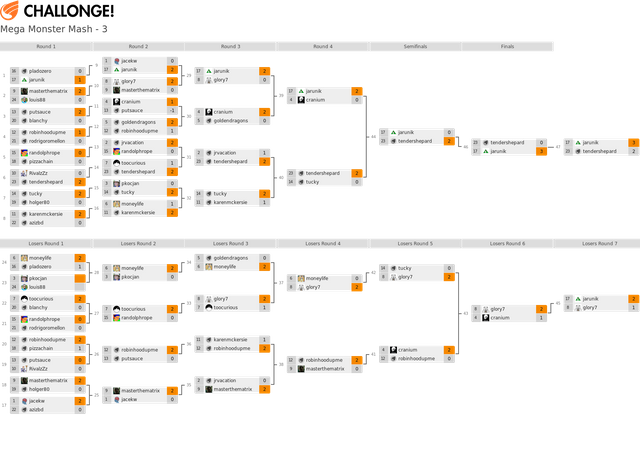 Participants ranking
| name | rank | wins | loses |
| --- | --- | --- | --- |
| jarunik | 1 | 7 | 1 |
| tendershepard | 2 | 5 | 2 |
| glory7 | 3 | 5 | 2 |
| cranium | 4 | 3 | 2 |
| robinhoodupme | 5 | 5 | 2 |
| tucky | 5 | 3 | 2 |
| moneylife | 7 | 3 | 2 |
| masterthematrix | 7 | 4 | 2 |
| jrvacation | 9 | 1 | 2 |
| goldendragons | 9 | 1 | 2 |
| toocurious | 9 | 2 | 2 |
| karenmckersie | 9 | 2 | 2 |
| jacekw | 13 | 1 | 2 |
| pkocjan | 13 | 1 | 2 |
| putsauce | 13 | 2 | 2 |
| randolphrope | 13 | 2 | 2 |
| RivalzZz | 17 | 0 | 2 |
| pladozero | 17 | 0 | 2 |
| pizzachain | 17 | 0 | 2 |
| holger80 | 17 | 0 | 2 |
| blanchy | 17 | 0 | 2 |
| rodrigoromellon | 17 | 0 | 2 |
| azizbd | 17 | 0 | 2 |
| louis88 | 17 | 0 | 2 |
---
You can use @smtournament for your steemmonster tournament. You can read more here: post