Introducing Smart Monsters 2.0
After our initial launch a few days ago, we have re-designed our system to provide for you the smartest way to acquire Steem Monsters Booster Packs & Starter Sets.
We truly believe that you'll love the changes we brought to Smart Monsters.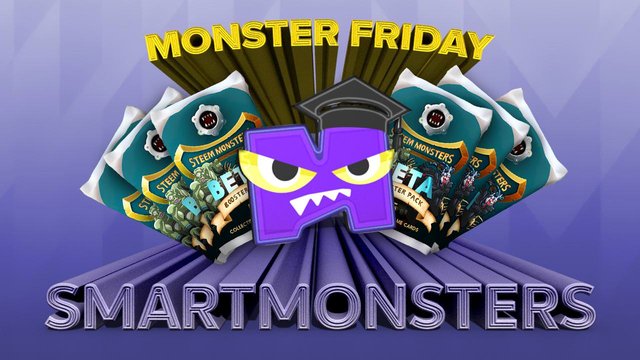 ---
Smart Monsters - Smarter than ever!
Open Doors
One of the most important changes is that you're now able to use Smart Monsters without having to be logged into Smartsteem.com.
Simply head over to https://smartsteem.com/smartmonsters and buy Steem Monsters Packs.
Affiliate & 10% Steempower Kickback Support
Since Steem Monsters recently launched their amazing 10% Steempower Kickback program, we wanted you to be able to benefit fully from it.
On top of it, you're now also able to utilise your affiliate bonus when purchasing packs with Smart Monsters.
New Loyalty Reward Program
And as the cherry on top of this amazing deal, you're now also able to earn up to 5% loyalty reward on your booster pack & starter set lifetime purchases with Smart Monsters. All packs will be purchased directly from Steem Monsters!
| Total Packs Purchased | Loyalty Reward |
| --- | --- |
| 0 | 1% |
| 200 | 2% |
| 1000 | 3% |
| 2500 | 4% |
| 5000 | 5% |
Booster Packs count for 1 pack, while starter sets count x5. The loyalty bonus is credited to the Smartsteem balance.
We also went ahead and added already purchased packs to your accounts.
Additionally, if you have already bought 150 packs and you buy 50 more, your purchase will be credited with the 2% loyalty reward.
1.2.3 .. You've just purchased Steem Monsters packs the smart way!
Now with that said, you're probably already wondering if it's difficult to use Smart Monsters.
Well, we've got good news! It's super simple!
2.) Enter your desired booster pack quantity & player name
3.) Confirm the purchase via steemconnect, keychain or your smartsteem balance.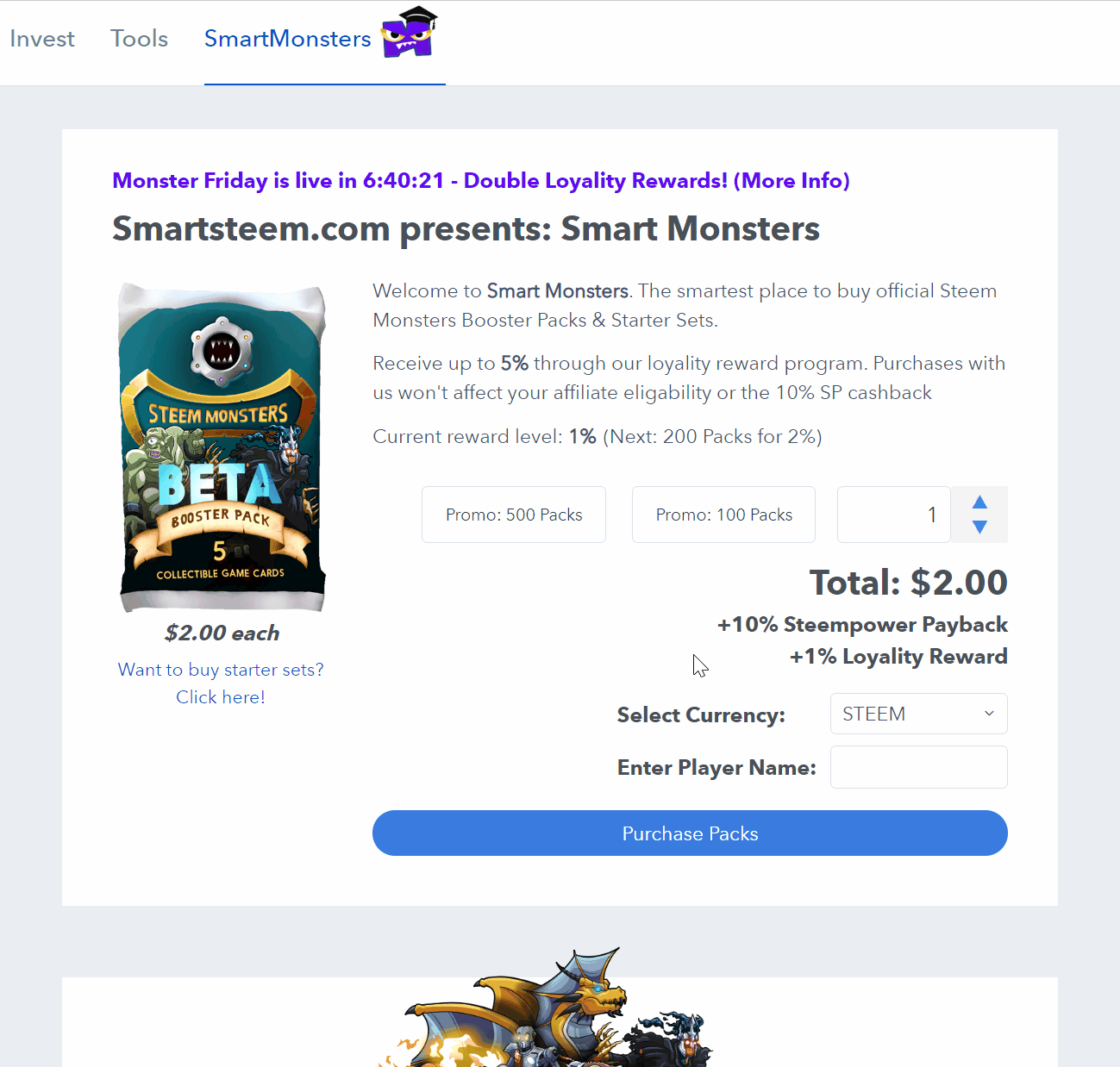 Gratitude To You
Before we wrap this post up, we want to put the spotlight on YOU - our loyal customers. We've already sold 5000 Steem Monsters booster packs.
Thank you!
@smon-joa @furie @spirits4you @stokjockey @federacion45 @yann03 @memeboy @brandonk @daan @yanyanbebe @raulmz @spitfire2507 @mountainjewel @rivalzzz @shortcut @everydaycoach @pialejoana @contentjunkie @thedegensloth @gamer0815 @kenmelendez @reviles @itdog @gamsam @lafona @imacryptologist @eaglespirit @bscrypto @tamiil @jarunik @freddbrito @gorbisan @inspiring @cryptoevolve @dreemit @artbyclark @luxio @zaxan @backinblackdevil @judasp @zonguin @ciontheemrald @dotwin1981 @saleg25 @chey @howo @jakeswingle16 @encryptdcouple @afiqsejuk @pacolimited @snackaholic @walhallo777 @rishi556 @dreemsteem @mattuk @xhaman @elevator09 @hitmeasap @seetheworld.sgp @fr3eze @topnails @timothyallen @themarkymark @apoloo2 @garbageposter @bscrypto @nerdtopiade @dbooster @bozz @pacolimited @hatoto @colovhis @avantika @pelegrine @thecryptodwarf @louis88 @bearded-benjamin @joeparys
And of course - the biggest gratitude of all goes towards @aggroed, @yabapmatt and the whole @steemmonsters crew.
Thank you!
Team Smart Monsters
---
FAQ
Q: How long does Monster Friday last?
A: Monster Friday lasts 24 hours, from 00:00 PST 23th November until 00:00 PST 24th November (https://time.is/PST). If we get 150 resteems and 150 unique purchases (at least 1 booster pack/starter set) until the end of Monster Friday, we are going to increase the length of the bonus loyalty reward for an additional 24 hours.
Q: Do you sell official booster packs?
A: Yes. We are an approved merchant of Steem Monsters booster packs & starter sets. All packs will be purchased directly from Steem Monsters.
Is Smart Monsters part of Steem Monsters?
No. Smart Monsters is a separate business from Steem Monsters and not directly affiliated with Steem Monsters.
Why should I use Smart Monsters?
Besides buying your packs the smartest way possible and earning loyalty reward, you're also supporting us in our quest to develop more amazing tools for Steem Monsters. It's a win/win!