Free Rewards For Those Who Signed Up To Steem-Monsters Using My Link !
Free Free Free And More Free
I am trying to get more players involved in the Steem-Monsters game. I believe it has huge potential and is a great way to earn Steem and create interaction on the Steem Blockchain. I am also trying to grow the list of players I have signed up under my affiliate account. So for the unforeseeable future I will be offering random rewards to anyone who has signed up to Steem-Monsters using my links. After clicking my link sign into the website using your Steem details. I will have two tiers of free rewards, which will be as follows :
Tier Two
Tier two is for anyone who has signed up to Steem-Monsters using my link. You don't have to be actively playing the game but your Steem name needs to be showing up in my list of sign ups. This tier will have moderate prizes such as rewards cards given out randomly to those on the list and free to enter raffle draws.
Tier One
Tier One will be for those who have signed up to Steem-Monsters using my link and are active in the game. This means playing the game itself and / or purchasing starter / booster packs. Tier two rewards will include prizes such as Level 2 SM Cards, Rare and Epic cards and other non Steem-Monster releated prizes such as @sbi shares or @dustweeper starter accounts + Raffle draws.
Disclaimer
You will not get a reward upon signing up using my link. I will be having pop up giveaways via a post on the Steem Blockchain that are dependent on my success of getting new sign ups. The first one will be announce in the upcoming days so sign up via clicking ---> https://steemmonsters.com?ref=rentmoney to get your name on the list and into either tier one or tier two. I will announce who is in what tier in the first giveaway announcement post.
Below Is A List Of Everyone That Qualifies Thus Far
---
@hodlsome, @barbara, @frames, @elautomatico, @lets-rumble, @altruismandcake, @marcocasario, @wonderwop, @frash2018, @sm-rules, @kylorenjunior, @monstercrusher, @tennesseeshadoe, @gaottantacinque, @fuentesjo3006, @khussan, @sivehead, @aftabkhan123, @metama, @ninjamike, @startebeker, @annovocks, @steven-patrick, @bigrigray, @loso, @akomoajong
---
Steem-Monsters is a digital card game created by @aggroed and @yabapmatt. Early game release has launched and prizes are already up for grabs. Some of the cards in this game have already sold for upwards of $3000. Free Manual Prize Money tournaments have started and thousand of dollars of Steem has already been given out. If you haven't checked out Steem-Monsters yet do so by clicking here. You can sign into the official site using your Steem details.
Disclaimer : I have the right to end this promotion at any time without notice.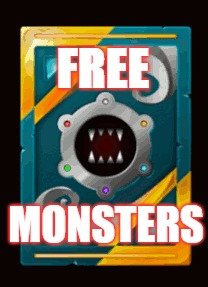 Click Here To Sign Up To Steem-Monsters