A Discord Market Bot For Buying Steem Monsters Cards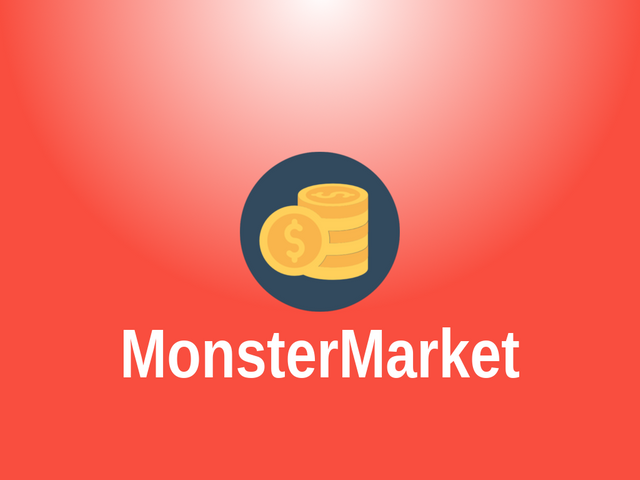 Hello everyone! How you are doing? Its been a long time since I have made a post, been busy with the work and some other life chores.
Here comes another bot post...
Steem Monsters is the most popular game of Steem as of now. I am not a gamer, also not heavily invested in the game. But recently I have started playing it and somehow got addicted to it.
As a learning experience, I started coding a Discord bot so that I can buy cards right from Discord where I spend most of my free time. @zaku asked me to make the bot public so that he and others can buy cards using it. So, here it comes...
How to use
Use !list to list all the available Steem Monsters cards and their associated IDs along with its name. If new cards are added you can also use !refresh to refresh the cards list.

When you are decided what card you need, you can use !buy CARD_ID GOLD EDITION to list 10 cheapest available cards from the market. You need to respond with the serial number of the cards using a space among them.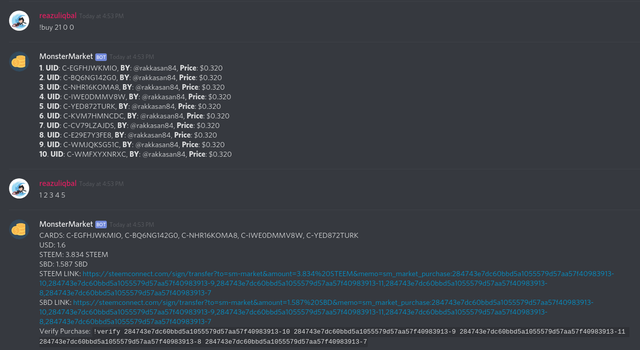 In the screenshot, I am buying 5 alpha edition (0) non-gold (0) Naga Warrior (ID 21).
You can also add individual card id after the edition code to buy specific card e.g. !buy 21 0 0 C-EGFHJWKMIO.
Here are the edition codes for your reference:
Alpha - 0
Beta - 1
Promo - 2
Reward - 3
For gold card use 1 for GOLD part of the command, else use 0 for a non-gold card.
Make payment in SBD/STEEM whichever you prefer. You'll receive the card(s) and 2% cash back almost instantly.

After payment, you can verify your purchase using the provided verify command.

The bot auto refunds if you pay more or it failed to buy a card, but sometimes it fails to refund. In that case, you have to contact me or any BDCommunity official for a manual refund.
To use the bot, please join BDCommunity Discord server.
More detailed tutorial or a video tutorial may come from the @bdcommunity account. So stay tuned for those.
At the end you may think we have convenient @steemmonsters and @peakmonsters web interface, why do we need an inconvenient Discord bot? I am not sure but you can get 2% cashback using it and I love bots. 😂
Thank you @zaku, @sourovafrin, @mhossain, @sheikhsayem, @ayasha, and @xawi for testing the bot and finding bugs. I am sure there are plenty more.