[Results] SteemMonsters Contest -- Market Puzzle 2.0
Hey all! I recently held a contest, which you can find here. The contest was about a market puzzle which you had to solve and everyone with the right answer would get a ticket into a "raffle/lottery" of 6 beta packs.
There were some people PM'ing me, saying it was really hard or that it could not be solved, but there were also 4 people who utilised their math skills & got the tickets:
@sciack -- 2 tickets (for being the first to give the correct answer)
@nealmcspadden -- 1 ticket
@sourovafrin -- 1 ticket
@phage93 -- 1 ticket
For anyone curious, this was the puzzle picture: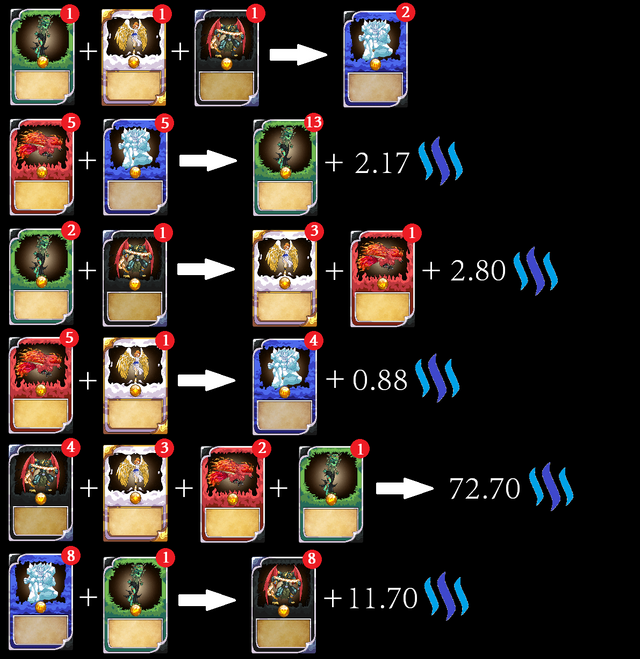 And these are the solutions:
Elemental Phoenix = 7.52 STEEM
Frost Giant = 10.23 STEEM
Spirit of the Forest = 6.66 STEEM
Angel of Light = 4.2 STEEM
Lord of Darkness = 9.6 STEEM
---
Now onto the drawing... 5 tickets in total, numbering sciack 1,2 nealmcspadden 3, sourovafrin 4 & phage93 5...
So I went to random.org and entered min 1, max 5... This is the result: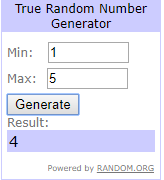 That means the winner is @sourovafrin!!! 6 Booster packs are heading your way shortly :)
The other correct responders will be sent a rare alpha card, since ya'll did answer correctly :-D
---
Keep steeming on, my lil pizzafriends