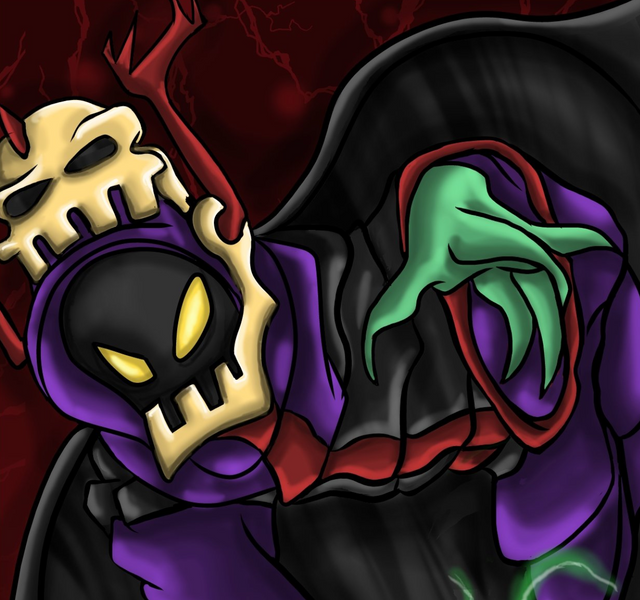 We have waited a long time for this, now the gameplay mechanism has been revealed. This article is only about the Summoners and why nothing works without them!
On the picture above you see Zintar Mortalis, a summoner of the element death drawn by @crittercrats.
Okay, let's go...
According to the information in the current article, ...
"Summoners do not take part in the fighting directly and as such they do not have any of the stats or abilities that Monsters have. Instead they each indirectly influence the fighting in their own unique way.

Some Summoners may give all Monsters on their Team a stat buff, while others may give a debuff to the opposing Team. In the future they may also influence the Battle in all sorts of other ways that we probably haven't even thought of yet. Check the details on each Summoner card to learn what they do!"
When a summoner buffers all monsters, it means that the summoner is much more powerful and thus more valuable than we have assumed so far.
In addition, the Summoners will become even more powerful in the future, so they will get even more influence than we can already imagine.
Furthermore we can learn from the current article...
"Unlike Monsters, Summoners do not gain any increased influence over the Battles as they level up. Instead, the value in leveling up Summoners is that they can only summon Monsters at their same level or below.

This means that if you use a level 1 Summoner in a Battle, then all of the Monsters they summon in that battle will be level 1, even if the Monster card itself is at a higher level.

The level limits for Summoners will scale linearly for Monsters of different rarities which have different max levels. For example, a level 4 Rare Summoner (which is half-way to max level) will be able to summon Common Monsters up to level 5, Rare Monsters up to level 4, Epic Monsters up to level 3, and Legendary Monsters up to level 2. Max level Summoners of any rarity will be able to summon max level Monsters of any rarity."
Summoners can only summon monsters at or below the same level. You have to melt this on your tongue again: Summoners can only summon monsters at or below the same level! Without a maximized summoner you are not even able to play the game properly.
What is not in the gameplay mechanism article, but has already been confirmed by @yabapmatt, is...

This means summoners can only summon monsters of the same element. Yaba is talking about colour, but of course he means the elements. The only wild card is Selenia Sky, because this card can summon all elements. But Selenia Sky also needs a lot more mana!
With this new informations, summoners, which includes Selenia Sky, are significantly undervalued and therefore far too cheap on the Steem Monsters market.
My summoners are already maximized, and yours?
I'm going to go shopping for Summoner.
Have fun!
Greetings
Oli