Steem Monsters Rusty Android Giveaway. Take the useless thing!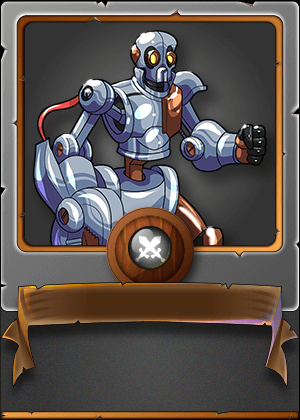 Dear minions,
As the worlds most notorious supervillain, I've got a lot of monsters. I wake up to Spineback wolf drool on my pillows. I've got Skeleton Assassins in my closet. Twisted Jesters jump out of my cupboard....
... But honestly, what am I supposed to do with a Rusty Android?!
If I tell my supervillain friends I've got a Rusty Android, they will laugh at me.
"Ooooo a rusted tin can, wow so scary LOLOLOL"
"What, no Haunted Spirit? No Cerberus?"
"HAHA a Rusty Android, not even a Crustacean King, Deceth what a loser".
So listen, I'm just going to go ahead and give this Rusty Android away for FREE. I can't be seen near it, it's too embarrassing. Just ask for the thing in the comments below, and one of you will randomly get it. I can't wait to be rid of it.
No Upvote, No Resteem, No Follow Required!
Look, I've got a reputation to maintain and a Rusty Android just isn't a terrifying monster. I mean, I'm sure he's a cool guy and what not, but where's the razor sharp teeth, spikes, or venomous tentacles?!
I don't have time to deal with rust proofing. The bloody thing is falling apart and completely useless.
Help rid me of it... Leave your Steem monsters name and tag a friend. Giveaway in 7 days!