Steem Monsters + Poker = Life.
I can not stress enough how much I love Steem Monsters, and poker! I've been hanging around in the Steem Monsters Discord for MONTHS waiting for the automated tournaments to go live, and now that they're finally here I can't stop thinking of new and fun ways to utilize them!

Since I've been working and chatting with some of the guys over at NoLimitCoinPoker (NLCP), namely @gravytrain, and @theycallmedan, I've been fortunate enough to be able to host my Steem Monsters Poker tourneys on nolimitcoinpoker.com.
Now however, the tables have turned! With automated Steem Monsters tourneys, I will not only be doing what is usually done with Steem Monsters Poker, I will also be hosting an actual Steem Monsters Tournament, where you will be playing to win poker chips! AKA (NoLimitCoin - NLC2)
Today's big game!
Thanks to a couple incredible sponsors, I have a fair amount of chips (NLC2) to give away as prizes for Steem Monster tourneys!
I've allocated $20 USD worth of NLC2 for this particular tournament to see how things go, and if I can manage to find some more poker players within this Steem Monster community there will be more coins to come!
Here's how you win!
Sign up at nolimitcoinpoker.com


Join the
NLC2 Discord
Tag me (@crystalhuman) in #general chat with your NoLimitCoinPoker and STEEM usernames.
Sign up for the No Limit Monsters tournament.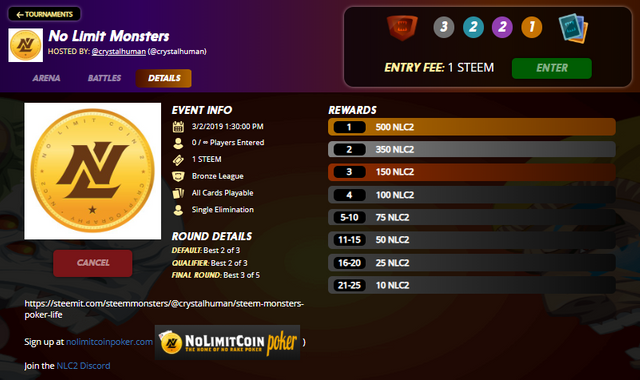 Complete all the steps above & I will refund 50% of your entry fee into this tournament.
If you should choose to resteem this post as well, I'll refund another 25% of your fee which then brings the total to only 0.250 STEEM to enter.
NoLimitCoin YouTube NoLimitCoin Twitter NoLimitCoin Telegram
Follow me!


BONUS: Resteemers get 10 SMPT (Steem Monsters Poker Tokens) to be used as entry into the Steem Monsters Poker Tournaments being held on NLCP.