Steem Monsters Quests: Yet Another Booster Pack Opened
Hello Friends,
I hope you are all enjoying your Saturday and having great weekend.
As the Steem Monsters battles are getting more and more intensive, it's time for more smart strategies.
Here I am with yet another quest win with Death splinters this time and it was fairly easy with a little change in strategy.
So, instead of putting my Haunted Spirit at the front, I pushed it to second place and promoted Cocatrice to the front and had Twisted Jester and Skeleton Assassin as other 2 cards and those are the only 4 cards I could accommodate in the limited MANA of 17 and those 4 cards didn't disappoint me as I won 7 back to back battles to complete the quest.
And the booster pack I got for completing the quest has these nice cards 3 of them belonging to Death Splinter as you can see here.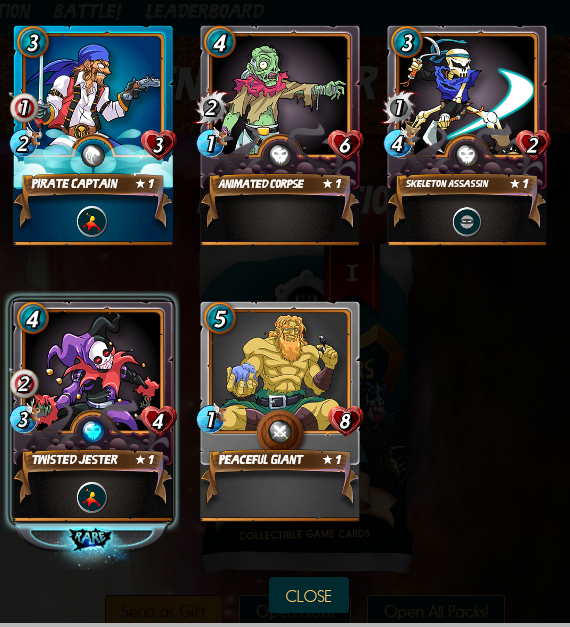 Animated Corpse, Skeleton Assassin and Twisted Jester will help me to level the cards I am already having.
Peaceful Giant is not so much used card by me.
And Pirate Captain is a nice side attacking card from Water splinter.
This second season of Steem Monsters battles ends in about 5 days and we need to make the most use of these 5 days to reach the maximum higher level to stand a chance to win more Steem Monsters booster packs.
I am currently in Bronze I league and hopefully I can make I to gold III league before this season ends.
Thanks for reading and I am hoping you are having some nice battles with your opponents.
Until next blog, have a wonderful day and wonderful weekend. :)