It's been awhile, but I assure you that the Monsters down in the Tavern have been partying it up more than ever.
---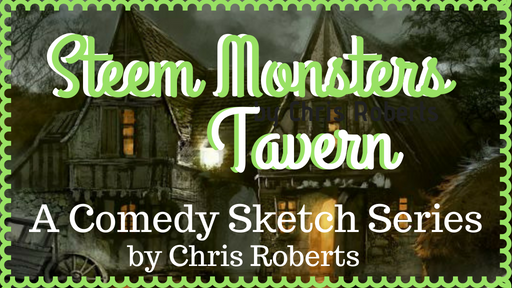 ---
I've had to take a little break from sketch writing to focus on some more important #SteemMonsters writing (which everyone will soon enjoy). But today I'm back with a brand new, rather unconventional Steem Monsters Tavern!
---
Ever Wondered How to Get There?
So have I. Long story short: It's portals. Portals from one fictional place lead to another fictional place. Oh yeah, I'm talking interdimensional travel, folks.
---
Anyway, this is the first episode of the Steem Monsters Tavern that is not actually set in the Tavern. We meet a trio of travelers looking for a good drinking spot...
What happens next? Your guess is as good as mine!
---
The Steem Monsters Tavern!
Episode 17 - How to Get to the Tavern
by Chris Roberts
CHARACTERS
BORK - Leader of the trio of travelers. Enjoys the drink.
GLEN - Navigator of the three travelers.
PAM - A witty female Elf. Often the voice of reason.
STRANGER - A mysterious dark and hooded person.
NARRATOR
On a cool Anumun evening, far away from the Steem Monsters Tavern, a chilled wind sweeps across the Lyverian countryside. In the quiet outskirts of the third shire, three travelers are arguing loudly in front of a small pub. A dark and mysterious hooded figure is watching them, from the cover of some nearby bushes.
BORK
How could they be out of meade?!
GLEN
Calm down, Bork! It's not like these small town pubs have an endless supply.
BORK
Well I wish they did! Dammit!
PAM
Keep it down, guys. You're really making a scene. Plus, I think there's a dark and mysterious hooded figure watching us from those bushes.
BORK
I don't see anything! Glen! You're our navigator! How far 'til the next bar?
GLEN
Uh, you're not gonna like this…
BORK
Out with it! I still have litres of celebrating to do! I crave meade!
GLEN
According to this App, it'll take us about seven hours to get to Palavan Village.
PAM
What App?
GLEN
Map. I said "according to this map."
BORK
You're telling me we have to walk seven hours to find the next drinking spot? Damn this small town pub and its disturbingly low on-hand supply of alcohol!
PAM
C'mon now, Bork! The barkeep was perfectly pleasant, and they had free popcorn.
BORK
The popcorn was stale, Pam! You never let the popcorn get stale!
PAM
Hey! Hey you! Yeah you! I see you over there, hiding in the bushes!
GLEN
Who are you yelling at, Pam?
PAM
I'm telling you guys, there is a hooded and mysterious figure hiding over there in the bushes!
GLEN
I still don't see anything…
PAM
You can just take my word for it. Elf-eyes, remember?
BORK
Oh yeah, Elf-eyes. You can see way further than either of us… How come you don't warn us of approaching dangers from afar in our travels.
PAM
I always do, but you never believe me.
BORK
Holy crap! There's a mysterious hooded figure coming toward us from by those bushes!
PAM
How about that?
GLEN
Halt! What's your business, hooded stranger?
STRANGER
Grrrrrrrrrrraaaaaaaaaaaaarrrrlrllllllllll…
PAM
What was that?
BORK
I'm afraid we do not speak your tongue, stranger.
GLEN
Sounded like basic growling to me.
BORK
Well that's not exactly a language, is it Glen?
PAM
Boys! Let the mysterious hooded figure speak! Sorry, stranger. You were saying?
STRANGER
[clearing throat] Yes, apologies, but I had a piece of iguana femur stuck in the back of my throat and let me tell you, it has been a nightmare with the scratching, the rasping and the growling, don't even get me started on the growling. But I finally got it! I mean, I ate the thing three hours ago, and my hosts insisted that when properly smoked, the iguana's bones could be fully digested. They forgot to mention that they were a bit of a choking hazard. Don't get me wrong, the meal was delightful. I'd hate for Sally and Dan to hear that I didn't appreciate their hospitality. Long story short, go ahead and eat smoked iguana if you get the chance, but swallow carefully. Anyway, I'm rambling. [hacking] uh-oh! There's still a little piece in there!
PAM
None of that was what I expected.
BORK
What the hell is this guy talking about?
GLEN
We had better get moving if we wanna make Palavan before sunrise. Around these parts, taverns close in the early parts of the day.
BORK
Then we must make haste! Onward!
STRANGER
Wait!
PAM
What is it, sir? Do you need one of us to pat you on the back?
STRANGER
There is a place!
BORK
What?
GLEN
He said: "There is a place!"
BORK
Dammit Glen, I know what he said! I was looking for more information, or some context perhaps! Nevermind!
PAM
Hold on guys… maybe if we ask him… it? Him. the right questions. What place?
STRANGER
An enchanted place!
BORK
Okay, now we're getting somewhere. Tell us more of this enchanted place!
GLEN
Tell us where it is, so I can plug the coordinates into my app.
PAM
What the hell did you just say?
GLEN
I said "so I can plot the coordinates onto my map."
PAM
Bork! You can't pee there!
BORK
I pee where I please!
GLEN
I feel like this guy was incredibly long-winded before. Why's he gone all cryptic on us?
PAM
I don't know. This feels weird, and he looks like some kind of sorcerer.
BORK
He is killing my buzz! Onward!
STRANGER
A Place where the booze is always free!
BORK
Okay, now he's got my attention.
PAM
Are you guys sure you're ready to let this strange and mysterious hooded figure lure us to an unknown second location?
STRANGER
A Place where the meade never runs out!
BORK
I'm game. Glen?
GLEN
Sure, what the hell. I mean, if you don't want to Pam…
PAM
No, it's fine, it's fine. I wasn't looking forward to hiking for seven hours to the next bar.
BORK
Alright, you hooded freak! We could do this the easy way or the hard way…
STRANGER
Oh, you want to go to the place that I was talking about? Yeah, yeah, we can arrange that.
PAM
Oh good! Can you tell us more about the place now?
STRANGER
Oh yeah! It's a magical happy place, where the booze is always free and the party never ends. I'm talking about the Steem Monsters Tavern!
GLEN
If it's a tavern for monsters, I don't know if we'll be the best fit…
STRANGER
Nonsense. That's just what's it's called. Monsters, people, animals and creatures from all around the Splinterlands getting together to have a good time and wet their various whistles.
PAM
And the monsters won't eat us?
STRANGER
No, the Tavern's always peaceful… The Lord of Darkness sees to that.
GLEN
The Lord of Darkness hangs out there?
BORK
Awesome.
STRANGER
Yeah, yeah. The Steem Monsters Tavern is great. You'll never want to leave. Lemme tell you how to get there…
PAM
Wait, you're not coming with us?
STRANGER
No, but hopefully I won't be too much longer. I was sent out to grab some things for the Goblin Sorcerer that works behind the bar. Anyway, you see those dark and foreboding woods over there?
BORK
I see them! Pam, can you see them?
PAM
Of course I can see them, Bork! Elf-eyes, we've been through this.
STRANGER
Within those woods lies the portal to the Enchanted Forest, wherein lies the Steem Monsters Tavern!
BORK
Where the booze is always free?!
GLEN
And the party never ends?!
STRANGER
The very same. And the popcorn is fresher than you can imagine!
PAM
With real butter?
STRANGER
Only the best! You'll want to walk into the darkest part of the woods until you reach a large pile of petrified Flesh Golem dung. Don't ask me why it petrified in such a large pile, Flesh Golems are generally disgusting.
GLEN
How far is it to the pile?
STRANGER
Fifty Dragon's paces. And not those wee city Dragons. I'm talking about the big ones, the Lightning Dragons.
GLEN
Since we've never traveled in Dragon Paces, could you estimate the distance in a unit we can relate to?
STRANGER
No! Dragon Paces is the only way it's ever been measured. Going on: At the large petrified pile of Flesh Golem dung, take a hard left. You'll have to make a quick pass through the Living Quicksand of Doom, but that shouldn't be too tricky as long as you have a magic rope.
PAM
We don't have a magic rope.
STRANGER
You'll be fine. After the Living Quicksand of Doom, you just keep walking straight until you hear a really unpleasant screeching. That'll be the meat owls, ripping into their nightly prey. As much as it pains your ears, walk toward the sound of the screeching. The owls' killing ground is in a crater left by a meteor that fell hundreds of years ago.
BORK
I want a drink! Not a history lesson!
STRANGER
Once you locate the crater, you'll need to find a fragment of that meteor.
BORK
What is this, a scavenger hunt now?
STRANGER
If you can think of a better way to win over the Pixies I'd love to hear it!
GLEN
What Pixies?
BORK
What the hell are we talking about?
STRANGER
The Pixies are the only ones who know where the portal is.
PAM
I thought you knew where the portal is.
STRANGER
No, I said I know the way. I know the way to the enchanted Pixie villages. The Pixies are the only ones who can really show you the way to the portal. The portal is always moving. Security, you know.
GLEN
Portal security?
STRANGER
Exactly.
BORK
Why are we doing this again?
STRANGER
The Steem Monsters Tavern!
BORK
Right! Where the party never ends!
GLEN
And the booze is always free!
PAM
And the popcorn has real butter!
BORK
What are we waiting for?! Onward!
STRANGER
Wait, wait! I wasn't done giving you directions, yet!
BORK
We'll find the Pixies and go from there!
PAM
Flesh Golem crap, Quicksand of Doom, Meat Owls, Crater, Meteor Fragment, Pixie Village, Secret Portal…
GLEN
Ok good, Pam remembers the way.
PAM
Guys, I think this might take awhile. Maybe we should just go to Palavan.
STRANGER
Good luck, travelers! I'll see you in the Steem Monsters Tavern! [to himself] Uh-oh. I forgot to tell them about the flesh-eating fleas and the exploding pinecones…
NARRATOR
And so the three tipsy travelers made their way toward the dark and foreboding woods, determined to find the mysterious Steem Monsters Tavern, where the booze is always free. Though hardened through travel and adventure, will Bork, Glen and Pam have what it takes to brave the Enchanted Forest and find the strange land beyond? Would Bork finally find the fountain of meade? And who is the mysterious dark and hooded figure who seems to be inviting regular Splinterlanders to the Steem Monsters Tavern? Find out the answers to these questions and more, next time on the Steem Monsters Tavern
SOUND FX - STEEM MONSTERS TAVERN SONG
THE END
---
---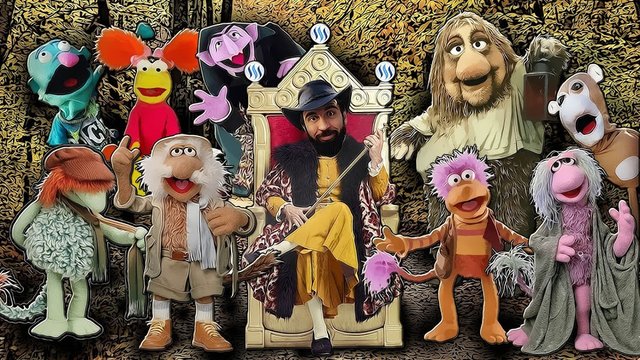 Check out Steem Monsters if you haven't yet! Sign up with my affiliate link above and I'll send you an awesome prize!