Play Steem monsters/Splinterlands and win a Steem Fest Ticket!
If you don´t know what Steem Fest is, check out everything about it in @roelandp´s official announcement here, you can also have a look at the offical web page.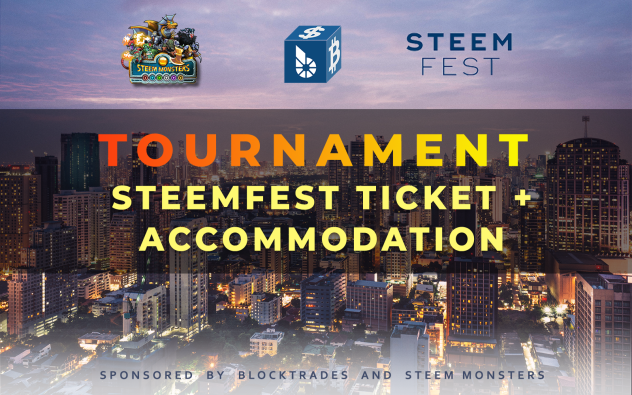 @steemmonsters
is the most popular Steem Blockchain based game with thousands of weekly players and tens of thousands of weekly matches and.
@blocktrades and @steemomonsters have decided to join efforts to send one lucky - and skilled at playing the game - player to represent them at Steem Fest with accommodation included and enjoy the greatest Steem Event of the year in Thailand, in early November this year.
This contest is open for everyone and anyone who plays - or wants to play - @steemmonsters, so if you already have some cards you better join the qualifier tournaments! If you still don't have any cards don't worry, getting started is very easy, all you have to do is get your starter pack in the official Steem Monsters website and begin playing!
The Tournament
Since the prize is something you don't see every day, the Final Tournament will have four previous tournament qualifiers, and only the Top 8 players of every Qualifier will be eligible to join the Final one.
To even the table between high profile players and more humble players, giving everyone a fair chance of winning the Steem Fest even ticket, the first qualifier tournament specifications are:
Free Entry
Silver League
No Legendary Cards
Single elimination
*The tournament specifications may change for the second qualifier after receiving feedback, but it's most likely these specs will remain the same for the 3 remaining qualifier tournaments.
There will be one Qualifier tournament on each of the next four Sundays (UTC Time zone). The time of the tournaments is different each Sunday to give everyone around the globe a fair chance to join at least one of th tournaments; the tournament dates are as follows:
2nd Qualifier: July 21st at 17:00 UTC
3rd Qualifier: July 28th at 12:00 UTC
4th Qualifier: August 4th at 7:00 UTC
The Final tournament will be celebrated in August 11th, time to be confirmed.
If you want to attend Steem Fest, all you have to do is join one of these - or all of them - and finish as top 8 in any of them to get an entry ticket for the Final Tournament where the winner will get a Steem Fest Ticket + Accommodation in the offical event hotel.
Details and Important things to mention
This prize is non-transferable and the winner of the Final tournament will have an event ticket waiting for them in Bangkok.
Anyone can join as many tournaments as they wish. If a player who already got an entry ticket for the Final tournament finishes in the Top 8, then the next in line (9th place) will get the entry ticket for the Final Tournament.
The Final tournament entry ticket a player gets for finishing top 8 in one of the Qualifiers is non-transferable.
There is a minimum of 80 players per qualifier. If the number of participants is fewer, then the tournament will be rescheduled but the date for the Final tournament will remain the same.
The number of entry tickets for the final tournament is 32.
The winner of the Final tournament will receive a personalized Steem Fest 4 event ticket and will receive confirmation of booking in the official hotel in Bangkok, Thailand
Extras
If you like this, please give this post a Resteem, let's try to give a chance to go to Steem Fest to anyone who is part of our Blockchain :D
Share this contest in your other social media, let's bring more people to Steem while promoting one of the best Steem events of the year! Remember there are a lot of Tron users playing Steem monsters/Splinterlands, so let's make some noise about this tournament in social media!
---
This is a @Blocktrades sponsored contest, if you like what they are doing vote for them as witness here
This is a @steemmonsters sponsored contest, if you like what they are doing vote for @yabapmatt and @aggroed as witness here
I'm part of @ocd-witness, if you like what I'm doing here vote for them as witness here