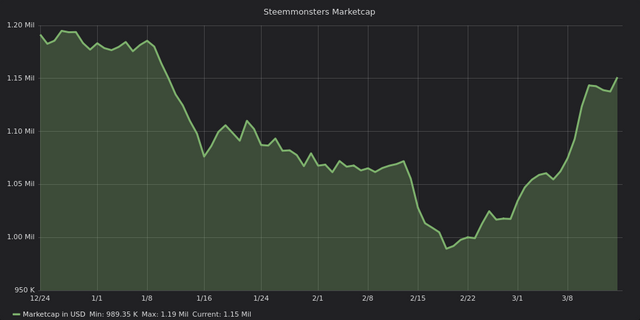 Man, I gotta say, these tournaments and the Steem rally together have been killer for the value of Steem Monsters cards! The low point of our market cap was $989,350. That was just about a month ago. Since then tournaments have gone live on the test site and later on the production server. We've given out over $6000 to players, and the experience is solid. Some players think it takes too long still, but we're still getting 60-100 players in any given tournament.
Climbing away
Since the low at 989k we're up to $1.15M. We're up over $160k in marketcap just in the last month. Feels like we're moving in the right direction. It's attracting new players and older players that took a break, trading is more active, and things are feeling pretty good around here.
Time to play
The team is spending as much time as we can every day trying to make this game as awesome as possible and approach a full and the first blockchain esport. If we can get there then these cards are gonna be worth a fortune. 900k packs seems like a lot now while we only have a few thousand core players, but it's nothing if we can get to the next level. it's tiny. It's miniscule. Combine that with the card mechanic that the card supply shrinks while players try to make more powerful cards and you can hopefully see why I'm so bullish on this project.
Sweet Review
I don't know this site or this reviewer, but I'm pretty stoked to see this review. I had a nice chance to read it to my kids and dad today.
https://dgaming.com/this-is-my-experience-playing-steem-monsters/
It's a pretty glowing recommendation by a site that reviews dgaming claiming we're the best dgaming experience right now!
We've made some headway in the steem community, but we're still pretty unknown outside of that. There's so much green pasture here that the future looks so bright. I also salivate when I think this is what we can do in a bear market... just imagine what it's going to look like in a bull market.
Dominus
Delegation is around the corner. We'll get DEC out there and we'll have to look around at what we think will be the highest return for us, but somewhere in the not too distant future is Guild combat. Get in teams and battle it out! This will be the start of professional sports teams that literally anyone can purchase and get going with. There's a lot of revolutionary stuff here, but this gets me pumped too.
I want to be Dominus of a Gladiator Combat House. I want a full team of battle tested warriors slogging it out in the arena wearing the Aggroed Banner, and the ability to do that is coming! Can you imagine if people can create their own vanity sports teams? Other blockchains getting into the space. Rich people forming teams for fun and vanity. I think as blockchain takes off more and more we're in this amazing space as one of the first and most versatile games in the space.
I'm looking forward to not just dominating in Steem Monsters, but doing everything I can to dominate in this space. Should be fun!
Get some cards!
Now's a great time. Steem just had a big rise, prices pulled back some. When you see these spikes in Steem and SBD those are great time to capture some of the gains and put it into Steem Monsters. With delegation around the corner you don't have to be a gamer. You'll be able to own the card and rent it to players who want to play or form a whole deck or a whole team and let others play them for you and skim some winnings off the top.
This game is fun, well reviewed, and I personally think will go nutz on the next bull run. Don't miss out!!!
Just for entertainment and information. I don't know your personal situation. I can't tell you if it's the right decision or not to SODL house and HODL cards. You have to make up your own choices for you and your family. This just details my thoughts and journey!