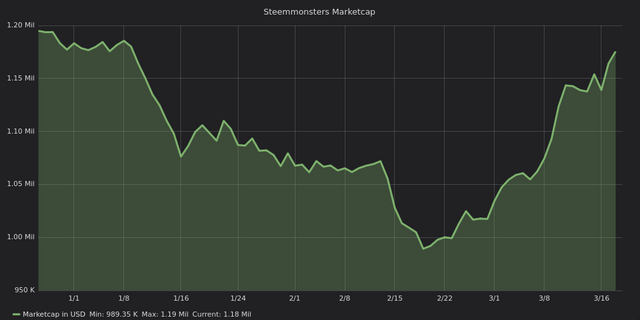 So, in the Steem Monsters discord we have a bot that calculates what we call the marketcap. It takes the lowest asking price of a card and multiplies by how many units of that card exist and sums that up for all the cards. The argument isn't that it's the best or worst way to keep track of the true value... it's just 1 consistent number that we use to track how card values are working.
That chart shows that we're just below beating the 90 day high price from back in December. That's a great recovery especially since bitcoin hasn't really started it's recovery yet.
The trend is your friend and that trend looks great! I'll keep buying, I made $100 renting cards today, so that was cool. It's a pain in the ass to rent without the market, but when that gets here I think there's a lot of passive income to be made and apparently I'm not the only one who sees that as a possibility! Clearly other people dig this, have faith in it going up.
Steem Monsters Tokens on Steem Engine

3 Steem Monsters related tokens made it into the top 9 most traded tokens on the dex today.
SMALP brinign in $72, Alpha packs are worth $2.34 right now and selling on the market, and Beta packs are currently trading for $1.40.
If you have extra packs and want to sell them convert them to tokens and trade them on steem-engine.com
If you have extra USD and want some packs go ahead and get some packs and any extras you can convert to trade for Steem!