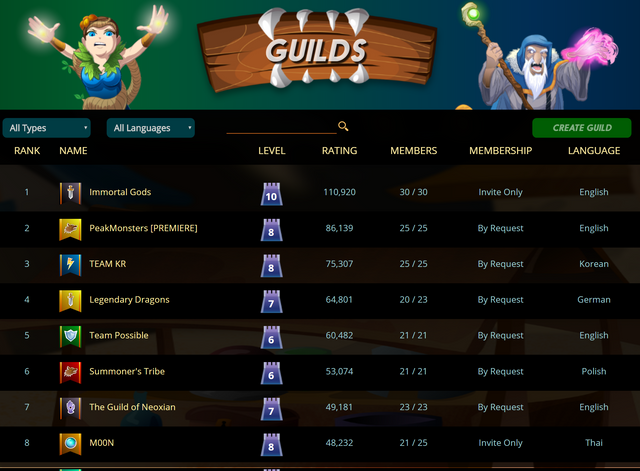 I have a few basic principles that I operate based on while here on Steem.
People are the value.
Be dependable.
Help other people make money and I'll make money.
Those are my stand bys. What I really like about guilds is that they help other people and their money. Right now in this very first version they aren't making money so much as saving money because the quest lodge can reduce their costs, but in the future with things like drops and special cards and whatever else me and Matt can think up these guilds will provide real revenue.
We've talked about a crafting/mining expansion and there's a small chance we may even see it before the end of the year (still tbd). But I can imagine instead of individual whales owning all the stuff it'll be guilds. They'll be able to produce things that other players want for their decks and if the things are scarce enough you might not be able to get it anywhere but the guilds!
Tokenization
Where that leads me is that guilds are going to need guild points that they can distribute to players and players can later spend for things they want. I'm really excited about this opportunity because it's a nice blend of two of my babies: Splinterlands and Steem-Engine! So, I'm happy about the 50 teams that have formed. I'm happy to start a journey to tokenize guilds! I'm excited for what's coming.
I hope you are too!
Herons
While I'm here. I should add that I'm also really excited by something that @tcpolymath has been working on. He's got a thing going that's called Heron's Unlimited. Players with cards they have, don't want to sell, but also can't play can rent whole decks now!
Have a deck
Talk to tcpolymath
Delegate cards to an account he operates
A player comes along who wants to play the deck
They play, all card earnings get nuked, and the DEC is split between owner and player
If you have spare cards you can get passive income. @nealmcspadden did some math on this and found that his really efficient DEC farming teams were earning ~30% annually on his capital investment.
That's insane! It's hard to share how insane that is! If you don't know much about finance it might be hard to appreciate it, but it's a crap ton of money.
Hell, I was happy with the cards I was renting through peakmonsters and getting 15% apr on them. That's a better return than my credit card company gets from me!
Back to principles
Anyway, I like to eat my own dog food here. In this case the business strategy is to help other people make money by playing a game. I'm playing my game and the cards I own are approaching $1,000/month paid in Steem/sbd/DEC. It's a great passive income and it supports the ecosystem!
The last thing is that I feel like I'm responsible for part time work with this thing too. I have 9 heron's decks out there, and I'm helping players earn with it! Last question to me is will the Heron's players ultimately convert over to their own decks? Time will tell.