SteemMag – Steemit's Weekend Digest #31: Building Greater Interaction: Chats With A Prolific Steem Dev (ChainBB, SteemDB etc)…….. Art of The Week… and lots more
It is with great delight I welcome you to the thirty-first edition of SteemMag, a weekend digest for Steemians.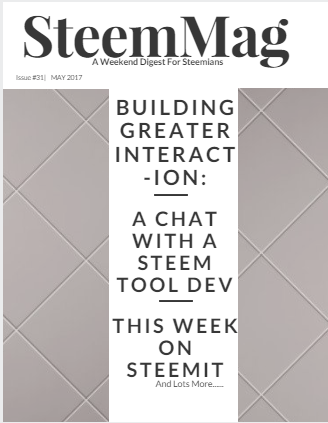 Every week, I take a look at some of the most important/trending topics and have a chat with top Steemians who have expert views on such topics.
Here are links to Issue #1 , #2 , #3 , #4 , 5 , #6, #7 , #8, #9, #10, #11, #12 , #13, #14, #15, 16,#17, #18 , #19 , 20, 21, 22, 23, 24, 25, #26 , #27 , #28 , #29 and #30


This week has been a very good one on Steemit. You can feel it in the air. Not only do we have more users trooping in, Steem and SBD are both doing well on the markets.
This has had a massive morale boost on a number of Steem ecosystem segments. And it's on one of those segments, SteemMag will be putting a focus on. Steem Blockchain apps.
---
This week SteemMag had a chat with one of the most prolific Steem devs, @jesta. Many new users will know him for his cool ChainBB tool, a community forum platform built on the Steem Blockchain. However, he's also the Steemian behind some other cool apps like SteemStats , SteemDB and others.
---

SteemMag:
It's been quite a while since you had the idea of a steem-based forum. What finally pushed you to get the beta ready?
@jesta:
Well, the beginning of this year was really bogged down with a move across the country. I built the prototype on SteemDB about a month before I really started packing, and then just got caught up in everything move related. It was something that was on my mind the entire time though, so a lot of pre-planning as to how it'd work and look went into it.
After life quieted down a little bit I decided it was a good way to jump head-first back into dev work :)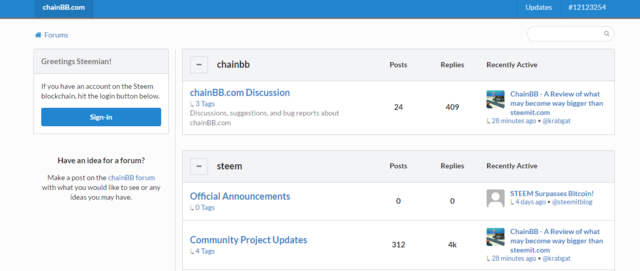 SM: Your announcement was the highest earning post in recent months. How did you feel when it crossed the $1k mark?
@jesta:
It felt like the old days :D
Steem's recent price increase is something I didn't see coming, along with all the other meteoric rises we've seen in crypto over the past months. These recent gains are also helping me stay focused on my work, rather than going off and looking for a job. I don't know how long it will last, but these post rewards are definitely helping me stay focused.
SM:
How has been the community's response to the website? Usage numbers etc?
@jesta:
I'm actually not tracking usage at this point, so I can't give you any specifics yet. It's likely that type of tracking will be added soon though! I've been working on a UI for SteemDB.com that will track app usage by the app tag on each post, and hope to make a nice pretty graph that shows growth over time of all the steem-related apps.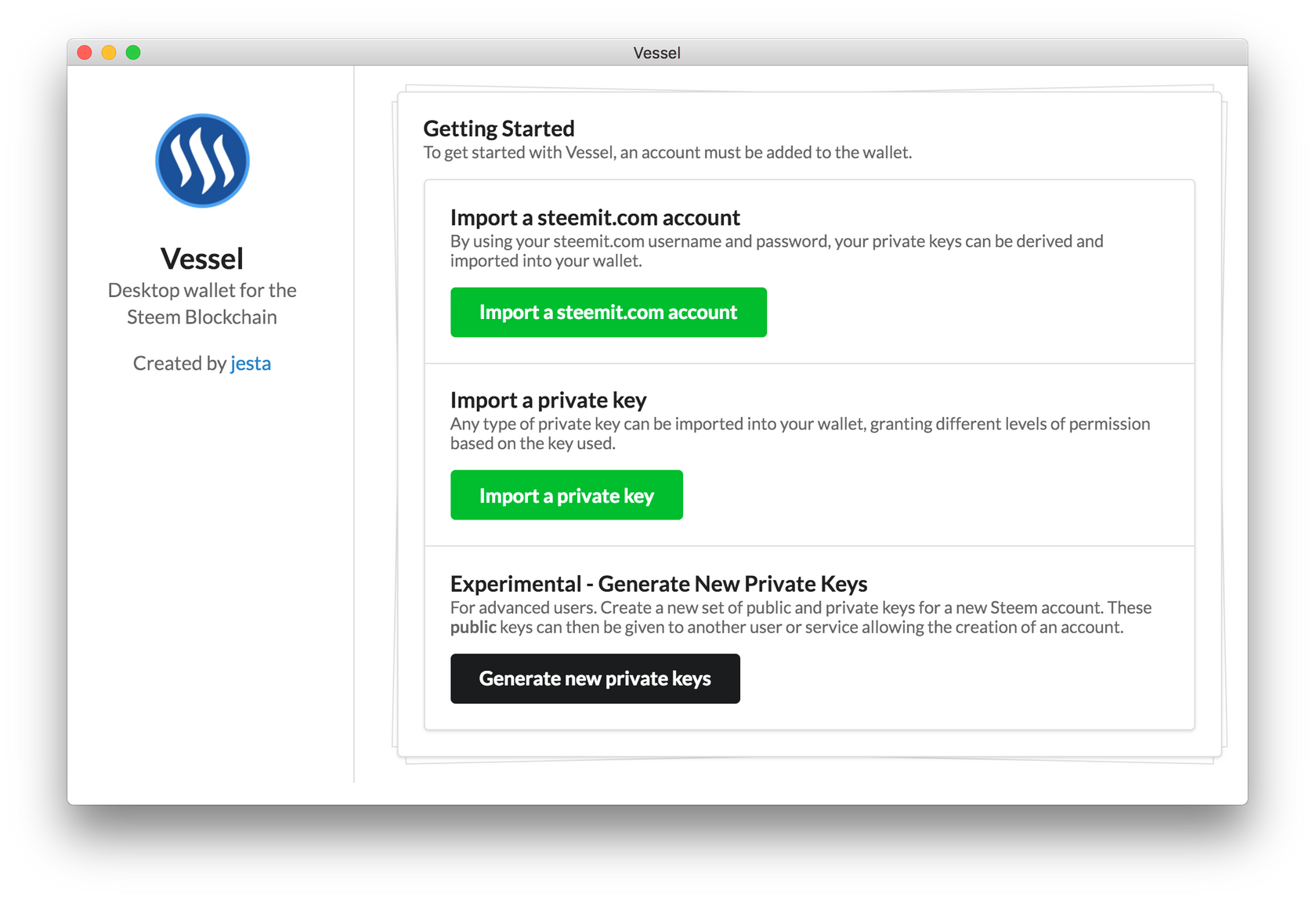 SM: What do you project for ChainBB in the next 6 months? Additional features et al.?
@jesta:
There's a lot, this feels like it's going to be my primary project moving forward, and it's got an incredible amount of potential.
Right now the beta.chainbb.com site will be focused on discussion about chainBB/Steem, with some potential "fun" forums as requested by users to act as the water-cooler area.
The chainBB website itself though won't ever be a community destination like Steemit.com, but instead a website about the application and the business behind it. The community site aspects will come with the launch of other websites, powered by chainBB, to cater to individual communities and groups. For example: using chainBB, we could launch a bitcointalk-style website on it's own domain, build up a community around it, and have it be it's own stand-alone entity with it's own community.
The plan for the immediate future and the next few months includes:
Fundraising. As I mentioned above, I am able to support myself due to the rises in the markets, but that won't last forever. I definitely can't afford to pay others for services or the proper infrastructure to host other sites at the moment. Likely soon, I'll start doing some fundraising to see if the project can gain some traction and support - hopefully with incentives for investors that will encourage promotion and growth. I'm drafting up proposals and talking to many people about this right now.

Integrating communities on their release will be a top priority within the next 6 months.

Building on some of the more required UX features, such as: claiming rewards, author pages, editing posts, setting payout options, etc. The things as a user you do on a regular basis on the steem network

Adding a new layer of features that includes moderation powers using the blockchain. This likely will also be tightly woven into the steem communities feature upon release.

Building a website around the beta product using Reprint to explain what chainBB is, how people can get involved, and what people can do with it. This will be crucial in getting people to understand the potential of the product without stumbling through a bunch of blog posts.

Cleaning up and optimizing the code, making it less "prototype" and more stable. I'm still relatively new to the react/redux way of thinking and there's a few spots in the code that any experienced dev would look at wonder what I was thinking :)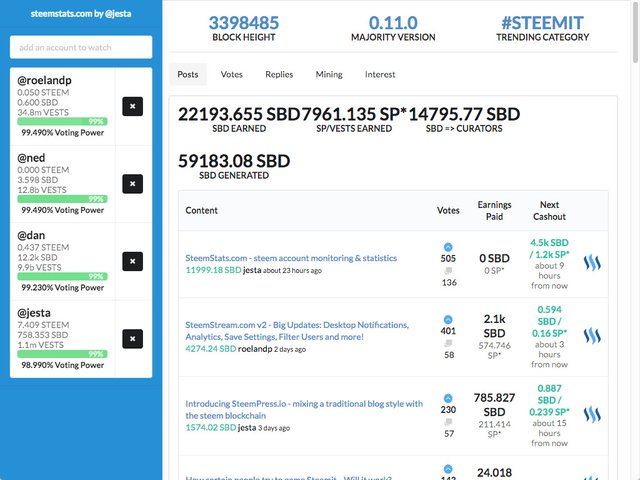 SM: What can we do to attract more prolific developers to build more tools on the Steem blockchain?
@jesta:
My approach to this has been just talking to them, and trying to engage any developers that just happen to stumble on Steemit.com. The problem is some of them just fall through the cracks on steemit.com and no one ever see's their posts. I actually just started a new forum on chainBB specifically for this:
https://beta.chainbb.com/steem-dev/@jesta/a-forum-for-developers-and-reviving-the-steem-dev-tag
Other than that, I'm trying to lead by example and use the experiences I've had to guide others who might be interested!
---
Thanks so much for having a chat with SteemMag. You rock!
---
Favorite Art/Photo of The Week

The art space on steemit has been massively growing. Lots of really fantastic art pieces being shared. So I asked one of the early art bloggers @fairytalelife to tell us her favorite art piece this week. And what a choice she made!
---
SteemMag: What's your favorite art piece/post on steemit this week?
@fairytalelife: This by @ilvacca.
Too cool. What I like is the drawn indications of what we are looking at. I've always been so bad at seeing stuff in the sky. Man, we are so insignificant.


It's amazing the bundle of talents we've got here on Steemit.
@ilvacca, hats off to you :)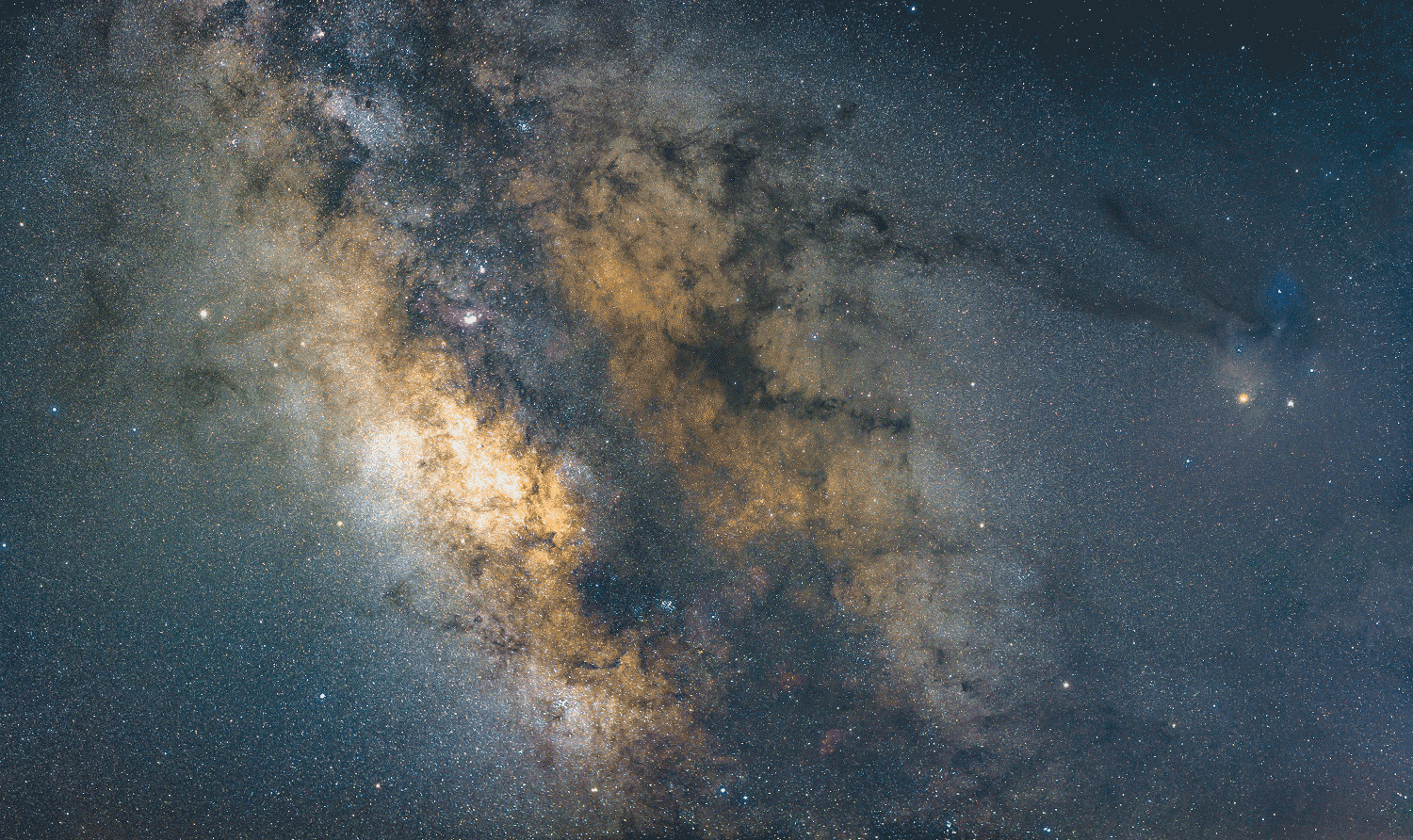 ---
A lot of interesting events happened this week. And in case you missed them, we've got your back. Here are some of the most important events that happened on Steemit this week.
~ Steem got into the finals of the BTCC new coins twitter contest. Vote for Steem here: https://twitter.com/bobbyclee/status/865851769116475392
~@steemitblog also announced that Steem surpassed BTC in the no of daily transactions.
~ Steem reaches last summer's market cap and its currently 11th on the coinmarketcap.com's crypto market capitalization list.
~ @jesta releases Vessel – a really cool desktop wallet for Steem. Y'all should go try it out.
~ For a comprehensive list of dedicated Steem blockchain apps. Check out SteemTools.com
~ Meanwhile, SBD rates ranged from 1 SD = $ 1.5 – 2.22 this week
~$0.71 and $1.33 were the lowest and highest value traded this week for a unit of Steem respectively.
---
---
P.S Thanks for getting to the end of this weekend's special edition. What was your favorite feature? Do you have any project you would like to have featured on SteemMag?
I would love to hear from you!