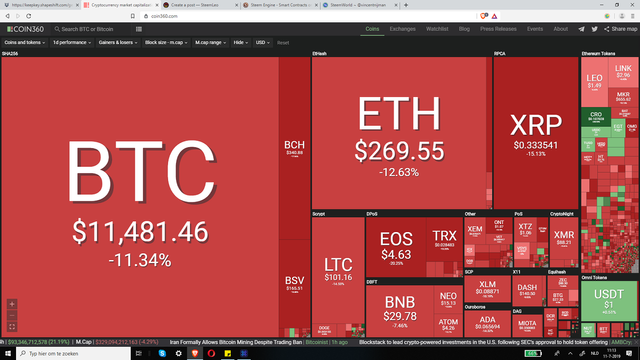 Where, in the past, I would feel bad on a day like this, seeing the crypto market in the red and witnessing BTC diving deep after an initial rise, yesterday, I now try to be playful whenever I can.

And let's be honest, the market is still doing very well this year. And days like these are buying opportunities.
So, instead of feeling low and having a tunnel vision mind, I decided to just be playful and see if I can make some profit by following my intuition.
This is what I did today:
I transferred some money from my bank account to my Coinbase wallet. I plan to buy a handful of LTC as soon as the Euros arrive. Litecoin lost about 40 percent lately and I expect it to go up again. I will sell these LTC with profit, hope they rise to 150 to 200 dollars pretty soon.
I also played around a little bit with some coins in my Exodus desktop wallet.
I changed some Storm coins for EOS. EOS went down almost 20% in the last 24 hours and has hardly been this cheap in the last three months.
I also exchanged some BAT for Omisego.
Why did I do the above? Merely because BAT has hardly gone down and Omisego quite a lot.
Nothing special, you don't need to be a financial pro or maths wizard to do the things I do. I mainly keep an eye on the market, check my wallet and exchange coins that have lost less for coins that have lost more of their value in the last 24 hours.
It's Awesome to Play
No matter what, it's pretty awesome to be able to play around with money in a way that I had never imagined before 2017.
I'm not saying that what I am doing is the right strategy and that you should copy it. It's just how I'm rolling these days and you know what? I'm enjoying the rollercoaster ride.
Welcome to Cryptoworld where every day is yet another ride. You never know what's gonna happen. There's always new adventures to explore. Kind of like life. It's just a matter of opening up to it and enjoying it all as much as possible.
Life is a game, like crypto and we shouldn't forget to be playful, like the kids we all are ( deep inside ). Being serious and stressed out over everything usually doesn't make your life any better. And believe me, I know. I have been a serious guy for way too long and I am fed up with that.
What about you? How do you play ( with crypto )? Feel free to share your strategy and rules of the game in a comment to this post
P.S. The picture above this post is a screenshot from Coin360. One of my favorite websites for crypto market statistics.
P.P.S. I almost forgot to mention that, yesterday night, I changed some Steem Dollars for Steemp and then to LEO. Let's see where this ride takes us! :>)