What a Dump! What now? Should we be Afraid?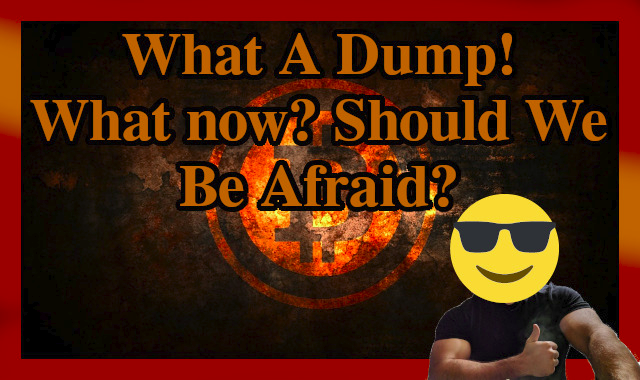 Ouch, that dump was hard...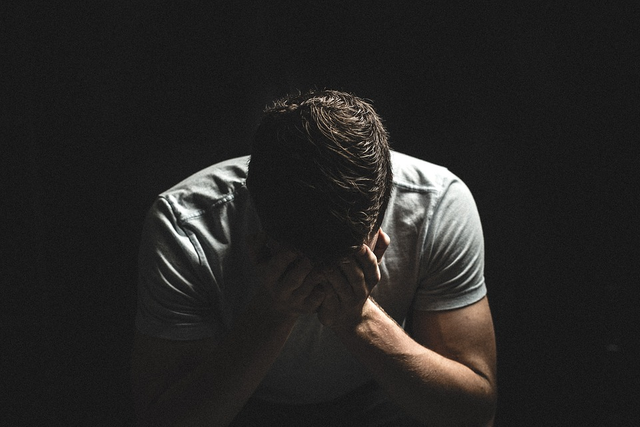 Well, well, well... BAKKT didn't do anything for the market! What a huge dump we had! Around 20% in BTC and more or less the same in every altcoin, this is the stuff of crypto nightmares! But not something that we aren't used too...
The 2018 hodlers are used to these dumps, hodling in the crypto market is risky short-term but profitable long-term, it all comes down to "How weak your hands are?" "Did you invest more money than you should have?" Don't be that guy that sells the bottom and buys the top...
I was more or less expecting this dump, I wasn't 100% sure, but I was around 70% sure it would come, the triangle was very similar to the 6k triangle. But well, good thing it broke down!
Yes, many are crying because the triangle broke down, but guess what, it's a really good thing the triangle broke down. A bull market that doesn't retrace is a bull market that isn't going to last long. Now with this dump, we can reset all the indicators, reset everything, shake some of the weak/crying hands out and rise from the dump to new highs.
I'm not expecting further downside (but it can happen), we just hit many of the Bull MAs that traders use as entries to the bitcoin bull market. The 200MA on the 1D timeframe is one of my favorites, Bitcoin in a bull market normally hits this MA multiple times and each and every time it bounces higher, it normally only goes below it when we are in a bear market, which we have a small probability of still being in one.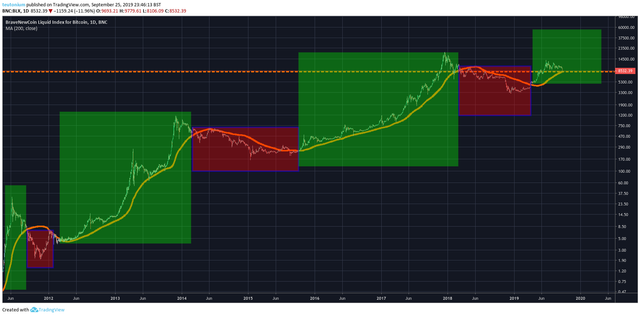 Orange Line - 200MA on 1D Time Frame; Green Squares - Bull market with price over the MA ; Red Squares - Bear Market with price under the MA Source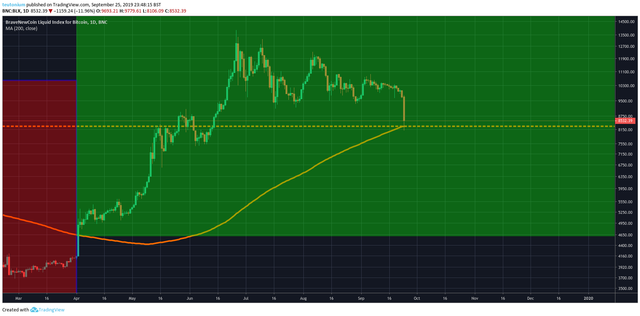 Orange Line - 200Ma on 1D TimeFrame, look how the price bounced from it, which is normal in a bull market Source
If we go under it, well... it wouldn't be the first time Bitcoin was above the 200MA 1D and it went below to retest the 200MA on the 1W Timeframe, so that might be the next area I would look for. Retesting supports, retesting MAs are some of the things which we should do to have a healthier bull market. That whole exponential growth we had Q1 2019 was not normal, that wasn't healthy at all!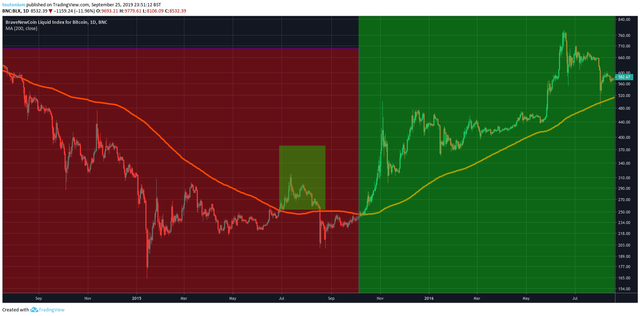 Look how the price went above the 200MA on the 1D timeframe and dropped under it before the start of the actual bull market. Source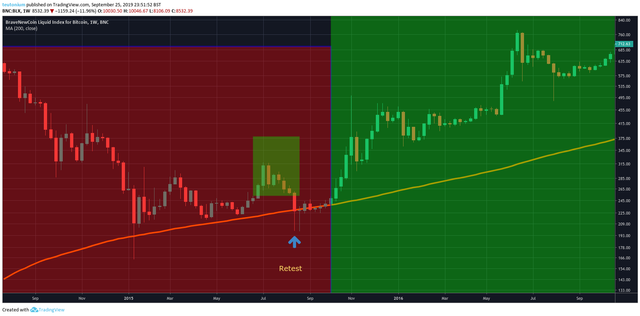 Look how it retested the 200MA on the 1Week Time Frame, Source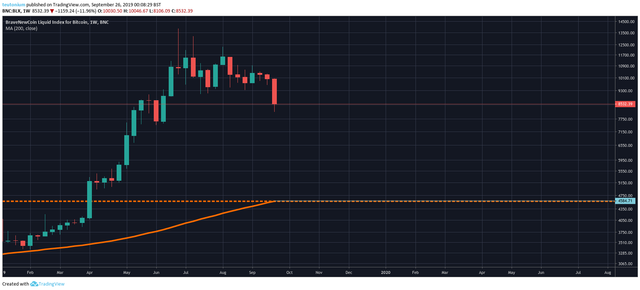 The MA200 in the 1Week timeframe is at $4500. Can we be doing the same now? I have my doubts, I don't expect further downside, but we all know how Bitcoin likes to prove people wrong... Source
Like I've mentioned previously in one of my posts, Bitcoin never reached a new All-time High before the halving, not sure why it would now... The fundamental analysis is strong in the whole crypto market, but it's only going to be felt in 2-5 years, we are still very early in this whole industry.
Just look at the fundamental analysis we have in the space: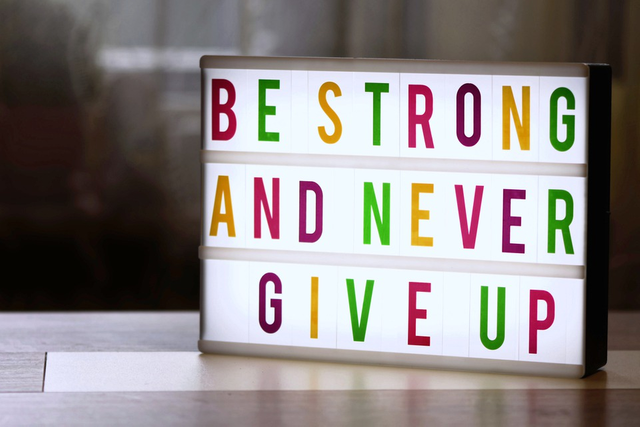 Steem and all the tribes have almost no more bidbots, which will give more value to the good content creators, incentivizing and increasing the amount of good content. This good content will increase the number of page visits worldwide which will pump STEEM through ad revenue. This pump will bring more content creators, and the cycle restarts, a never-ending cycle of STEEM price appreciation and increase in content creators which will bring mass adoption!
VeChain is being used by Wallmart and DNV GL, among many others, to verify certificates and supply chains, and in 2020 they will expand to thousands of wallets since DNV GL and San Marino will make a great push for mass adoption through wallet distribution!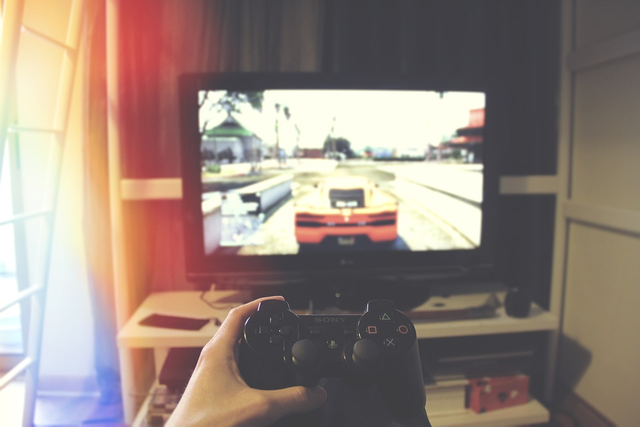 Ethereum is moving to PoS which will increase the speed and decrease the cost of tx... not only this but Santander just launched a 20M bond on Ethereum, we got STOs coming left and right on Ethereum, and many banks world-wide are testing Ethereum and loving it!
Enjin is being used by 9lives, Rust, and they just launched a new article from one of their clients where they showed a 1700% growth since adopting one of the features Enjin allows.
BAKKT didn't do anything for the market, but when FOMO sets in it will provide a new road for the big investors to invest, speculate and trade in actual, real, "physical" bitcoin!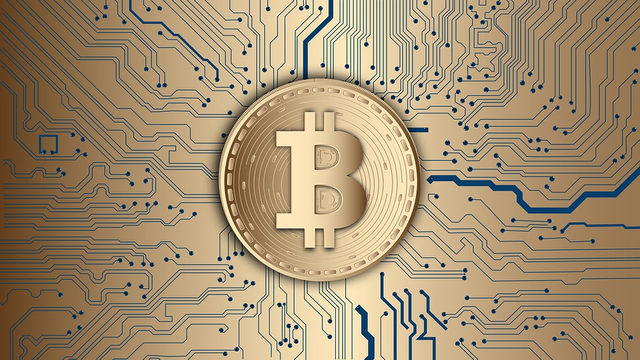 With all of this Bitcoin as the Store of Value that it is will grow, and it will drag along all the good projects with her, the Queen is alive! She is just going downstairs to grab something from the fridge...
Do I need to continue? Because I can... we are still very very VERYYYYYYYYY early in this new asset class that is Crypto, this isn't for the weak-hearted person. I'm very certain that Crypto is here to stay, and no, not even Quantum Computers will be able to do anything against crypto... Quantum Encryption is something being developed just like Quantum Computers.
Stay Strong, these dumps will just be bumps in the road to "MassAdoption" town.
Images Free Source - 1, 2,3,4,5,6, 7, 8, 9, 10, 11, 12, 13, 14, 15, 16, 17, 18, 19, 20, 21, 22, 23, 24, 25, 26, 27 - Tradingview snapshots too.

Question of the day: Do you think we are going to drop lowers, or will the dump stop here? Are you trading this? I'm just Dollar-cost averaging at this point...
PS: I'm sorry that I haven't been posting or commenting as much as I usually do, university is keeping me away from you all, but I haven't forgotten you :)


Convert your Bitcoin to EUR/USD : Coinbase
Buy all kinds of Cryptocurrency: Binance
Join Steemmonsters, one of the top dapps on blockchain: Stemmonsters