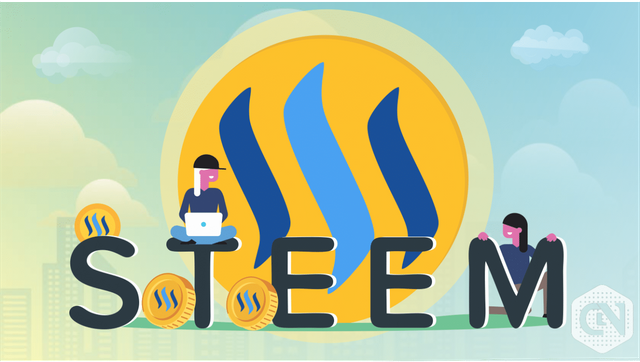 Source
Most of us are aware that the price of STEEM keeps dropping at a faster rate than other cryptocurrencies. Over the past year, STEEM steadily moved its way down the list on coinmarketcap.com. This is viewed negatively.
But is it?
To answer that question I think we need to take a look at who is selling. The reason any asset moves down in price is there are more sellers than buyers. Markets, at their core, are very simple. So who is presenting the selling pressure that over matches the buy side?
Steemit Inc.
It is no secret that Steemit Inc is selling a lot of STEEM each month. I am not sure what it is now but they were pushing close to 800K a month for a long time. At this moment, I would not be surprised to read that it is still over half a million STEEM dumped each month.
We all know the financial situation the company found itself in. The company was dependent upon STEEM to pay its bills.
So is this a negative?
To start, long term, the more Steemit Inc sells, the better for the token distribution. Having so much STEEM in the hands of one entity is not healthy for the ecosystem. It hurts while it is taking place but if 800K is ending up spread out in a lot more hands, this is a positive.
Also, Steemit Inc was selling due to financial difficulties, not a lack of confidence in the platform. Many companies that are the primary developer behind blockchains are finding themselves in the same situation. It is something that is not exclusive to Steem.
Applications
Steem is one of the leading platforms for the creation and usage of applications. Running these networks cost money. There is development, employees, servers, and a host of other costs that come from running a business such as this. Most are operating as thinly as they can but one cannot eliminate all expenses.
In other words, there are outlays that come with running any business.
The applications find themselves, even today, in the same boat as Steemit Inc. They are having to sell STEEM on a monthly basis to pay the bills. Since we still have not seen too many business models that create self sustaining entities, these companies are dependent upon the conversion of crypto to keep going.
This, of course, places even more selling pressure on the market.
Poor People
We know that much of the world has very little in terms of financial resources. This is true in both the developed countries along with the third world nations.
Steem did a good job attracting people who found a way to pull in some money by doing things online. The system that is in place creates STEEM on a weekly basis that is paid out to those based upon their activity.
When you look at the top 100 currencies on coinmarketcap, you will find this is novel idea. Most of the currencies do not do this.
This fact adds a different layer to Steem that others do not have. There is a percentage of the people on Steem who use the money earned to pay for things such as food. In other words, people are earning and converting it for to survive.
Personally, I think this is a wonderful use case for STEEM and do not view this as a negative.
Obviously, there are other sellers not mentioned. We have people who lose confidence, spammers who convert their haul, and some who just look at it is free money. Nevertheless, I think the ones I mentioned covered a large percentage of the selling pressure.
Here we see why the price of STEEM drops further than other cryptocurrencies. The reason that is the case is because we have activity. We are successful in attracting developers who created businesses while having users earning some money for their efforts.
Tell me the others on the Top 100 list that do that?
Certainly, a proof-of-work blockchain like Bitcoin gets slammed even more when the price falls low enough to force the miners to sell their stake to stay in business. Something similar exists with POS when the Witnesses have to unload the token to pay their expenses. However, I doubt you will find many other blockchains that have the additional selling pressure coming from dozens of applications and thousands of people who simply need money.
It might sound crazy but the success of the Steem system is a detriment to the price of the token. Until the applications (and Steemit Inc) figure out a way to sustain themselves without depending upon token sales, we will see an added layer of selling pressure that is relentless.
Selling that comes from a lack of confidence can happen at any time. It is often inconsistent and sporadic. People get antsy at different times. As long as widespread panic is avoided, things are fairly safe.
Systemic selling that comes when an entity needs to meet expenses is a different story. This is consistent, frequent, and usually in large chunks. Companies know when their bills are due hence they do what is needed to be prepared for that.
The same is true for individuals. If I am using the Steem platform to pay my rent, I am well aware of when that money needs to be in. This means, if I am in this camp, each month, by a certain date, I am a seller of STEEM.
Essentially, I am making the case that the price of STEEM drops more relative to other cryptocurrencies, over time, simply because there is very little happening on those blockchains. Again, how many of the Top 100 have dozens (if not a hundred) applications operating with the token as the primary vehicle for sustainability? Also, with so little traffic, how many are having to upgrade their servers like Actifit, Splinterlands, and Steem-Engine due to the activity that is taking place? If nobody is using my application, I can host it on my phone, nobody will care.
Each week, the blockchain distributes hundreds of thousands of STEEM to the people I just described. A percentage of them are dumping the token out of necessity. Hopefully, this will change as our economic model shifts with the change in business plans. For now, this is the situation we find ourselves in.
As I wrote on a number of occasions, there will come a time when the amount of liquid STEEM available is very scarce compared to the need for it. We are not there yet.
Fortunately, as I will show in another article tomorrow, there is a floor on the price of STEEM.
Have no fear, this is not going to zero. That I can guarantee.
---
If you found this article informative, please give an upvote and resteem.