@spinvest-leo Update 8 - bedding down changes, SPI payout.
This week has seen a few changes to the @spinvest-leo account. You can get the full details from this post. I'll summarise quickly and (hopefully) clearly:
SPI payouts will now be made weekly.

Calculation change doubles the mining rate. Bear with me for a re-worded explanation as I confused people in that post. Old calculation was 1 SPI per 500 LEO delegated per month. New calculation will result in 2 SPI per 500 per month. The actual math used is 1 SPI per 1000 per week, but this is the same outcome as 2 per 500 per month. It still looks wordy and confusing, I hope everyone gets it, or someone can explain it better than me. Long story short, payout is doubled!

Any amount of LEO delegated qualifies. There is no minimum. Well, actually, the minimum would be 10 LEO as I pay SPI to 2 decimal places and that would be the smallest amount I could pay - 10 LEO mines 0.01 SPI per week.

Another behind the scenes change I made this week was to tweak the auto-curation a bit to improve its use of LEO voting power. I also turned of the remaining auto-votes for delegators. These were a carry over from the original reward system, and when SPI mining started were meant to be turned off. I had just not gotten around to it until now. The new weekly mining rate is a great reward for delegating, far superior to an occasional upvote.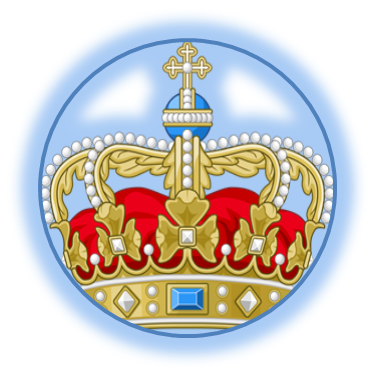 OK, down to the numbers this week.
Our returns this week were impacted by 3 main things.
Increase mining payout - obviously when you double the reward for delegating, net income goes down as more gets used to buy the SPI rewards. This is a temporary, 1 of reset to our net income.
Increase in delegations - we gained new and increased delegations that earn rewards this week. The benefits of those delegations don't flow through till next week (due to the 7 day payout cycle). This is also a one off impact but will re-occur in the future if more delegations come in.
The main @spinvest account didn't transfer its LEO earnings over this week. Mr Spinny needed the LEO to list on the LEODEX. This was a great long term move, and will benefit the club incrementaly over time as LEODEX builds out its feature list.
This weeks outcome: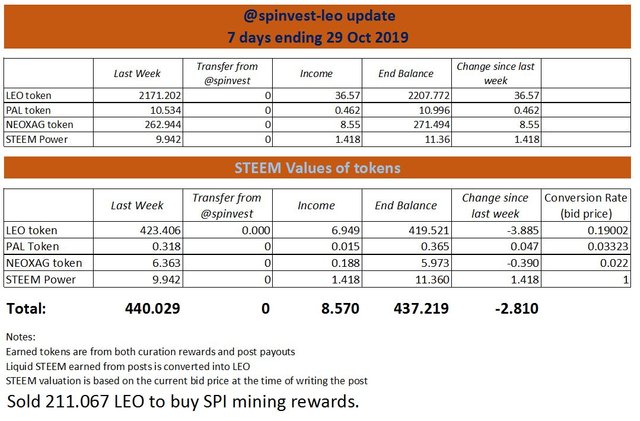 A slight drop in the price of LEO, combined with doubling SPI rewards and no LEO transfer from @spinvest meant the STEEM value of the account dropped by 2.81. Most of these are one off impacts, and next week will see a return to growth, all things being equal. The good news is that the doubled reward is fully funded from within @spinvest-leo, with zero reliance on any other sources. This weeks mining rewards amount to 37 SPI, with a STEEM value of 44.4.
All in all a very exciting week in my opinion that sets us up for growth and increased benefits for SPI miners.

Show me the SPI!!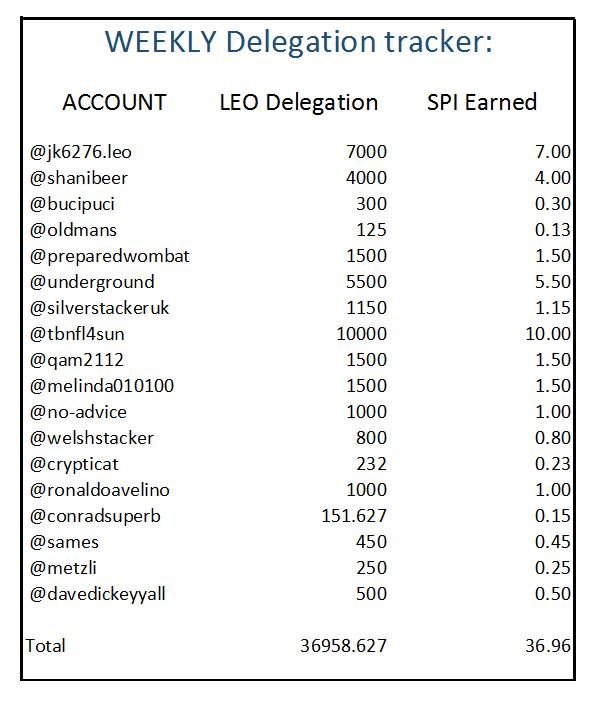 Tagging all delegators for visibility, check your wallets.
@crypticat, @ronaldoavelino, @conradsuperb, @welshstacker, @sames, @metzli, @davedickeyyall, @no-advice, @melinda010100, @qam2112, @underground, @preparedwombat, @tbnfl4sun, @silverstackeruk, @shanibeer, @oldmans, @bucipuci, @jk6276.leo.
6 New delegations this week, including some from outside the current list of SPI investors. A few existing delegations increased and no-one decreased or undelegated at all. Happy customers it seems. :)
36.96 SPI payed out this week.
That's it for this weeks update, I'll have another post later in the week showing some ROI calculations on this delegating LEO setup. Was going to do it today but ran out of time.
Thanks everyone for supporting this program,
JK (@jk6276, @jk6276.leo)
on behalf of @spinvest, @spinvest-leo.