DWD: Drugwars Dollars: New data points
I did a deeper research into the metrics of drugwars dollars... and with some help of the secret service I could analyze the data... ..all the data required can be found here: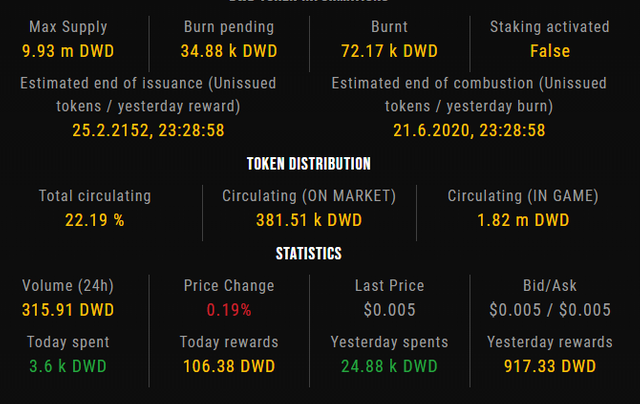 What is very important to understand now is, that if you look at the yesterdays rewards number this is the total amount of DWD that are newly minted that day.
If you look now on the right side info about daily rewards you will find this: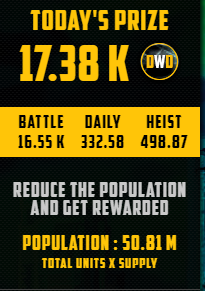 so how does 917.33 and 17.38k add up? Not at all.
DW team described some time ago that the fighting rewards are more or less a function of how much of the total population (different destroyed units are weighted by a supply multiple due to the price of the units) are destroyed by a single fighter. According to that the DWD battle rewards are distributed.
How much? Simple maths: 917.33 total - 332.58 daily - 498.87 heist = 85.88 DWD battle rewards yesterday.
Today however DW team seems to have nearly doubled the battle rewards to 35k (up from 16.55)!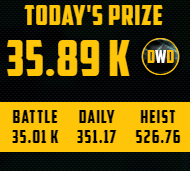 So that means apart from someone throwing some nuclear warheads (not yet implemented.. ;-) ) there will never be a huge portion like 75% of the battle rewards being distributed on a single day, but more or less a separate battle reward pool that growth everyday until one of the big gangs will decide to tap it by attacking another gang face to face for a monumental fight...
This also means that daily inflation until yesterday was limited to below 1,000 DWD / day or below 350,000 DWD / tokens per year or at the current price of around 0.03 this equals 10,500 steem.
(This could possibly double if the current higher battle rewards rate is maintained and someone clears the whole pool in a few months)
So the current DWD metrics look like this:
Max supply ......................9.93 m DWD * 0.03 steem =.300,000 steem
circulating on market =..............381.5k * 0.03 steem =..11,500 steem
circulating in game =.................1,820k * 0.03 steem =...54,600 steem
total circulating =......................2,201k * 0.03 steem =...66,045 steem
yearly inflation (atm) =.................350k * 0.03 steem =...10,500 steem
and there is more:
look at the burn pending and burnt figure... it seems as if in game spent tokens are burnt! Not sure at all if this is correct, but its the only thing that makes sense to me...
so please everyone make up your own mind.. I just want to help you to get the data you need for your decision making! No investment advise! Crypto / Tokens have a substantial risk of going to ZERO!