I'm loving the tribe functions and features that are flourishing around STEEM at the moment. One thing I was just having a think about, prompted by a post by @qam2112 was around the miner tokens.
I would love to see a report weekly from founders or official tribe accounts regarding the use of funds raised from the sale of miners. These tokens seem to be the main way tribe founders are raising funds. Some kind of report on how those funds are used would give the community a lot of faith in the long term sustainability and transparency of the tribe.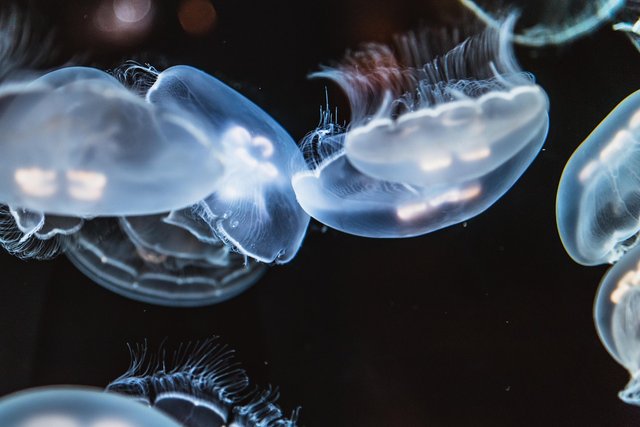 Image Source: Pixabay - Because Jellyfish are transparent.
Transparency is key
A lingering doubt I have around the tribe concept is around how easy an exit scam would be. Hypothetically, one could set up a tribe - lets call it EXIT. Airdrop a bunch of tokens and launch miner tokens. Supply and demand could be manipulated to make these miners fairly attractive. Sell a bunch, and that more than covers the cost of miners. Pocket the profit and keep pocketing the miner sales revenue, plus also slowly sell the primary EXIT tokens as the tribe hype develops. Stop paying the Steem Engine fees and milk the tribe for every last STEEM till it gets cut off. Take the liquid STEEM you have milked out and run.
Potential for EXIT scams
We have seen EXIT scams on STEEM in the past, I'd love to hear from the @steem-eng team or @aggroed as to what checks and balances are in place to prevent a tribe founder conducting such activity. By no means am I saying any current tribe founders are likely (or even possibly) to do this. Just that the system does require trust and some checks should be in place to reduce the risks.
What could a report look like?
A simple post in the tribe (and thus on STEEM generally for all to see), should be a requirment of Tribe founders. Details such as Miner and Native token sales by official accounts, and a breakdown of how those funds have been used would be great. Details and transparency will instil confidence in the system. Having verifiable information available would also make the tribe more attractive for investors.
Building confidence and trust
Knowing what your stake will be used for should be an important part of the investment process. If I want to buy 100 miners, knowing that 40% of those funds are going to marketing, 40% to running costs and 20% is the founders profit will influence my decision making. I am all for the founders making a profit, but if some of the revenue raised from miners is not going to tangibly grow the tribe, and add value to the token price, I am not interested.
Think about the benefits.
Something to think about for Tribe founders. Providing these kind of detailed reports voluntarily would significantly increase confidence in your tribe, set you apart from the growing competition, and create a transparernt environment where trust in your brand is established and investors in miners are true stakeholders in your community.
Thanks for reading and please do let me know in the comments what you think - all feedback is valuable.
John.