A Pleasant Surprise!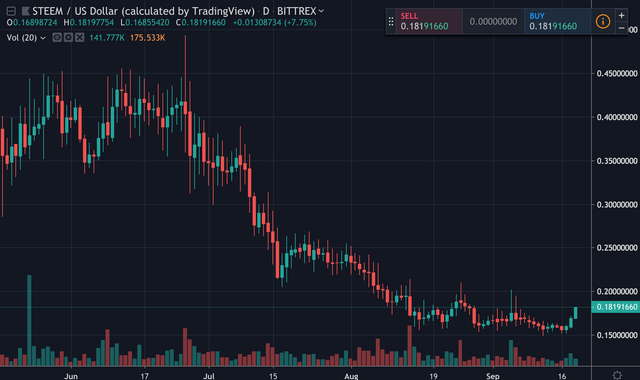 I am pleasantly surprised by the latest movements in the STEEM price.
I have some STEEM held on an exchange and some held in a few different Steem-specific wallets. I am relatively new to the blockchain (which you may already know) and I think STEEM has a lot of long-term potential.
Obviously, we have not see much in the way of actualizing the price potential in the past several months as STEEM has steadily bottomed out at ridiculously low prices of around $0.15...
Its insane that such a promising blockchain, technology and community could have such issues with price.
I persoanlly think it's a lack of marketing and onboarding and I know many others share in that viewpoint..
But whatever... Asteroids is a trader, remember? Im here for both short and long-term gains.
Today we see a nice little price blip. Nothing in the grand scheme, but 10% in the short-term.
On days like today, one may consider taking a little profit (depending on your entry price).
My signal for today:
Take a small amount of profit.
not financial advice