IONchain A BLOCKCHAIN BACKBONE FOR THE INTERNET OF THINGS
CONTENT OUTLINE
1.0 Introduction


2.0 About IONChain
2.1 Origin and etymology of IONChain
2.2 IONChain Roadmap
2.3 The mission and vision of IONChain
3.0 The IONChain Ecosystem
3.1 How IONChain will impact the IoT industry
3.2 The Implications of combining Edge computing and the blockchain technology
3.3 How a true IoT economy can hasten the mass adoption of IONChain ecosystem
3.4 The Impact of "one device, one code and one coin"
3.5 The importance of having a global standardized platform where DAapps can be developed to work on all IONChain implemented devices
3.6 The problems which IONChain helps to solve
3.7 Comparison of IONChain against other similar blockchain services


4.0 The Applications and use cases of IONChain
4.1 Use case 1
4.2 Use case 2
4.3 Use case 3
5.0 More Information about IONChain
5.1 My video about IONChain
5.2 Criticisms and short comings of IONChain
5.3 Solutions to the Criticism
5.4 IONChain social media platforms
5.5 The IONChain Team
6.0 Conclusion
1.0 INTRODUCTION

Image source
In 1887 a Swedish physicist named Svante Arrhenius postulated a theory of ionization that has really affected and inspired the mentality of modern day science to a greater extent.
The theory states that:
"Ionization, is the process by which an atom or a molecule acquires a negative or positive charge by gaining or losing electrons to form ions, often in conjunction with other chemical changes. Ionization can result from the loss of an electron after collisions with subatomic particles, collisions with other atoms, molecules and ions, or through the interaction with electromagnetic radiation. Heterolytic bond cleavage and heterolytic substitution reactions can result in the formation of ion pairs. Ionization can occur through radioactive decay by the internal conversion process, in which an excited nucleus transfers its energy to one of the inner-shell electrons causing it to be ejected." source.
This theory has also inspired the vision of the smart IONChain team to create what I will refer to as a very smart ecosystem, using the blockchain technology of satoshi Nakamoto to decentralize data processing.
The IONChain team is one of the smartest team I have ever seen, for even thinking about creating a smart technology of this nature.
In few years to come, the IONChain technology will be available and adopted on all smart devices because IONChain has helped to give a sophisticated ecosystem for data processing through edge computing and cloud computing.
2.0 ABOUT IONchain

Image source
Everything will be tokenized and connected by a blockchain one day – Fred Ehrsam
The vision of Fred Ehrsam when he made that statement is simply coming to pass as everything gradually gets tokenized and connected by the blockchain, the IONChain team has really boosted the vision of Fred Ehrsam and Satoshi Nakamoto by working very hard to create one of the smartest and sophisticated technology of all time.
IONChain is simply a non-profit foundation that was founded in Singapore in February 2018. The IONChain foundation has only existed for less than a year, and IONChain is the new IoT infrastructure project that aims to solve multiple problems such as: data security, data circulation, data sharing and data transactions.
IONChain is a Proof of Stake system that is based on the Internet of Things (IoT) ecosystem and it will allow for the creation of dAPPs, smart contracts and it will also contribute immensely to the facilitation of data transference, and that is what really makes it a very wonderful idea as it will be based on the internet of things.
All these functions are programmed to work within the IONChain ecosystem and they will help to enhance the IoT network.
The Blockchain technology and the Internet of Things applications will inevitably come together in the future under the IONChain ecosystem due to the vast amount of data that needs to be circulated, transferred and secured. We believe IONChain will be able to create this desperately needed ecosystem in a way that the data is not centrally controlled but in a rather decentralized manner. The coin IONC will be used to facilitate this trade in data and other applications within the network.
The IONChain project is simply one of the best project that will disrupt and enhance the Internet of Things industry in a matter few years.
-source
2.1 ORIGIN AND ETYMOLOGY OF IONChain
The story goes thus;
In 1887, the famous Swedish physicist, Arrhenius, proposed the theory of ionization, which posits that similar to molecules and atoms, ions are also a fundamental particle in the formation of substances. IONChain is so named because the IONChain will act as the underlying link between all the IoT devices to support the decentralized P2P communications among all the devices, much like the ion is an integral element of the atom, and without it the atom would not be what it is.
Making IoT devices able to exchange value between each other automatically with the use of smart contracts is going to create innumerable application scenarios for the whole industry, pushing it into a new era.
source
This ionization theory is among what really inspired the IONChain team to think smartly based on their experience.
The etymology of the word IONChain is derived from two English words "Ion and chain'' therefore IONChain can simply be defined as *" a smart blockchain created to behave in the nature of ions to backup the internet things using the blockchain technology"


2.2 IONChain ROADMAP
The IONChain roadmap is an amazing one and I really wished they conducted an ICO so that I could invest in it, but it is not too late to invest in the project too.
The IONChain roadmap is clearly outlined below:
February, 2018
IONChain foundation is established
IONChain whitepaper is released
IONChain community construction begins
Private investors fundraising starts
May, 2018
IONChain mainnet development starts
Release Genesis block of IONChain (ERC20)
IONC debut on first exchanges
15th August, 2018
IONchain formerly founded, core team established
Market research and feasibility analysis
STAGE 2
November, 2018
Announce Incentive for producers mainnet launch
Release smart contract and virtual machines platforms version 1.0
Optimize mainnet function iteratively
March, 2019
Complete patent application of IONChain ID
Integrate the telecommunication functions of IONC wallet and IONC connected devices
Announce the First batch of IoT devices connected to IONchain
June, 2019
Complete examination of the first generation of IONChain smart devices.
Test and integrate data storage, forming the foundation of the ecosystem
October, 2019
First IONC connected device trial production
Launch the first IONC first dAPPS trials
STAGE 3
December, 2019
The first IONC connected smart devices enters the market
The first dAPPS becomes fully functional
IONChain ecosystem comes to fruition
April, 2020
Update IONChain service infrastructure for optimal functions
Release more smart contracts and second generation devices
The complete outline of the IONChain roadmap can be clearly seen below.

2.3 THE VISION AND MISSION OF IONChain
The IONchain's vision is simply "One device, One code, One coin"
The word "Device" here represents the Internet of Things devices participating in the IONChain ecosystem, and the word "Coin" also stands for the cryptocurrency IONC which is being used in the ecosystem, then the word "Code" represents the unique identification code which can also be used as a wallet for these IoT devices inside the IONChain network.
IONChain is on a mission to make the communication parameters of all devices over the IoT Network the same, by simplifying all device to device communication protocols that will be connected to the IONChain ecosystem. This is possible by standardizing the way data is interpreted and this will also help the IONChain team to implement their vision - "One Device, One Coin, One Code".
IONChain is just like a platform independent ecosystem, example Java.


3.0 THE IONChain ECOSYSTEM
There has been an incredible increase in demand for Smart Devices in both the industrial as well as the consumer market, and the IONChain team made a very smart step with perfect timing to create a decentralized platform that will give room to users to control their own data and to create an interaction between their IoT devices, this is made possible by deploying a unified IONChain protocol in all these IONChain connected devices. The devices will be able to share data and interact with each other based on the data of other IONChain connected devices. - source
3.1 HOW IONChain WILL IMPACT INTERNET OF THINGS INDUSTRIES.
IONChain will impact in a very disruptive manner because once every smart device is connected to the IONChain ecosystem, and IONChain smart devices are also produced, it will go a long way to trigger mass adoption of this wonderful technology which will be more secured and safe because it will decentralized, therefore encouraging users to combine computational power to upload and process data by Edge computing
3.2 THE IMPLICATIONS OF COMBINING EDGE COMPUTING AND BLOCKCHAIN TECHNOLOGY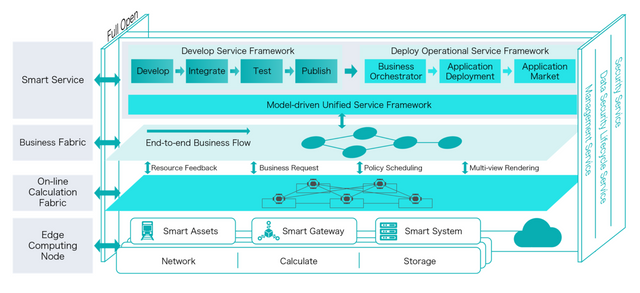 Image source
Initial application of the IoT could not materialize because they required very fast response time and this was not easy to achieve with the cloud server tendency and edge computing introduced by the IONChain ecosystem has help to boost efficiency and also give room for new business ideas to flourish.
Edge computing is just the practice of processing data near the edge of your network. In Edge computing your data is generated by you, instead of being generated in a centralized data-processing center. Your data processes by itself, instead of sending it to a data center to be processed.
In the IONChain ecosystem, individual devices and the cloud, can share the task of data processing. Some of the lighter data processing can be done on local devices, while large computing tasks that are more resource intensive are processed on the Cloud and that introduces miners who get rewarded with some mining rewards.
The blockchain technology being adopted and integrated here by IONChains makes it possible for the data to be decentralized and to be prevented from attacks.
3.3 HOW A TRUE IoT ECONOMY CAN HASTEN THE MASS ADOPTION OF IONChain ECOSYSTEM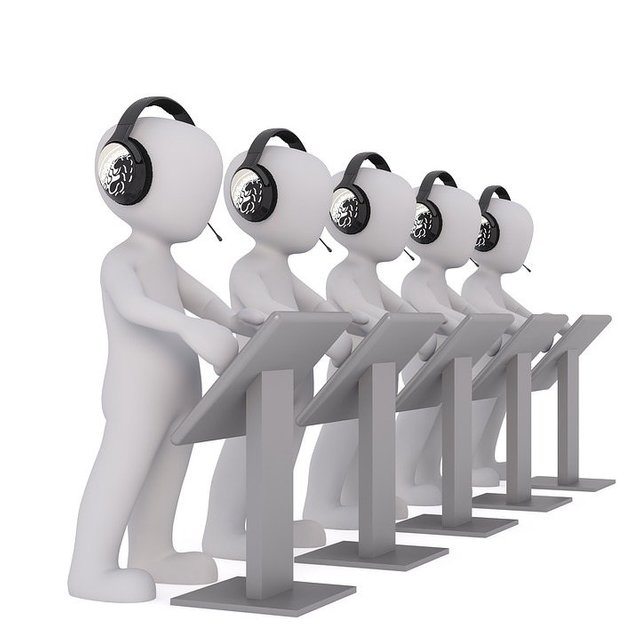 Image source
According to the statistics of IDC, and international data company based in USA, in 2015 the overall investment in global IoT market was 736.9 Billion dollars and it is predicted that this number will increase up to 1289.9 Billion dollars by 2020. This means that the average annual growth rate of the industry is 15.02%. The number of IoT devices carrying IoT software and transmitting data have reached 14.866 billion in 2015, and it is predicted to grow up to 30 billion by 2020. -source
This simply means that the IoT has a large market that will pump into the IOT ecosystem and from the prediction said to happen in 2020, the wave will swing into IONChain ecosystem because of it's unique services.
The IoT economy can hasten the mass adoption of the IONChain ecosystem from this analysis.
3.4 THE IMPACT OF "ONE DEVICE, ONE CODE, ONE COIN"
Sophistication and simplification is one of the greatest impact of these phrases.
Having an ecosystem where everything will be simplified and every device will be connected to each other by one coin and one code, breaking the platform protocols between devices, connecting them easily as one device under one cloud in a similar ecosystem
3.5 IMPORTANCE OF HAVING A GLOBAL STANDARDIZED PLATFORM WHERE DAPPS CAN BE DEVELOPED TO WORK ON ALL IONChain IMPLEMENTED DEVICES
It is very important that the IONChain team provides a standard platform where dAPPS can be well developed and deployed in such a way that it can work on all IONChain implemented devices because this is what will really boost mass adoption and reduce the threat of competition because similar ideas will be given a chance to build their dream on the IONChain ecosystem and will come in to work together other than competing. A global standard platform should be in such a way that it will be platform independent and should also have a bridge for language barrier, so that dAPPS can be easily created and deployed once.
3.6 THE PROBLEMS WHICH IONChain HELPS TO SOLVE
Outlining only but a few, these problems solved by the IONChain ecosystem is given below
Data security by using the blockchain decentralized technology
Data Privacy by providing users authority to their private keys
Simplified Data Processing through edge computing
Data Processing speed.
Sophisticated Unification
3.7 COMAPARISM OF IONChain WITH OTHER SIMILAR BLOCKCHAIN SERVICES
The IONChain ecosystem is a very unique one in the sense that it adopts the blockchain technology to disrupt the internet of things. The combination of edge computing and the blockchain technology is one of the superb ideas that the team has introduced in this project.
There will be a global standard platform for deploying dAPPS and smart contract will also be utilized for data transfer.
It has also given room for new business ideas to be birthed by people across the world connected in the ecosystem and this will give room for this great project to expand extensively.
3.8 WHERE TO BUY IONC TOKENS
IONC tokens are available on some exchanges and they includes:
FCoin
HOTBIT
BiSale
AT3
4.0 THE APPLICATIONS AND USE CASES OF IONChain

Image source
USE CASE 1: FOR DATA SECURITY AND PRIVACY PROTECTION
The application of IONChain in this case scenario is very important because some smart devices do upload users activities to a centralized server and this will expose them to experience targeted advertising and low privacy because the big data analysis company can always download the user's data and commercialize these data, this insecurity can also expose a user to criminals and cyber attacks and the centralized server that processes these data can easily experience failure due to hacking or malfunction. IONChain provides a decentralized service data control service that gives the user privacy and the ability to transfer data from one node to another. The possibility of it to experience any kind failure or cyber attacks is almost impossible because if a certain node is under attack, no data will be destroyed or lost.
USE CASE 2: EXCHANGE AND CIRCULATION OF IoT DATA
This case applies the B2B and C2B data exchange because IONChain ecosystem gives traditional production enterprises the chance and ability to become the data providers, assuming the enterprise is a part of the existing IoT network. The IONChain ecosystem provides a coin trading platform where data can be traded for a beneficial purpose. Companies will be given the chance to offer solutions to data problems and will get paid for doing so and other companies can easily find solutions to their company problem and will release a cheap amount of token to the data or information provider.
USE CASE 3: PROVIDING SMART CONTRACTS TO FACILITATE SHARING ECONOMY
The IONChain platform supports not only data exchange but also the transaction of operation authority. Smart contracts can be customized to pertain to certain scenarios, creating room for device-human, and device-device interactions, and also allow the transfer of value through the decentralized ecosystem.
The smart contact system makes it possible for contracts to be completed without Human intervention. For example, a library owner wishes to give library access to only people who wishes to pay a token of some IONC, the library owner uploads this service in the IONChain ecosystem, which allows for users to find it and release the specified amount of tokens to make use of the library. The smart contract has a lot of applications.
5.0 MORE INFORMATION ABOUT IONChain
IONChain is the technology for the future and it has a very unique and promising future. Read the IONChain WhitePaper and The IONChain Bitcointalk Explanation
5.1 MY VIDEO ABOUT IONChain
5.2 CRITICISMS AND SHORTCOMINGS OF THE IONChain
The IONChain project is completely massive because it is more than just disruptive technology. The ecosystem is wide and could be complicated for the less tech savvy people. Although it is a very good project but it is still going to experience mass adoption problems if the initial mining interface and the user interface could only be understood by developers and tech savvy nerds.
Similar projects might come into competition or look for IONC weak point in order to over take the ecosystem or hijack the project.
5.3 SOLUTIONS TO THE CRITICISMS
To encourage the global adoption of the IONChain, I will advise that the IONChain teams simplifies the IONChain user interface to suffice the none developers and less tech savvy individuals and organisations.
The mining should also be simplified and made possible for all smart devices, and the reward for mining in the IONChain ecosystem should be made more attractive.
To reduce the opponent blockchain competition, a global standard platform should be provided in order to give room for new business ideas to be built into the ecosystem rather than competing in order to make sure the vision of "one device, one code, one coin" is achieved.
5.4 IONChain's SOCIAL MEDIA PLATFORMS
IONChain Website
IONChain YouTube
IONChain Twitter
IONChain Medium
IONChain LinkedIn
IONChain GitHub
IONChain Steemit
IONChain Telegram
5.5 THE IONChain TEAM
"Memories make you sentimental, experiences make you smart."
― Amit Kalantri, Wealth of Words
IONChain has six core team members and six conultants which sums up to a total of 12 team mates
THE SIX CORE TEAM MATES ARE SHOWN BELOW


[Image source](https://ionchain.org]


Image source
THE SIX CONSULTANTS ARE ALSO SHOWN BELOW


Image source
6.0 CONCLUSION
IONChain is a magnificent and a very superb project and it can be utilized in the internet of things in multiple ways.
It goes on to reward miners and gives the users the opportunity to be also be elected as the IONchain council members.
IONChain also creates opportunity for the compensation of smart contract computation and DAPP deployment, transaction fee settlements, rewards for connecting other ION nodes and many more!
6.1 REFERENCES
Reference material 1
Reference material 2
Reference material 3
Reference material 4
Reference material 5
Reference material 6
This is an @originalworks contests. You can join here
My twitter bonus entry
IONchain twitter
IONChain 2018