The reflection of light
Hello friends.
Today we are inside the cathedral of the good pastor San Sebastián, Basque country, Spain.
I'm just going to talk about light.
The cathedral is full of stained glass, but we do not speak of them today, as they deserve a separate chapter.
Only habanos of the light, that thing so important for the planet.
Combined with the stained glass of the stained glass windows, this cathedral is magical.
***
El reflejo de la luz
Hola amigos.
Hoy estamos dentro de catedral del buen pastor San Sebastián, país vasco, España.
Solo os voy hablar de la luz.
La catedral está llena de vidrieras, pero de ellas no hablamos hoy, ya que merecen un capítulo aparte.
Solo habanos de la luz, esa cosa tan importante para el planeta.
Combinado con el cristal de colores de las vidrieras hacen de esta catedral algo mágico.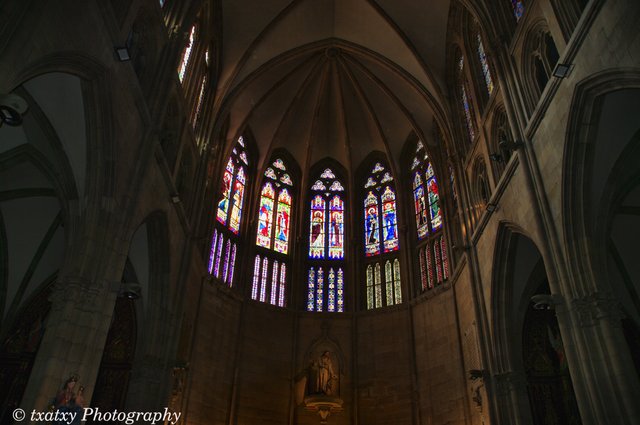 ---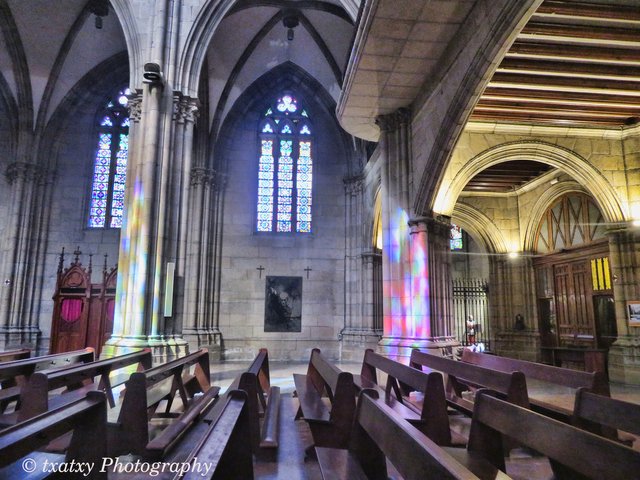 The columns are dressed in the color of the rainbow.
With its neo-Gothic style and the texture of the stone.
They shine with a life of their own.
***
Las columnas se visten del color del arco iris.
Con su estilo neogótico y la textura de la piedra.
Brillan con vida propia.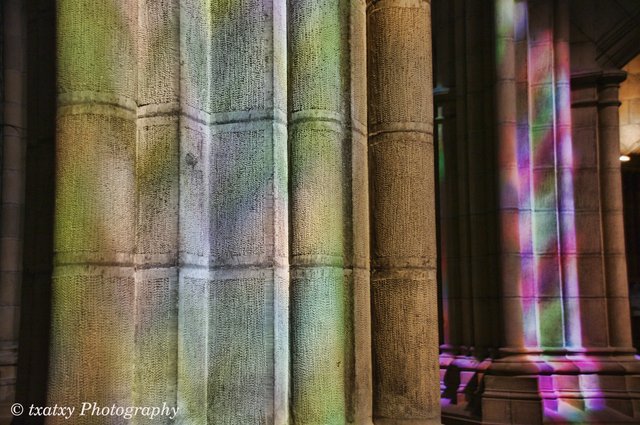 From the ocher of the column, we turn to the reds, these combine with the blues and the same light creates the lilacs.
We see yellow and green dance through the ocher.
***
Desde el ocre de la columna, pasamos a los rojos, estos se combinan con los azules y la misma luz crea los lilas.
Vemos amarillos y verdes bailar abriéndose camino entre los ocres.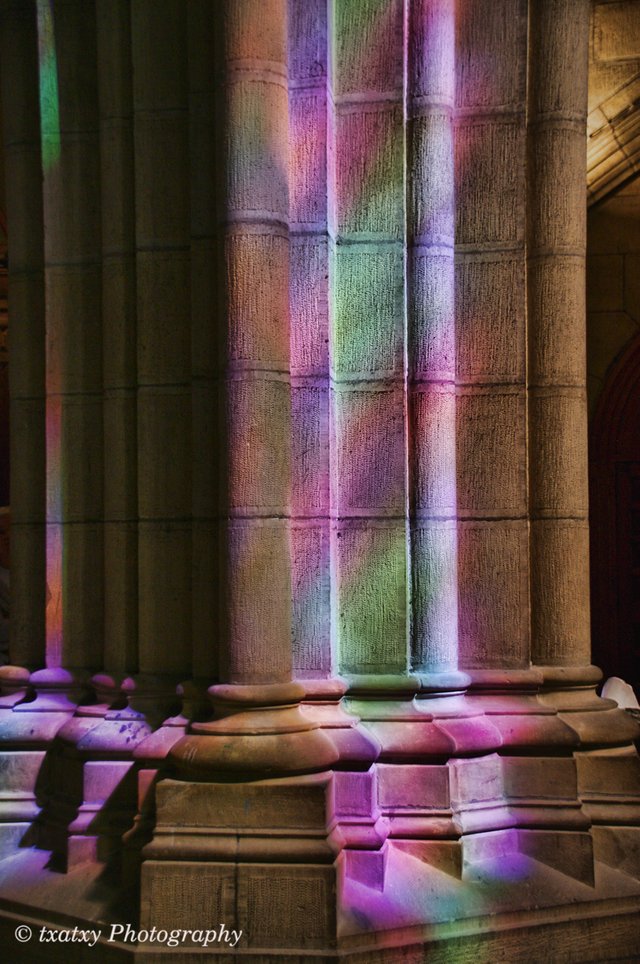 The marble floor is the one that is combined now with all these rays of light that pass like a prism through the stained glass windows, making its surface reflect:
Not only the stained glass windows but also the arches and the beauty of its roof.
***
El suelo de mármol es el que se combina ahora con todos estos rayos de luz que pasan como un prisma por las vidrieras, haciendo que su superficie refleje:
No solo las vidrieras sino también los arcos y la belleza de su techo.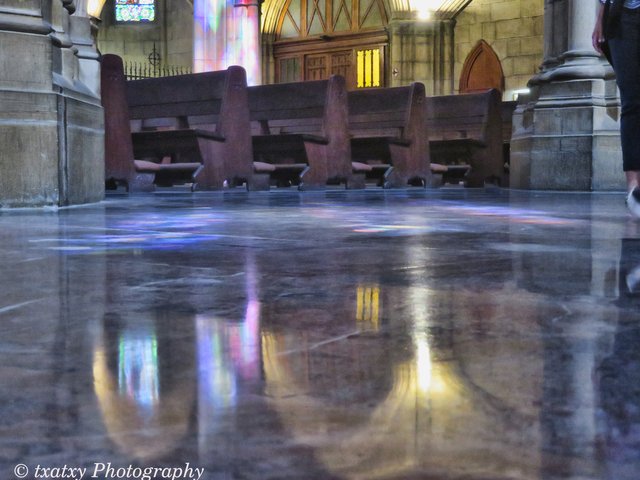 Light floods everything
Even the shell-shaped baptismal font with mother-of-pearl shine becomes the center of attention.
Making your beauty be for a few moments of the day different and beautiful.
***
La luz lo inunda todo
Hasta la pila bautismal en forma de concha con brillo de nácar, se convierte en el centro de atención.
Haciendo que su belleza sea por unos momentos del día diferente y bonita.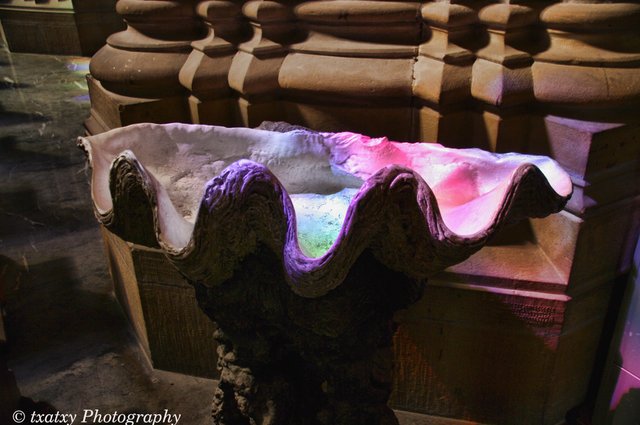 If you are lucky enough to visit this beautiful cathedral.
It will not leave you disappointed.
But remember the morning light.
You will feel something beautiful and you will enjoy.
***
Si tenéis la suerte de visitar esta bonita catedral.
No te dejara defraudado.
Pero recuerda la luz de la mañana.
Sentirás algo bello y disfrutaras.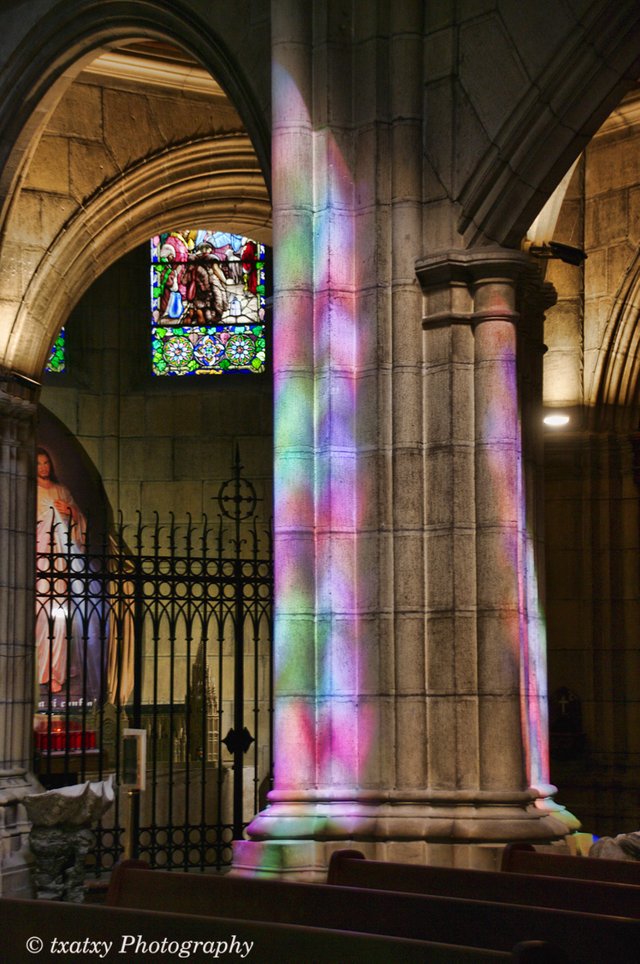 The Cathedral of the Good Shepherd of San Sebastian, Basque Country, Spain.
Stained glass windows They were designed by Juan Bautista Lázaro and manufactured by the houses Bolinaga y Cía., De León, and Pujol, Barcelona
On another occasion I will introduce you. beautiful and very worked.
but today the light has been the protagonist of this beautiful visit.
***
La catedral del Buen Pastor de San Sebastián, país vasco , españa.
Vidrieras Fueron proyectadas por Juan Bautista Lázaro y fabricadas por las casas Bolinaga y Cía., de León, y Pujol, de Barcelona
en otra ocasión os la presentare. bellas y muy trabajadas.
pero hoy la luz ha sido la protagonista de esta bella visita.
Original content by Original content by @txatxy***

---