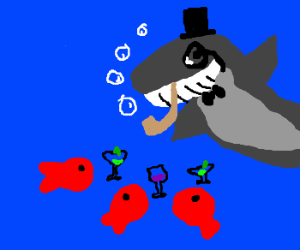 I have seen so many of these articles go by daily, that it is actually getting nauseating. Articles laying out the "Game Plan" of how to grow up to be a #Whale in the #Steemit Universe.
Rule 1: Find a pod of whales
Rule 2: Jump up and down and keep comment-stalking them until you finally win their attention with some quasi-intellectual drivel or keep throwing your panties at them until they deign to notice you
Rule 3: If Rule two doesn't work, then spend every penny you can afford to buy votes, pay bots to upvote you, or buy off someone with cookers & hocaine in the hopes that they will upvote you and maybe take you to the prom.
ok I get all of this. I fully comprehend the concept behind these articles and the advice that's given....(over and over again)....
.... but am I the only one that sees this as an intrinsically perfect representation of the "Haves" and "Have Nots", the "1 percenters", and the "Ruling Elite" programming that is the main reason we are in this fucked up society that we are currently stuck in?
See.... I have been writing content for YEARs,... hell,it's almost measurable in decades. I don't write content for the "1%" or the "ruling elite" and to be perfectly honest I don't give a rats ass if the kings on high like my content or not. I write to spread information, to encourage question asking, share research, and to help people figure shit out- on a broad spectrum of topics, from health, to finance, to politics, to history, to law, to banking & governmental fraud, to science & technology.... and yea, I even write about cryptocurrencies occasionally.
I tried to play this Steemit Game by "the rules", but, here I sit, with a vote worth a whopping $.14, and my articles rarely get more than 20 views..... even if I do have over 400 Steemer "followers". Bizarre, isn't it? The problem is that most of the really great content in Steemit is being published by people with a voting power of $.05-.50 cents.... and we are all voting our hearts out to try and help the amazing writers and authors and photographers and artists and muscians....
....But stacking a pile of nickels on top of each other really doesn't do jack shit to help them or anyone else out- not financially, nor in getting their work seen by the rest of the Steemit Community.
...... because the ONLY votes that count, are those that come from the "HAVES"..... not the "Have Nots".
When I jumped onto this platform (for real), and began loading content into Steemit daily back in January, I brought over 60 UnFuckers with me. All of whom have awesome content, great skills to share, and brilliant visions of what this platform could/can/should become..... Of those 60, less than 15 are still active 2 months later. Why? Not just because stacks of pennies & nickles don't add up to anything. The REAL reason they are fading away is because they've busted their balls to put out great content....and that content got 5 views,..... maybe 10. And NOTHING is more depressing to a writer/artist/musician than to put your heart and soul into a piece and then watch it sit there gathering dust in a corner, because no one can find it, let alone admire it and maybe, just maybe, reward it.
This system is Broken.
Just like the system that we all love to hate. Steemit is a world where the only voices that count, are the 1%.
Welcome to Wall Street.
I will continue to use Steemit, but for me, it's just about putting my content onto a blockchain where it can't be tampered with. I will continue to meet other great Steemians (I won't insult them by calling them Minnows), and share comments and commentary with them, and do my tiny $.14 best to help them out. But I'll be damned if I'm going to line up like some desperate groupie at the front of the stage screaming "Pick me! PICK ME!!" at some kingpin that holds all the power of "Yea" or "nay".
... I didn't loose my dignity while going toe to toe with the Minister of Health in Canada's Parliament, nor when I stood up against the head of the CBC and the CEO of the Canadian YMCA over censorship issues.... So I'll be FUCKED before I loose my dignity by fawning over a group Whales.
Steemit has the ability to become an AMAZING platform- not just a cryptocurrencygeneratingabuck website- but a truly game changing platform, that could quite literally overtake Facebook and Instagram and their ilk and pull the rug out from under them.
I am hearing about a LOT of major alternative media people who are looking at moving over to Steemit (and DTube etc..) to escape from the Censorship Fuckery of the social media hasbeens, which would bring a MASSIVE crowd of new users into Steemit, which in turn raises the value of #Steem..... But I can tell you something that perhaps many of you haven't figured out yet: These people with the huge followings are NOT going to stick around once they realize that their followers are leaving Steemit in droves because they are just some faceless little fish with no voice or way of being heard... These Alternative Media gurus will GO where their audience IS.
.... and if the audience finds another platform that they like better.... the migration will begin. Again.
d