Steemit Sandwich Contest Week #40 "French Toasts. Toasted by the Dragons of Game Of Thornes" Vegan & Sugar Free
Hello, friends of Steemit. Today I wanted to share with you some incredible Vegan French Toasts.
This entry is for the Steemit Sandwich Contest # 40 of my friend @jaybird For some time I wanted to participate and today I have cooked these French Toasts that really were delicious!
The best part was that they were toasted by the dragons of Game Of Thornes. If you have not seen this series of HBO you should run to see it before it opens next season next year.
So, here we go... 🚀
French Toasts. Toasted by the Dragons of Game Of Thornes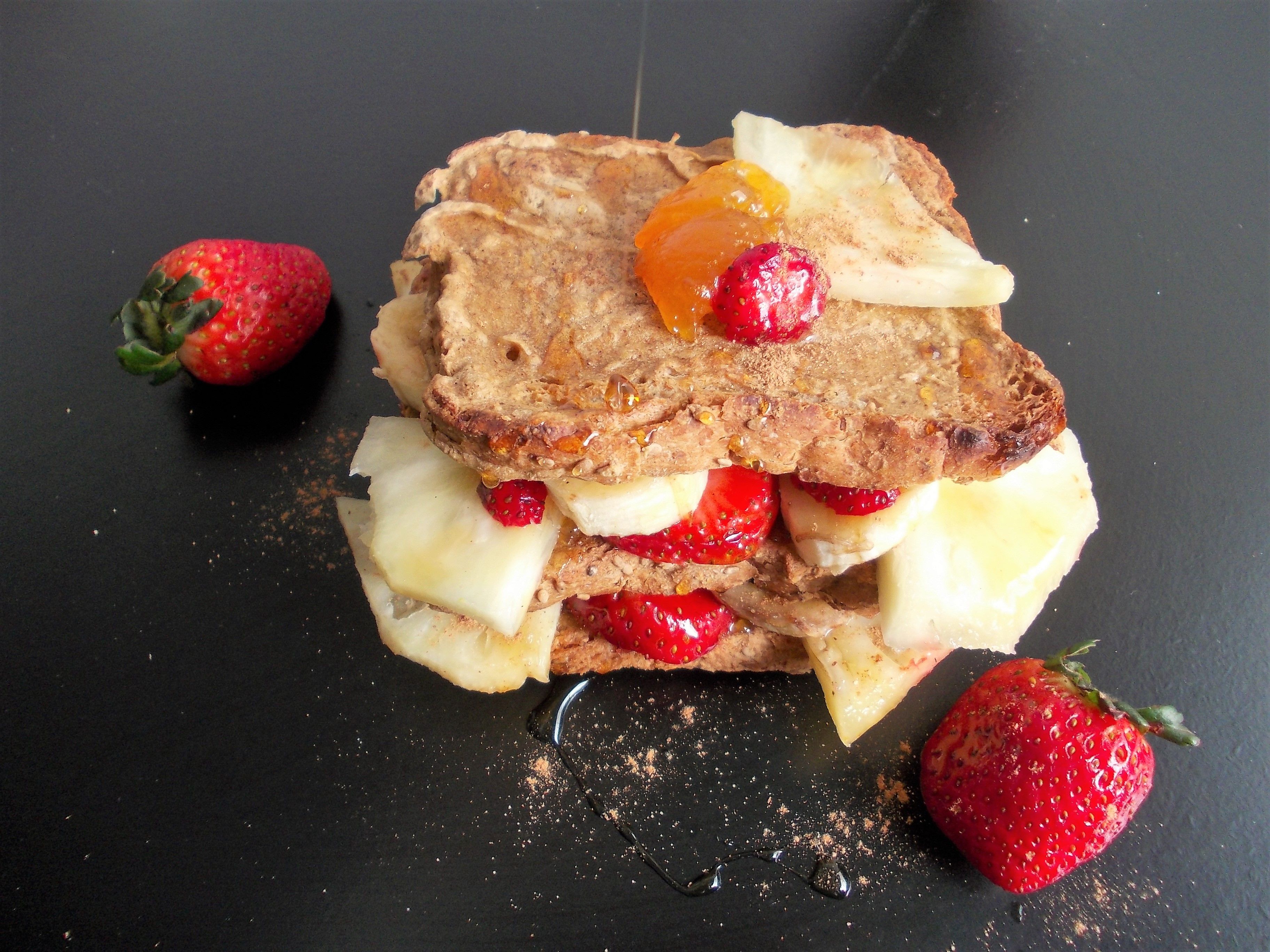 | Preparation Time | Difficulty Level | Servings Size | Taste like the original |
| --- | --- | --- | --- |
| 30 min | 1/5 | 4 Bread slices | 5/5 |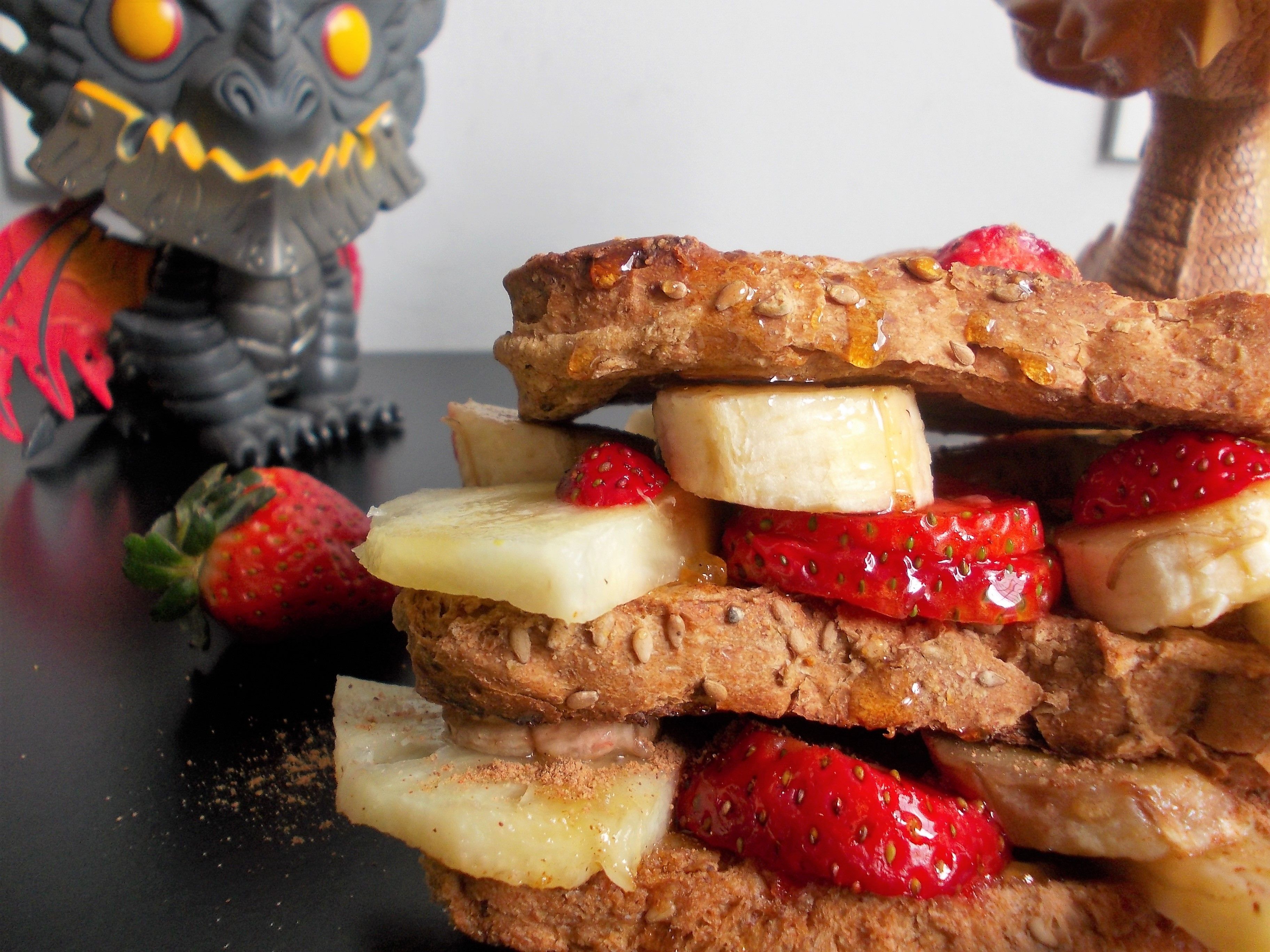 Ingredients
4 Slices of Vegan Bread
1 Banana
4 Strawberries
2 to 3 slices of Pineapple
1 cup of oat milk (do not substitute)
Vanilla
Cinnamon
Your favorite jam without sugar
Syrup of agave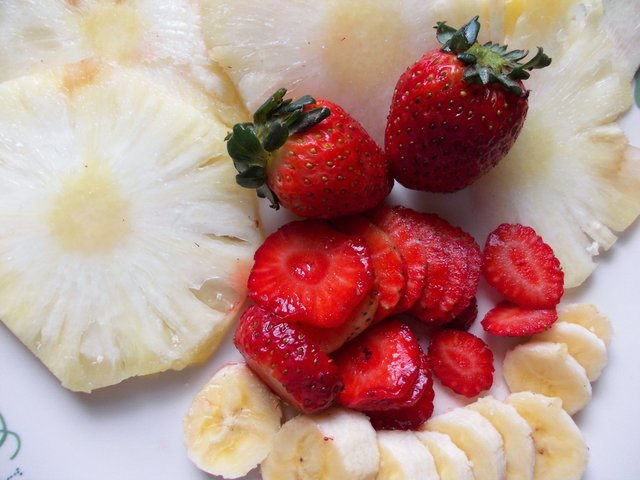 Direction.
Mix the cinnamon vanilla with the oatmeal milk and let stand for 10 min. Then place the slices of bread with the mixture until it covers well. As seen in the images.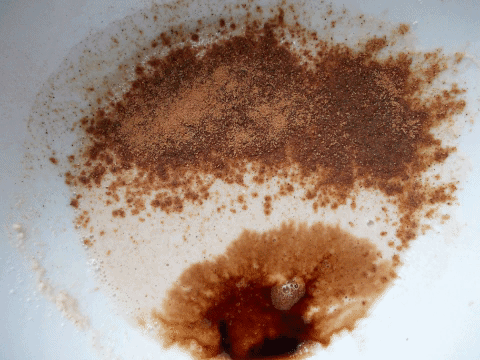 To make the mixture thick you can add 3 tablespoons of oatmeal gluten-free.
Place in a hot pan until brown on both sides.
Now comes the fun part of a sandwich.
Fill!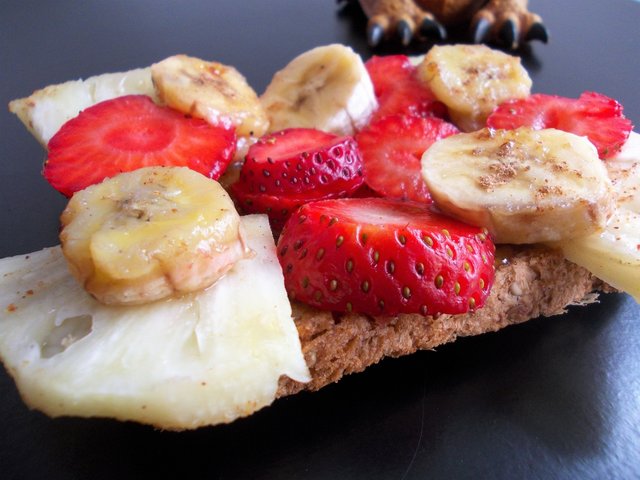 Top Secret: I toasted the pineapple and the banana with little cinnamon, it is not necessary but in this way much better.
Now you only have to place jam without sugar (I used peach jam) Then place the chopped fruits. I did it in sequence, first pineapple, then banana and last strawberry and repeat.
Place cinnamon if you like it as much as I do
And now time to:
Enjoy It!.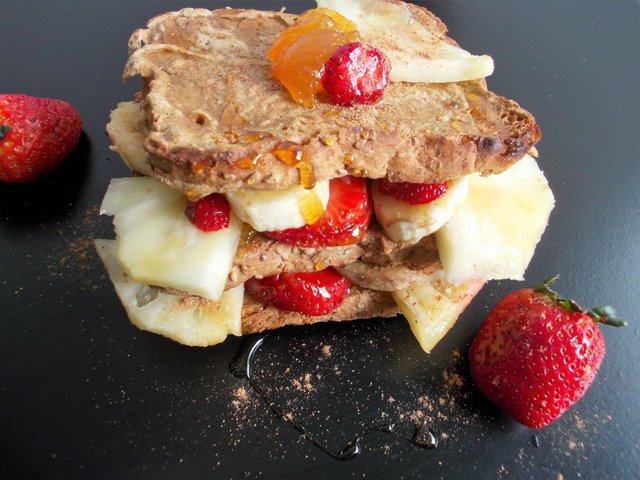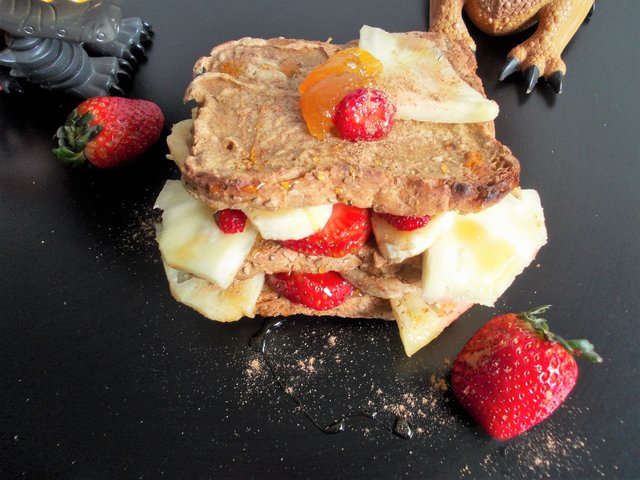 My favorite part every time I do a Post is to take the pictures. I think it has become a passion to take pictures of food.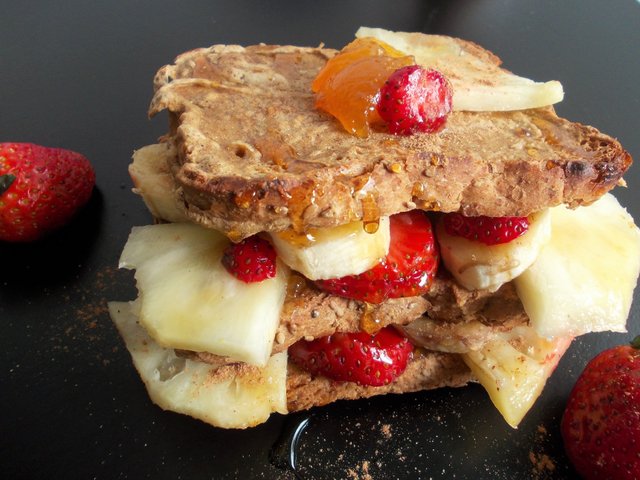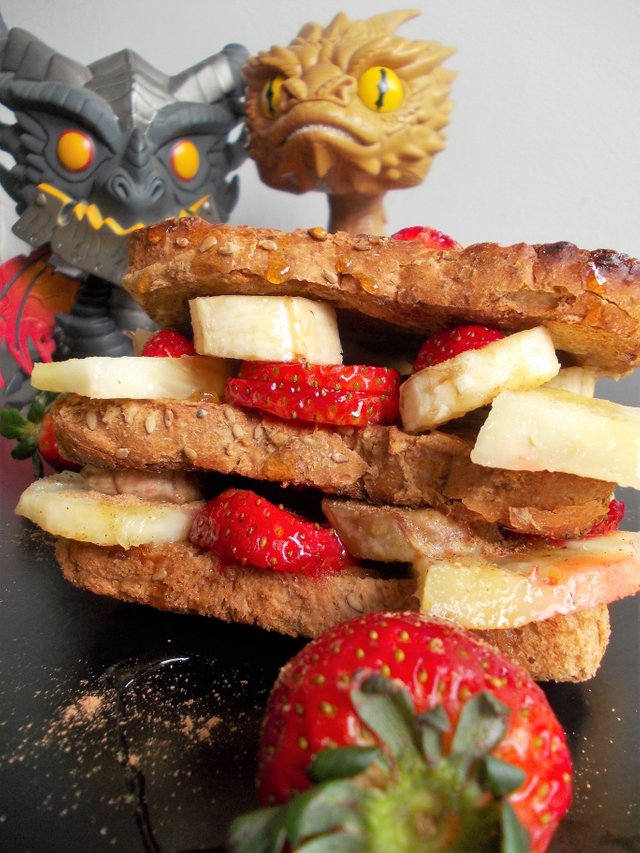 This Sandwich is a healthy option, the fruits fill it with many vitamins and energies for the rest of the day. In addition, cinnamon helps stabilize sugar levels in the blood, that's why I love it.
I hope you liked it as much as I did and that you do not stop seeing GOT if you are not a fan!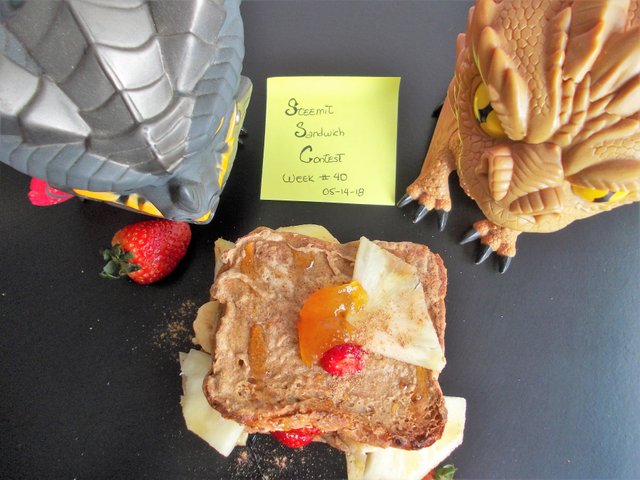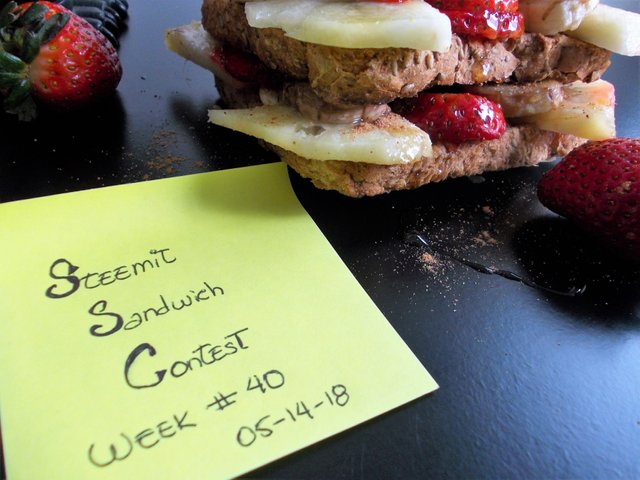 ❤ THANK YOU FOR READING ❤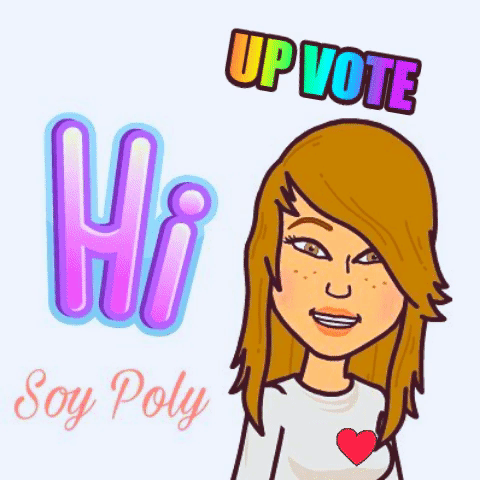 See you in a next post!
PS: That's all for today! Thanks for the support. You can leave your messages and with love, I will answer you! 💚
All photos were taken by me with a Nikon camera.