My previous sandwiches were all about putting as much in them as possible. Today it's a minimalist option.
Moje poprzednie kanapki były doładowane. Tym razem stawiam na minimalizm.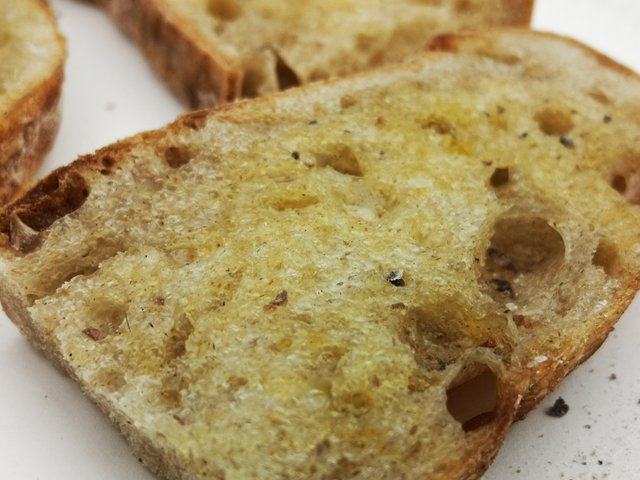 English
Today has been my first barbecue of this year. I've prepared the gear almost a month ago but it wasn't meant to be used before. It's Easter which to us Poles means spending time with family and when we're living away, friends step in and help fill the gap. We've spend Sunday in the park and at one of our friends, Monday was our turn, so we enjoyed each other's company in our garden.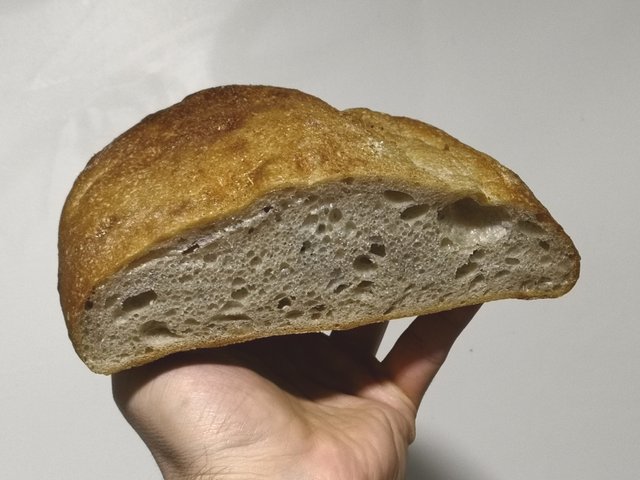 I baked a white loaf for Easter. It wasn't meant to be perfect, more of something prepared to not get in a way and provide an alternative to my kids who aren't great fans of wholemeal rye sourdough. The bread has a potential, but I need to improve it. It was 250 g highly active liquid white wheat starter, 600 g strong white wheat flour, 200 g light rye flour, 600 g water, 20 g salt. The dough was quite weird, very smooth and stretchy, but almost impossible to enforce springiness on it. Very sticky. I proofed it in a basket in a fridge, waiting for the oven to become available. The structure of the crumb was poor, a lot of big holes, hardly any traces of folding or shaping. The crust was very thin with was OK, but it didn't look nice - it was yellowish with dark spots around big wholes. I couldn't get a uniform colour.
I used a bit of the dough to bake a small loaf into the basket for a Polish tradition of blessing the foods on Holy Saturday.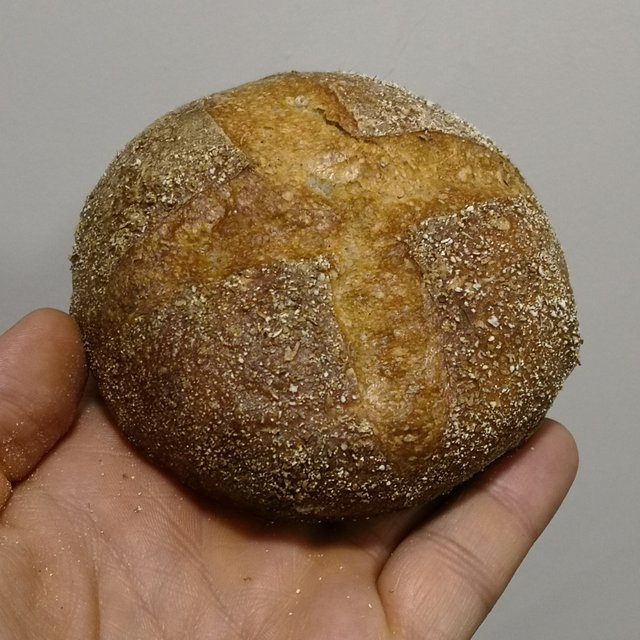 I think it will need less rye, maybe also a bit less water. Fridge proofing was handy - I just popped it into the fridge 30 minutes after shaping and left it there for a couple hours, then took it out about 15 minutes before baking.
The sandwich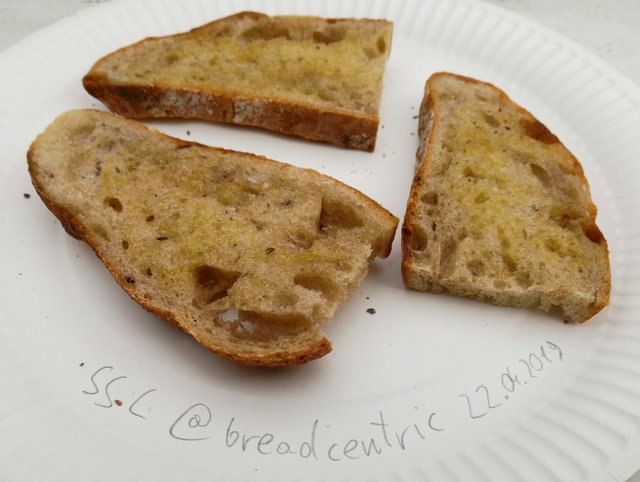 Ingredients:
a slice of bread - any home made bread will do
a bit of butter - I used unsalted butter from the local Iceland store
a pinch of salt - I used Kala namak.
Spread butter on a slice of bread and put it on a barbecue so that the butter melts through. Take it off, sprinkle salt on top.
Depending on how long you hold it, the bread might burn a bit, but if you take it out early enough, it will only have dark stripes from the barbecue. It will be very soft and soaking with butter. Enjoy responsibly.
Polish
Dziś mieliśmy pierwszy grill roku. Sprzęt czekał gotowy od miesiąca, ale nie było dane z niego skorzystać. Wielkanoc na obczyźnie oznacza w zasadzie, że brakującą rodzinę zastępują przyjaciele. W niedzielę byliśmy w parku i u jednych ze znajomych, w Poniedziałek zaprosiliśmy wszystkich do nas, gdzie spędziliśmy czas w ogrodzie.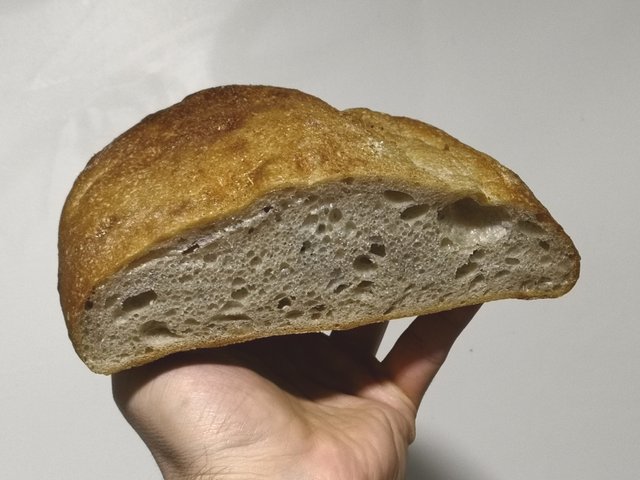 Na święta upiekłem biały bochenek. Nie miał być idealny, przede wszystkim miał nie wchodzić w drogę innych przygotowań i dać drugą opcję dzieciom, które nie przepadają za żytnim pełnoziarnistym na zakwasie. Chleb ma potencjał, ale trzeba go dopracować. Składniki to 250 g bardzo aktywnego płynnego zakwasu na białej mące pszennej, 600 g mąki chlebowej pszennej, 200 g mąki chlebowej żytniej, 600 g wody, 20 g soli. Ciasto było trochę dziwne, gładkie i rozciągliwe, ale nie dało się go wyrobić tak, aby się naprężyło. Bardzo się kleiło. Wyrastałem je w koszyku w lodówce tak długo, aż piekarnik był wolny. Miękisz był kiepski, dużo dużych dziur, brak widocznego składania w strukturze. Skórka cienka, ale nie wyglądała ładnie - kolor jasno żółty z brązowymi plamkami w miejscu dużych dziur. Nie dało się go jednorodnie zarumienić.
Kawałka ciasta użyłem, aby upiec małych chlebek do koszyczka na Wielką Sobotę.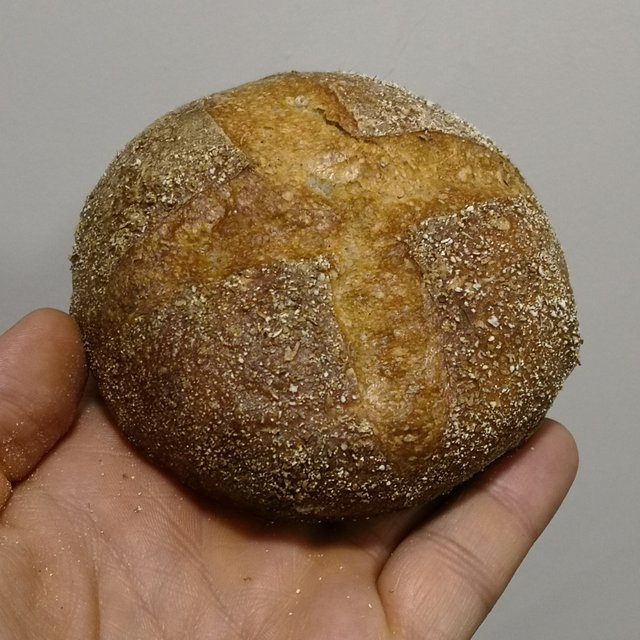 Myślę że trzeba mniej żyta, może też mniej wody. Wyrastanie w lodówce było wygodne - po 30 minutach od formowania wrzuciłem koszyk do lodówki na kilka godzin, wyjąłem na 15 minut przed pieczeniem.
Kanapka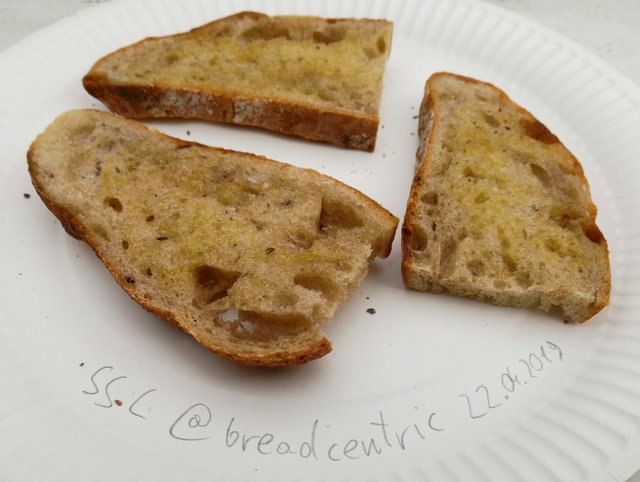 Składniki:
kromka chleba - dowolny domowy chleb będzie dobry
trochę masła - użyłem niesolonego masła z miejscowego marketu
szczypta soli - użyłem Kala namak.
Posmaruj kromkę masłem i wrzuć na ruszt, aby masło przetopiło się przez chleb. Zdejmij, posyp solą.
Zależnie od tego jak lubisz, dłużej grillowany chleb będzie przypalony, a króciutko - będzie miał tylko paseczki z rusztu. Będzie bardzo miękki i nasiąknięty masłem. Zalecam umiarkowanie w roskoszowaniu.