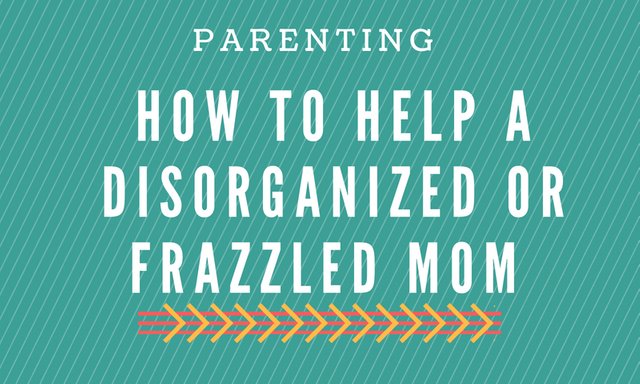 Its easy to lose the balance of your household.
While everything is in rhythm, and everything is contained, running a household is do-able, pleasant, work.
But when they rhythm is lost, running a household can get overwhelming.
And losing the rhythm can be as easy as a kid who was doing their own laundry and didn't finish and then another kid had a bathroom accident, right before you were able to get to the lunch dishes.
You gather all your pee clothes and walk it to the washer (if you're lucky enough to have one) and you find... a washer full of clothes. Its been there at least 14 hours, so you re-run it. Now you have the washer going and a basket full of pee clothes waiting for you. And dishes upstairs. And the pee kid that needs to be cleaned up. And now you're behind.
It can get ugly from there.
This is where help would be awesome. Especially if the mom is a make-up wearer who's kids got into her make-up, again, and there's no room in the budget to buy make-up. Again. Until later...
Don't ask: What can I help you with?
Its a tough question. Are you willing to disinfect the pee bathroom? Are you able to dry clothes, and fold them, and put them away? Its a load full of kid socks and underwear. Can you wash the dishes for me? I don't know how long that cup has been there, I was soaking it... Can you take the kid out for a walk, he hasn't had a bath, his face is dirty, he smells a little like pee and I can't find his socks. Any of them, they are in that pile.
If you are old enough to see this post, you are old enough to see where the help is needed
Really.
Take your relationship level with the mom in question, and help there. If you aren't a regular house guest, don't go over to her house!
But if you are. Take the trash out without asking questions like where the outside trash cans are or where the replacement bags are, and if you can, wipe down the cans while you're at it. If you have to ask for assistance or instruction, then help with something else.
Do you know where the dishes go? The help put away the clean dishes. You don't, then do something else!
When stuff gets bad, disorganized moms don't want to have to take the time to instruct someone on how to do a simple task. Really. Especially if you are the husband and live there.
So wipe down those tables and close drawers and become a part of the solution. Don't do something silly like try to organize their junk drawer.
Stick to surface, easy to do, obvious to how cleaning.
You can't sort their mail, but you can wipe the oatmeal off the floor.
If the kids are being rowdy and crazy, as if you can take them for a walk. Be specific, and give a time break so the mom knows exactly what to expect
Can I take the kids to the park, for one hour?
Then she knows they are going to the park, and being gone for one hour.
Don't ask if you need her help putting their shoes on, and getting them in the car, and asking directions for the park, and being nervous about being out with kids.
If you can't put it together enough to get them to a park without asking the frazzled mom for assistance, then play a quiet game instead.
Be mindful when asking if you can take them out for ice-cream or a similar sugary treat. Depending on what they've been eating a bag full of oranges, might be better suited.
Taking the kids to spend energy is ALWAYS helpful. Feeding them sugar. Not so much.
If you are a neighbor or community member
Then you can only really offer help from afar.
Invitations to free, easy to get to events with lots of parking are nice. Coupons and discounts to help make it easy to get out of the house help. And lots of nice smiles and encouragement help.
Don't get mad at the mom because the kid almost ran in the street. Help catch the kid. Then smile at the mom. She just had a scary experience.
If you see the kids acting crazy at the book story, or grocery store. Refrain from giving dirty looks. Just pretend they aren't there, or give the mom a look of solidarity. Don't make her feel judged.
The frazzled mom is a great mom, who just fell a little behind
Help her out by helping her catch up a little. Be like a fairy godmother, or good friend.
Help calm the angst.
Help de-frazzle.
Sometimes just a look of understanding instead of awe or judgement is what she needs.