I may have missed Down Syndrome Awareness Day... but I didn't miss this lesson.
Earlier this week, the world celebrated Down Syndrome Awareness Day.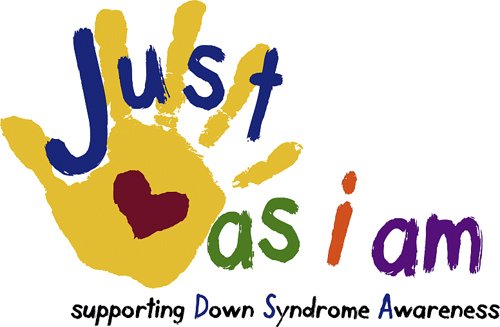 Because I have written on the topic before, I hadn't planned to post about it this year. That was until my wife showed me the Carpool Karaoke video below. Actually, it is more accurate to say my wife texted the video to me while I was at work with the caption, "Do you need a good cry?"
My wife knows me extremely well. She knows that it doesn't take much to reduce me to a blubbering mess. Because I was at work and didn't want to get snot all over my desk, I figured it was wise to respond, "Not right now. I better wait until I get home."
Later that evening, I remembered I had not watched the video. I gathered my box of tissues and sat down to watch it.
It was incredibly beautiful and inspirational. The creators picked the perfect song for the occasion: Christina Perri's "A Thousand Years".
"Darling don't be afraid
I have loved you
For a thousand years
I'll love you for a thousand more
And all along I believed I would find you
Time has brought your heart to me
I have loved you for a thousand years
I'll love you for a thousand more"
If that isn't the perfect song to express the unconditional love these moms have for their beautiful children, I don't know what is.
Although I was incredibly moved and a bit teary eyed, the video made me smile ear to ear… but no real tears.
I had made it. I had experienced 50 of the most beautiful expressions of unconditional love I have ever seen and did not end up a mess.
Without the nuisance of being blinded by tears, I was able to take look at Youtube's menu of suggested videos.
Hmmm? What's this? "Maddie Zahm Brings Best Friend in for Her American Idol Audition - American Idol 2018 on ABC"?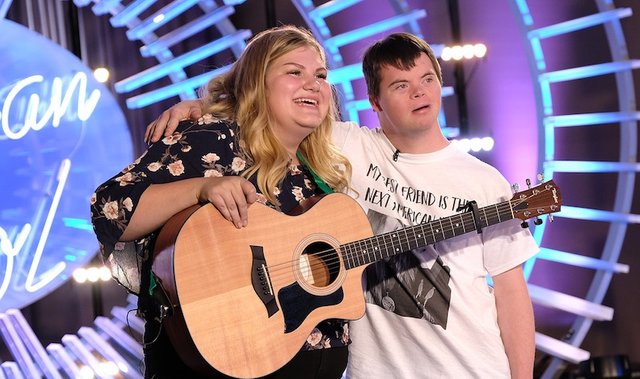 I clicked it.
By the time Marcus got to the "Boom, Boom, Boom" of Firework, I was glad I had brought the tissues.
The video is beautiful. So is Maddie Zahm's and her friend Marcus' story. But that is not why I am writing this. Although I have a huge soft spot for the message contained in Katy Perry's Firework, something more important happened in this clip.
If you fast forward to the 2:55 mark you will see and hear an excellent example of how to talk to a person who happens to have Down Syndrome.
Although that may seem like something that doesn't require a role model, for many people, talking to someone with Down Syndrome is a new experience. New experiences can make people nervous and uncomfortable. Perhaps seeing someone else navigate the situation can help when they have a similar opportunity.
Pay attention to how the judges interact with Marcus. All off them are trying their best to be respectful, kind and inclusive. Heck, that alone scores them a ton of points in my book. But one voice stood out. Pay special attention to Katy Perry's interaction with Marcus.
How do you talk to a person with Down Syndrome? You talk to them like a person. That is exactly what Katy Perry did.
I had to rewind the video to make sure I was hearing it correctly.
If you pay close attention, while Marcus is walking into the room, you can hear a voice say "Hey dude". This voice stood out in comparison to the slow and falsetto voices of the two men. Believe me, I get what Lionel Richie and Luke Bryan were trying to do. I happen to be a man with a deep voice. Sometimes I try to heighten and soften it in order to avoid scaring a kid. But it is so unnatural. Perry's voice was the exact opposite. She used the same tone and language she would use with any 20 year old she just met.
She continues this natural conversation when Marcus joins the judges at the table. She asks him appropriate questions for his age and environment and gave him enough time to process the questions and provide answers. She never talked "down" or "at" Marcus. She talked with him.
I'm not saying Katy Perry is the perfect role model in every case. She is a human being. Some things she does like performing Firework with a young singer who happens to be on the Autism spectrum, serving as a UNICEF Goodwill Ambassador, and standing up for people's rights are awesome. Some other things she does are not. Role models don't have to be perfect in order to teach a valuable lesson. Last week Katy Perry did.
If you'd like some more tips on how to work with people with Down Syndrome, I found this handy flier created by The Down Syndrome Guild of Kansas City.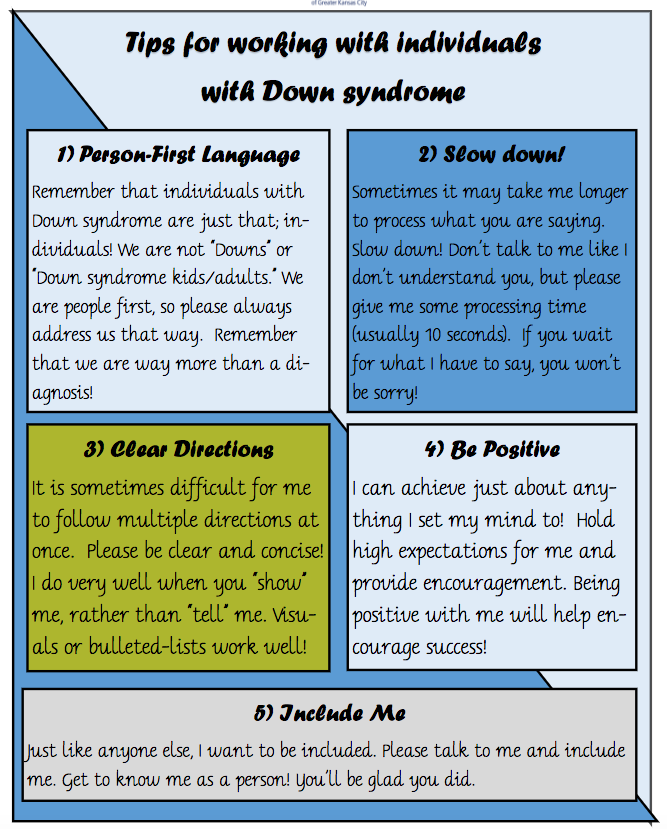 PDF available here.
Ultimately, if you are wondering how to treat a person with a disability, it's actually pretty simple...
Just treat them like a person.