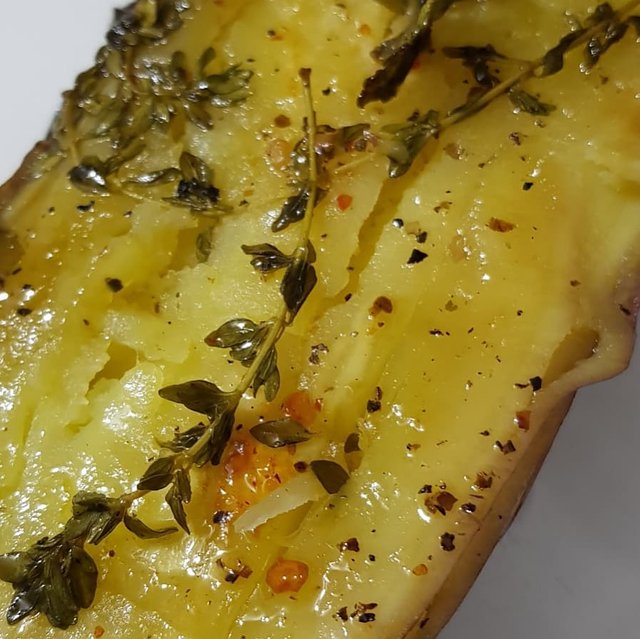 Normally I just roast sweet potato whole just as is, but this time I decided to do something a little different for a change. I sliced the sweet potato in half and placed it on a foil bed which I prepared with olive oil, salt, pepper, sweet chilli sauce and freshly picked sprigs of mint and lemon thyme. I placed the sweet potato face down in the bed and then closed up the foil. I then cooked it at 180 degrees Celsius for about an hour. This was a particularly large sweet potato but for smaller ones, 40 minutes should be more than adequate.
It took me a long time to adjust to completely replacing traditional potato with sweet potato but I can confidently say that I really prefer it now and so does my waistline. Haha!!! My son Jude also far prefers it and actually wont eat normal potato at all anymore, which to be honest - I am actually really grateful for because sweet potato is a real super food with a truck load of nutritional benefits. You can be just as creative with sweet potatoes too... which I think many people overlook... I did some sweet potato stacks recently, as an example... and they were nothing short of divine!! Well, if you try this out, please do share your thoughts :)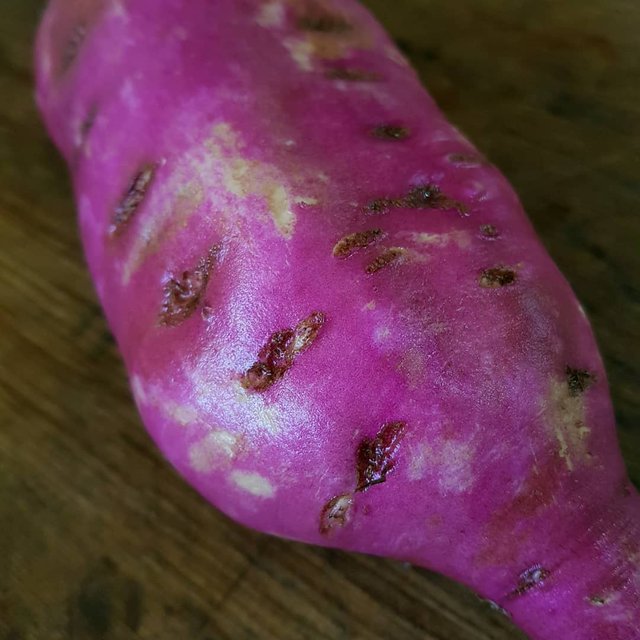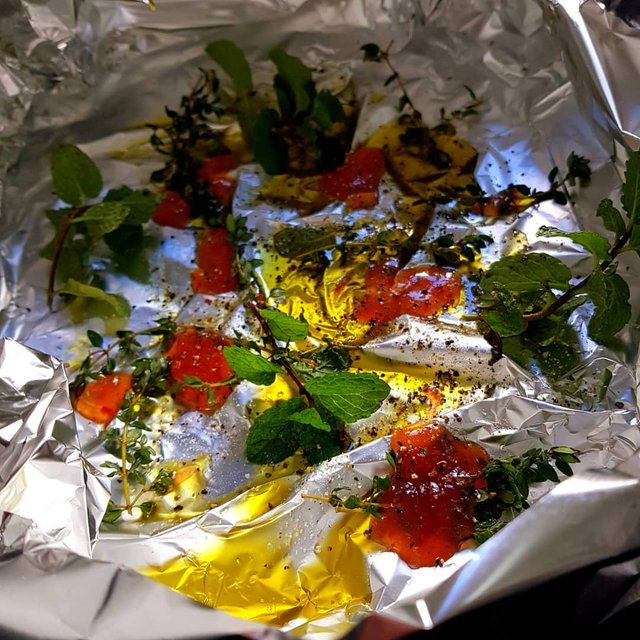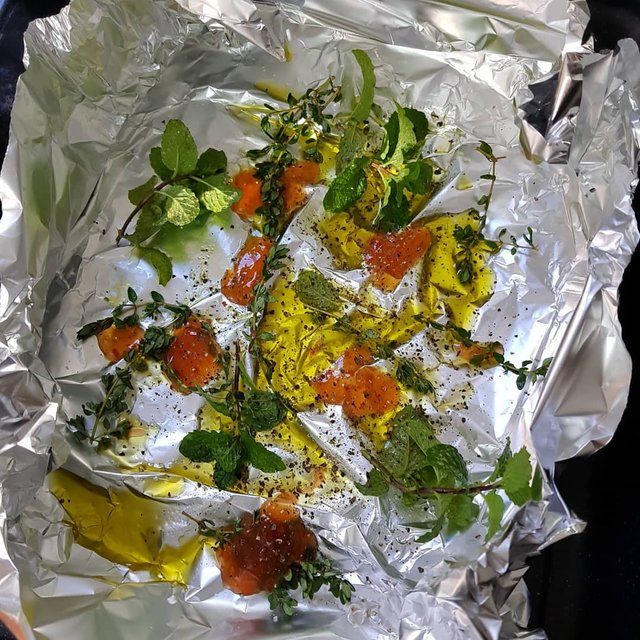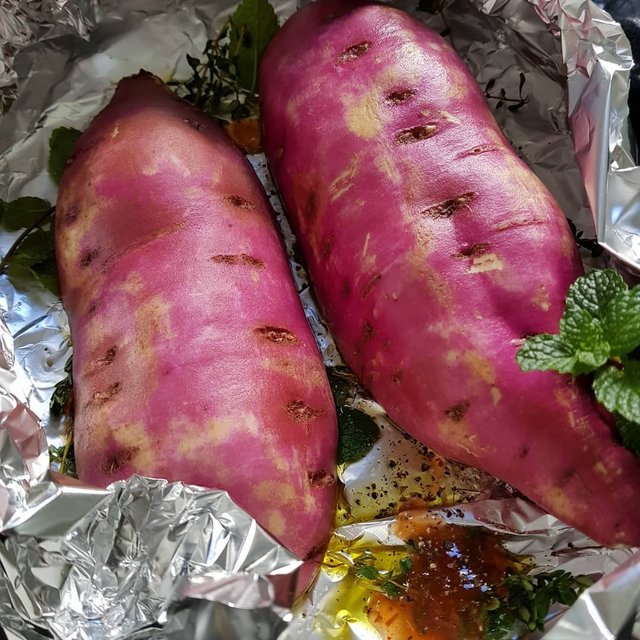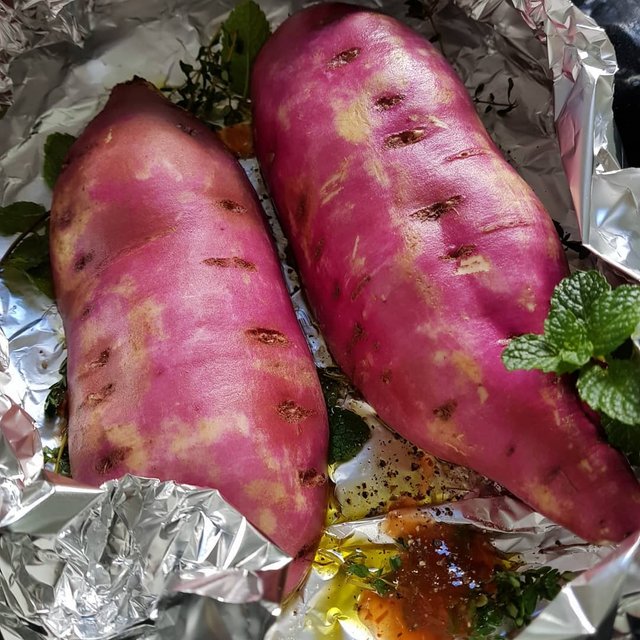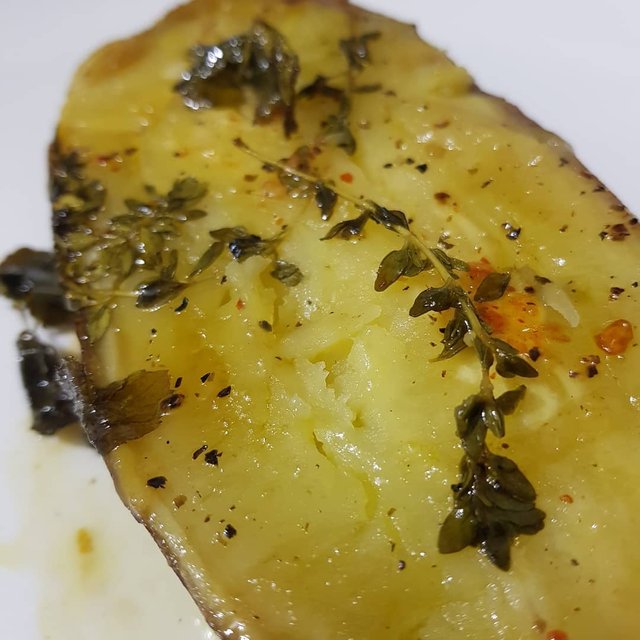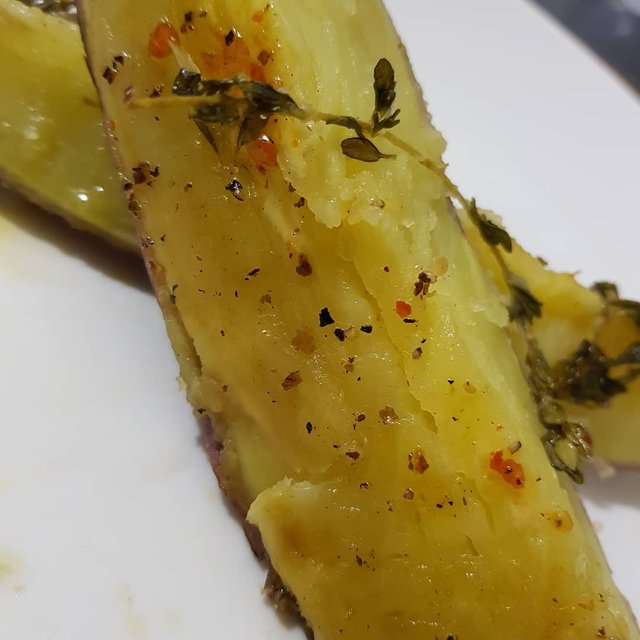 #steemitbloggers #share2steem #food #photography #adsactly #steemit #photo #cooking #goodfood #foodgallery #goodfoodgallery #life #taste #blog #foodblog #capetown #capetownfood #homecooking #momskitchen #bloglife #yummy #comfortfood #weekend #saturday #fabulous #roast #nomness #yum #steemit #photo #recipe



EARN STEEM - AUTO-POST TO STEEMIT FROM INSTAGRAM

Until next time...
Much Love from Cape Town, South Africa xxx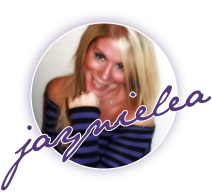 Posted from Instagram via Share2Steem

WHO ARE THE

The @steemitbloggers is a discord community of individuals who are committed to producing content which adds value to the Steemit platform. We are STRONGLY focused on supporting our fellow members individual growth as well as offering support to those that are new to Steemit and still trying to get ahead. We are a CLOSE KNIT community of individuals, each with our own strengths, passions and input, yet ALL willing to go the extra mile for our family members... WHY? - because, simply put - we CARE about one another and MANY HANDS make light work! - THAT is what FAMILY is about! - To infinity and beyond...
Interested in joining the Steemit Bloggers Community?

INTERESTED IN SUPPORTING CURATION INITIATIVES?
@theluvbug regularly supports the Steemit community with upvotes and resteems of great content which is really adding value to this platform, but in order to grow and be able to offer MORE SUPPORT, @theluvbug needs your help - with upvotes and resteems of the latest curation announcements on that profile.