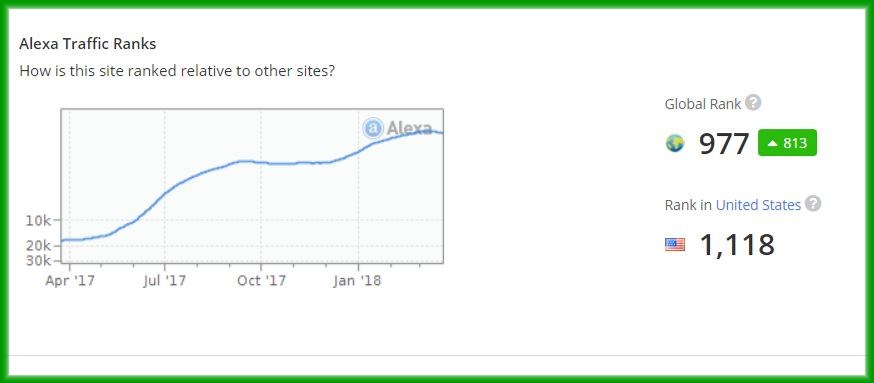 Hi Everyone,
Steemit.com has made its place at 977 with a continuously growing rank globally and 1118 in the U.S at the time of this post.
We should know that this is not the complete steem network traffic, there are few other websites that are associated with steem network.
The number of users has massively increased in past few days as compared to reddit.com which is listed at number 6 on global ranking and its a great achievement.
Why I promote steemit?
The country on earth where I live, allow people to live a low budget life in less then 4$ per day. And most of the places in the world in 2018 doesn't provide much potential to the content creators, writer and bloggers to present their work to proper platform. But steemit allow people to do so with the national and social barriers. So i Love it and usually i promote it. I carried out 1 2 week program in start of this month and let people in my community know about steemit, I am very positive that the reward pool should be distributed to each and everyone who deserve it and I told everyone about the beauty of this platform.
The popular youtubers in my country are unable to make a single penny sometimes because of paypal availability issues and there are many of the facts that i can compare later, but the core line i use to let people know about steemit is that, Focus on the creation of quality content and leave the rest on the audience, No need to manage users and payments just let the time and audience decide if they like your work or not, This is called real content creation rather then managing advertisements for your blog and setting up thousands of affiliate accounts.
I tell everyone to be part of this decentralized network rather then being part of strictly monetized platform where, if your do a single violation the earning of your all posts or contents will vanish away.
Here, the audience decide whether by upvoting or downvoting, which will never ever impact your reputation or earning on any other posts.
Ask all your social media friends to join steemit and let the world know about this great place.
Please resteem to support.