This post is supposed to be my weekly weigh-in post but as I only lost .1 pound and have to burn 19 steem in promotion, that money is better spent on something else. I will burn 20 steem, cause really, what is .1 pounds. Instead of promoting my failure I'm going to promote something positive and fun for this awesome network. So for the 20 steem, here are twenty reasons that steemit is awesome.
1.) You can work in your pajamas, or underwear, or, if you really wanted to naked. If you do make sure you cover the webcam on your computer. And yes, I am clothed right now.
2.) You can work from anywhere that has an internet connection. I use the internet on my phone, so if I bring my laptop with me, as long as I get a connection, I'm good to go.
3.) It has introduced my to cryptocurrency and some of my picks have gone up 5x from when I started. I feel like Axe from Billions :p.
4.) An overwhelming amount of comments from people are positive.
5.) I have made money from writing about video games!
6.) You can help strangers or if you bring people on, friends and family, get paid for their work.
7.) It is 100% free to join, use and make money from.
8.) Content creators are getting reward. WOOOOOOOOOOT.
9.) @papa-pepper fun survival game.
10.) The owner, @ned, seems like a really cool guy who even commented on a limerick I wrote about him.
11.) Everyone, including Steemit INC., is holding the same currency, steem, so we all want to see it do well.
12.) A dollar of steem today could be worth 2, 5, 10, maybe even a 100 dollars of USD in the future.
13.) The amounts are in USD. I am from Canada and right now, when I see American, I can add about 30% to that.
14.) Curation rewards. I am starting to see some and if I get to a higher amount (and steem gets to a high enough value) that, in it by itself, can be a full time job.
15.) You can send money to anyone on the site, around the world, in seconds, for free.
16.) The puns! Watch steem rise. I'm out of steem. And since it rhymes with words like dream and team, I can say cheesy things like steem is a dream and go team steem!
17.) Since I've been getting paid in cryptocurrency and now know about them, I feel super smart and cool, like the guy from Mr. Robot. I can throw out words like bitcoin and blockchain in conversations :p
18.) The awesome support for new users by @curie. I know they helped me a lot.
19.) I can blast music or watch television as I work. You do that at another job and all of a sudden you are 'unprofessional' :p.
20.) It really wasn't that hard to come up with 20 reasons this site is awesome and the list can keep going. Like the fact they use words like hero and superhero on their distribution page and I am hero. Or the friendly people I have met. How easy it is to say good things about this site is awesome in itself.
Any more points you want to add? Let me know in the comments.
YAY STEEMIT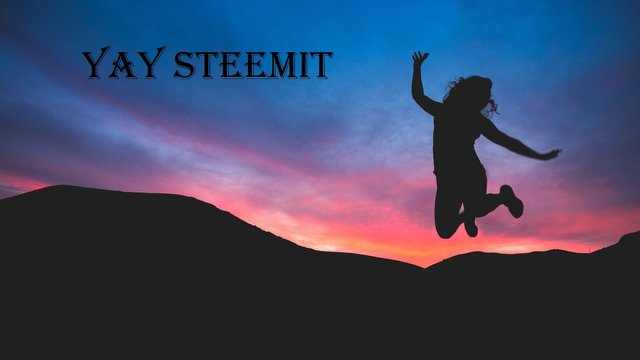 *my upvotes/rep disclaimer: https://steemit.com/steemit/@whatageek/my-steemit-account-where-i-stand-on-bots-self-votes-and-multiple-account