WhaleReward 2 weeks - New Logo And Updates
What is WhaleReward?
WhaleReward is a curator of original high quality conten written in English on Steemit.
WhaleReward is manually operated by @janusface.
How can you use WhaleReward?
You can send 1-3 SBD, and I will check out your post when I am available. No upvote is guaranteed, but if it is good, original and worthy of a Whale Done!, I will upvote the post.
If you are not sure if your post is original and of high quality, please do not send the SBDs.
Thanks to @orcheva WhaleReward has a new logo!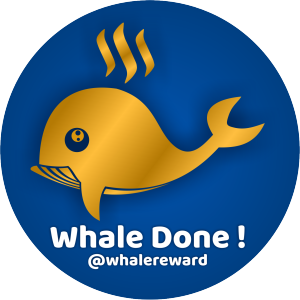 It is gold to be made at WhaleReward!
Some updates:
My early supporters have probably noticed that WR has delivered returns on your investment (ROI), by far better than any comparable service on Steemit.
However, going forward WR would try to find a middle ground so that the service becomes more sustainable in the long run, i.e. win-win.
WR has grown a lot and has 66000 SP delegated.
The new tentative upvotes are as followed:
Minimum to send: 1 SBD (upvote 1.5-2 SBD)
Maximum to send: 3 SBD (upvote 4.5-6 SBD)
WR believes in a certain amount of human randomness, so some big surprise upvotes are to be expected!
WR will comment if WR comes up with something that contributes of value to the post.
WR will occassionally resteem worthy post.
I am also thankful to all the extremely talented people on Steemit.
No doubt that the smart people are on Steemit!
How can I contribute to WhaleReward?
Donations to the project are welcomed.
Delegations are also welcomed.
I am also open for constructive feedback.
Thank you for your time and attention. Whale done and Steem on!