STEEM, Steem, Steemit - confusion clarified ...
Today some discussion occurred about the definitions / terminology (or perhaps rather like a jargon) used on Steemit a lot. The confusion I've had prior to that was due to the usage of upper / lower case letters, which I was not paying attention to. It was pointed out by @taskmaster4450 and thus clarified.
However I have done some further research on this matter after that, which I've decided to post in here (to avoid making my reply there too lengthy). As can be seen from quoted examples below, often both lower and upper case letters used for the same meaning (of crypto coin / token). although not always and not everywhere apparently. that's why it is somewhat confusing.
---
https://coinmarketcap.com/currencies/steem/
(word "Currencies" used here - not "social networks" :))


Steem (STEEM) - both lower and upper case letters used
Tags: Coin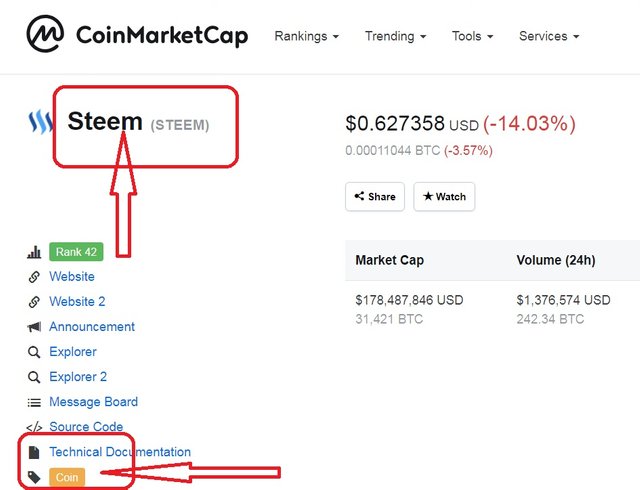 while here upper case letters word is used in phrase "STEEM blockchain"
Mar 15, 2016
STEEM is a cryptocurrency token, while Steem Dollars are pegged to the US dollar... (source)
May 2, 2016
... new system of using social news services, blogging and social networking to use a cryptocurrency that they call Steem to generate profits... (source)
04 May 2016 ... New York-based company uses a new cryptocurrency called Steem to reward users who post content... (source; also here, 05 May 2016)
Sep 21 2016 Ned: "... a built-in Cryptocurrency, it's called STEEM" (source)
Сryptocurrency Steem (STEEM)
Field of application: Service token (source)
Steem (STEEM)
Steem is the fundamental unit of account on the Steem blockchain. All other tokens derive their value from the value of STEEM. STEEM is a liquid currency, and therefore can be bought or sold on exchanges, as well as transferred to other users as a form of payment... (SteemWhitePaper, page 8)
The fundamental unit of account on the Steem platform is STEEM, a crypto currency token... (page 6)
STEEM is the base liquid currency token in the platform (Steemit FAQ)
authors who get upvoted can receive a monetary reward in a cryptocurrency token named Steem and US dollar-pegged tokens called Steem Dollars... (source)
Larimer developed the blockchain technology Graphene, which powers BitShares and the Steem token cryptocurrency. (source)
Steemit is a new social media platform built on the Steem blockchain...
Underneath the hood of Steemit.com there is a tradeable cryptocurrency token, called Steem (source)
etc etc etc
---