iPhone 11 Pro Max Review - I have gone full on Apple Fanboy! [Updated]
About me:
I have been a tech nerd, computer geek, hacker for the better part of my life but have always shied away from Apple products as I felt they where too expensive for what you got. Then in December of 2018 that all changed when I tried out the iPad Pro 11" 2018 and fell in love. I bought it on the spot along with the Apple Pencil 2 and Apple Type-cover. Then in January 2019 I got an iPhone 6s and Apple Watch (Series 4). Then I bought a used 2012 Macbook Pro Retina (13") with the top of the line (in 2012) processor - I have since upgraded it to the max.
Then today, September 20th, 2019 (Official Release Date) I traded in my iPhone 6s 32gb for the iPhone 11 Pro Max 256GB in the new Black Matte finish and here are my thoughts!
Pro's
Absolutely insane Camera's, AI enhancements, Night Vision!
Fast as all hell, most apps (even very large games) open Instantly!
Night Mode (Hell Yeah Brother!)!
Insanely good OLED display that even though is still 60 Hz Refresh it feels much higher, even moving things around rapidly they are still crystal clear and text is still readable!
iOS 13 is DA BOMB DIGGITY! Like seriously it is so much faster, smoother and cleaner looking than Android!
The Integration - I love having all my Contacts, Bookmarks, Photographs, Documents, Apps, Games, etc. seamlessly and automatically SYNCED between my Apple Watch, iPhone 11 Pro Max, iPad Pro and MacBook Pro - even my Android stuff is Synced across all the devices thanks to Google Drive and Google Photos!
WiFi 6 - Much faster than any of my other devices for WiFi bandwidth speeds - even when on the same network!
Dual Sim - Physical Nano Sim and eSim support!
1 Year FREE APPLE TV+ (with purchase of most Apple Products)
Apple Arcade only $4.99/mo!
Apple TV+ (New Service) only $4.99/mo!
Apple's iCloud not only backs up your Photos, Contacts, Messages it backs up ALL YOUR APPS/GAMES and the data too!
Wireless Charging!
Bi-Directional Wireless Charging (you can charge your Airpods from your iPhone wirelessly by laying them on the iPhone!
4 GPS location systems built in! A-GPS, GLONASS, GALILEO, QZSS
Built in Compass and Barometer!
Spacial Audio and Dolby Atmos!
20 Hours Talk Time - 80 hours Music Playback!
All 5 cameras (3 rear and 2 front) can shoot 4k video @ 60 fps - the three rear cameras can do 4k slo-fies at 240 fps and the 2 front cameras can do 4k slo-fies at 120 fps! This along with all 5 cameras being perfectly color matched and utilizing 100% of the sensor to focus allows you to Zoom In/Out (switching cameras in the process) while recording at any resolution (up to [email protected]) with no color changes or focus lost - even while you are moving the camera or the scene itself is moving!
Sample Video I shot showing the Rear Camera's in Action! Filmed at 4k/60 fps using all 3 rear cameras as I zoom in and out while moving - If you turn up the volume you can even hear the Microphone filter out the other ambient noise when it is pointed directly at the white semi closest to me (my truck)!

Con's
Freakishly Expensive ($1249 for the iPhone 11 Pro Max 256GB) + $60 for a good case with 30 foot drop rating!
Considerably heavier than my LG V40 even though they are nearly identical size and thickness!
Still has a farking Lightning Port - like seriously how about USB-C already!
No Headphone Jack
No Expandable Storage (SD/MicroSD)
Only 18 Watt Fast Charging (many other phones are 28 Watts or higher now)!
Overall Thoughts
I have only had the device a few hours and have already upgraded from iOS 13 (Release) to iOS 13.1 Developer Beta 4 and am still in the process of Restoring everything via iCloud Backup from my iPad's iCloud Backup. However, even with tons of stuff going on in the background I was able to test the device and see it is blisteringly fast. I took numerous pictures at the truck stop I am at IN THE DARK and they are below along with some Benchmarks I did on the iPhone using GeekBench 4! It is a very solidly built device, it is absolutely beautiful and easy to hold an use and I am in love with this phone already!
Benchmarks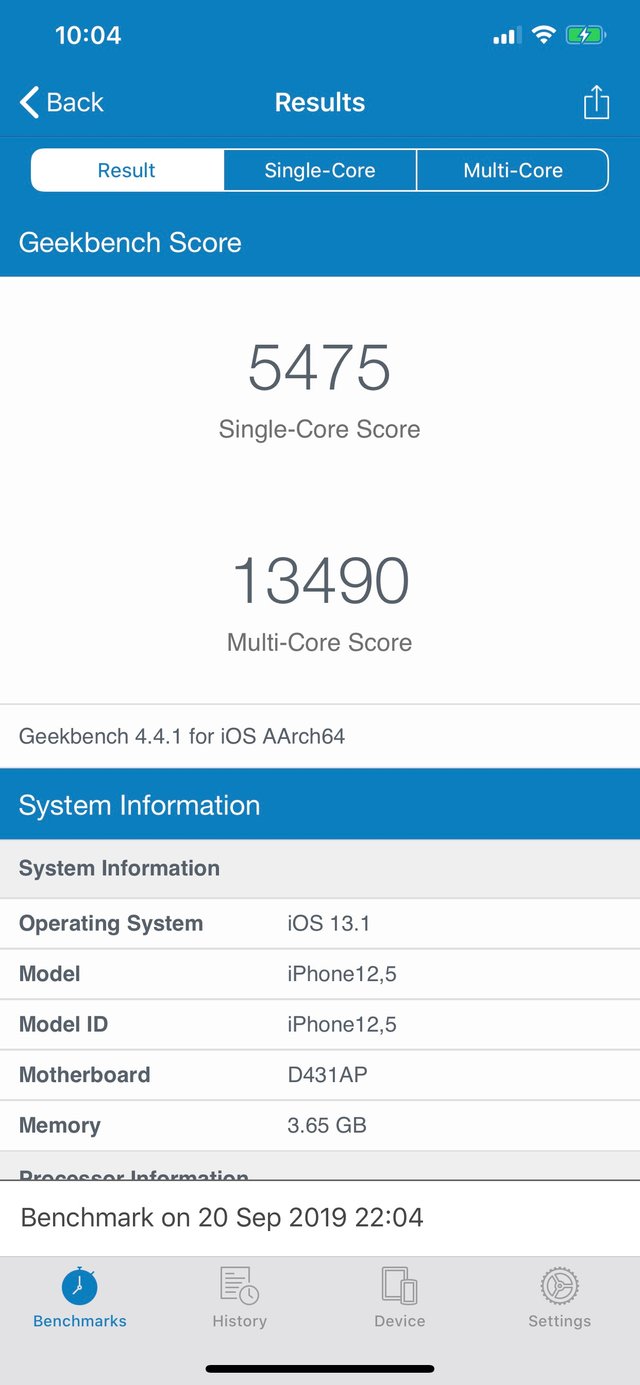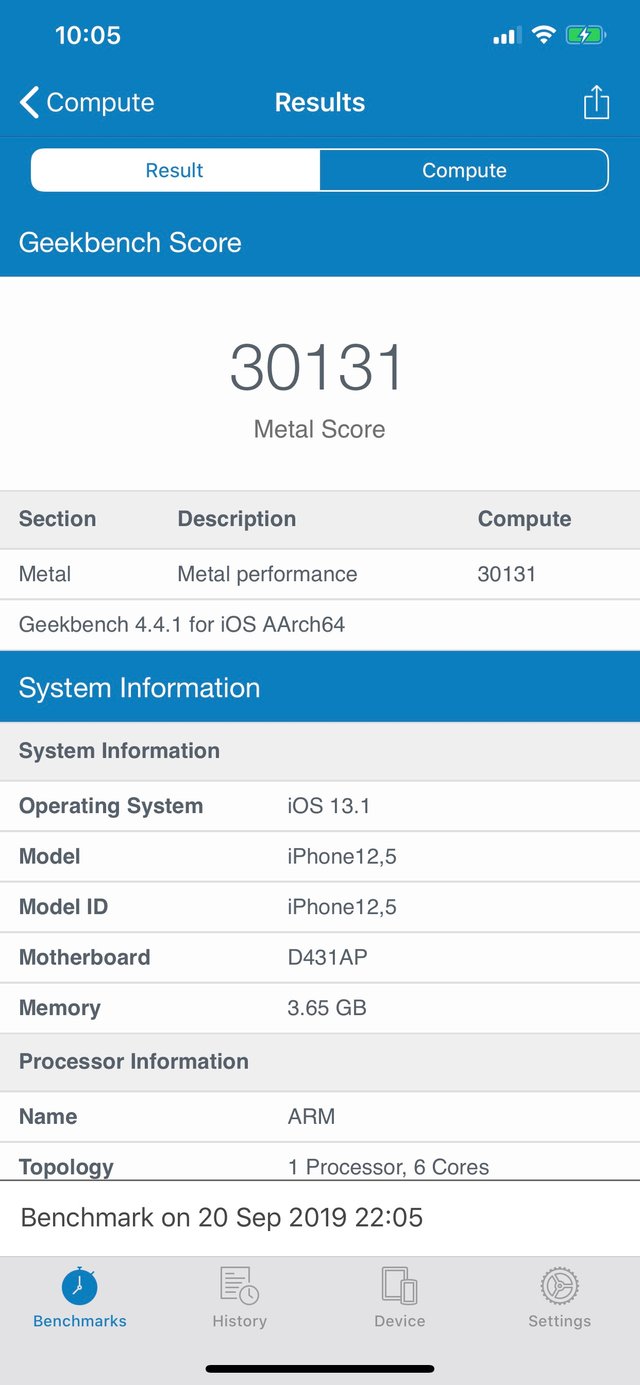 Sample Photos
Front Camera Pics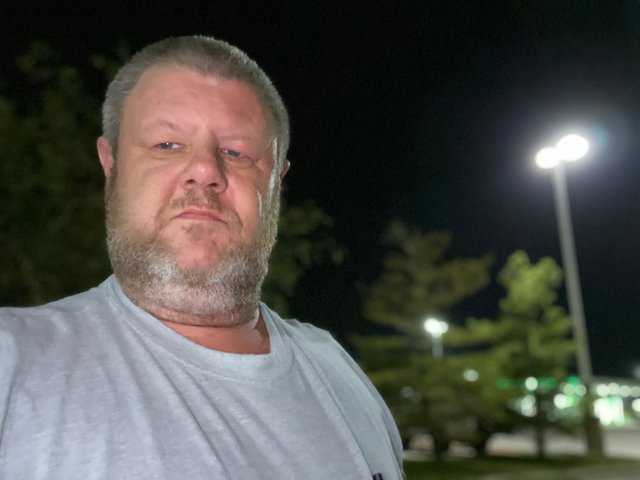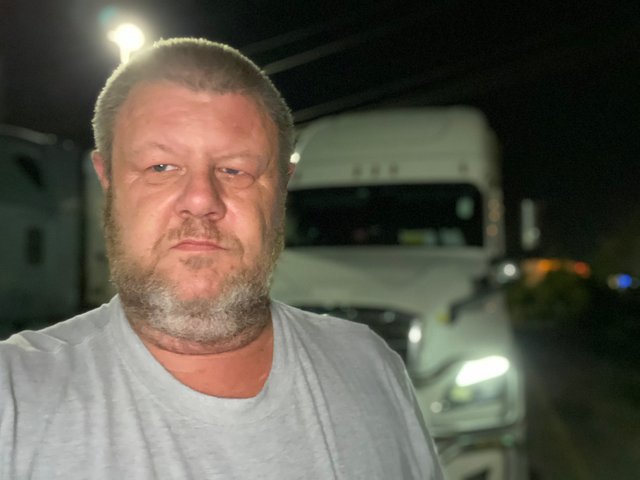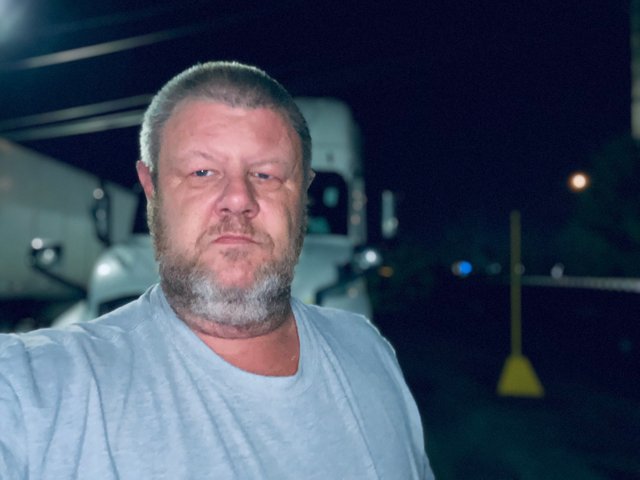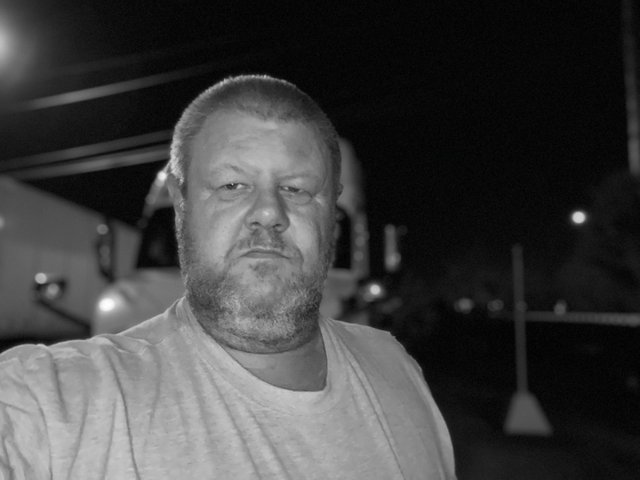 Rear Camera Pics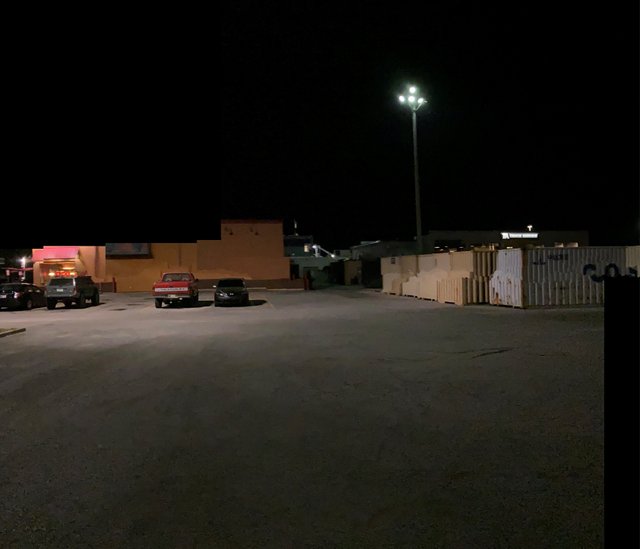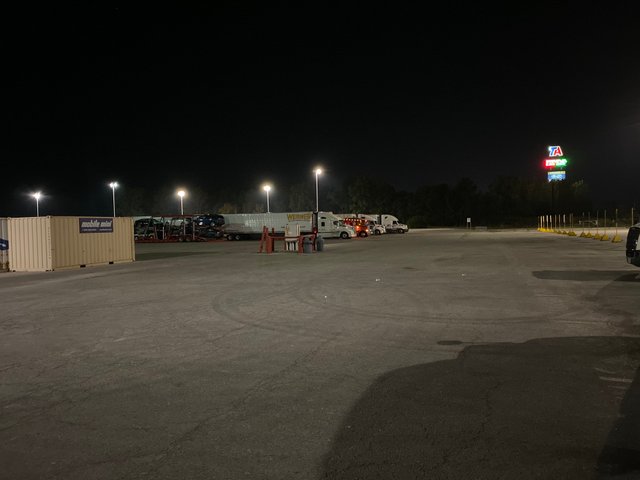 Conclusion
Personally I think this might be the best phone ever made and is absolutely one of the best Camera's ever made! I will post another Long-Term review in a few weeks but I don't think my opinions of this phone are gonna get anything but better with use!