Interview with Stephen P Kendal, Investment Expert on STEEMIT, DMA Mapping Buy Alerts & 2018 Cryptos - DTUBE Version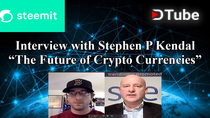 ---
DTUBE Version Interview Summary
Today I am interviewing a financial wizard, and crypto currency expert @StephenPKendal. We discussed the future of crypto currency, and the potential of block chain technology to transform society. We discussed how the biggest bubble int he world is the corrupt fraudulent system that has failed and is going to be replaced by the blockchain technology coming forward.
We discussed Smart Media Tokens and how they will be integrated from the STEEM coin which will drive up the price of STEEM dramatically. We both agree that a STEEM coin price of $17 or higher by June is a likely possibility. Also that a STEEM price in the hundreds is not a far fetched idea either as it is the future of social media and the steemit blockchain is the fastest and the biggest in the world.
There was a discussion of how BitCoin Futures is really "BitCoin Bananas" and a complete fraud which will be exposed.
Also discussed were Stephen's really unique "dma Mapping" buy alerts, which I personally have used to make money trading crypto currency. So I would follow him on Steemit (link below) for these updates.
Stephen has launched a steemit promotion group called Steemit Ambassador and the video for that launch is here: https://steemit.com/promo-steem/@steem-ambassador/video-this-is-promo-steem-explaining-what-promo-steem-is-our-ethos-and-what-s-coming-next
Video: https://youtu.be/w1IvGO_Rqr8
You can connect with my guest Stephen with the links below:
Steemit: https://steemit.com/@stephenkendal
Steemit Ambassador: https://steemit.com/@steem-ambassador
Twitter: https://twitter.com/StephenPKendal
YouTube: https://www.youtube.com/user/skendal1066
Thanks again to Stephen for dropping some serious financial knowledge today, and please follow him for more information.
Huge Thank you for watching this video on DTUBE! If you are watching this on DTUBE then you are the awesome leaders of this new social media revolution. I thank you for voting with where you view!
Help me out by up-voting and re-steeming this and or by making me an Independent Journalist by funding me on Patreon with monthly support. My Patreon

Don't forget to follow me @TitusFrost for more of my work coming in the near future...


You can also connect with me on:

Be like Marty McFly and Donate Crypto to me via:

Bitcoin: 1No8uLp6VYLNKNggSteHt3w4LzeMkq2PoJ

LiteCoin: LQeFWvanKSezZqtDRukg11ZciHQDoQQ5Qb

Mine Crypto Yourself easily with Minergate: https://minergate.com/a/6a4315d4a78d9204197c9bb6

Join CoinBase (buy and sell crypto currency for USD / fiat currency): https://www.coinbase.com/join/57f28268eac8836245661769

---

▶️ DTube
▶️ IPFS