Hi guys and girls, today I wanted to introduce you to @promoted - a bit different voting bot.

---
You might seen my previous post: proposal to change Promote mechanic that can be basically summarized with one image: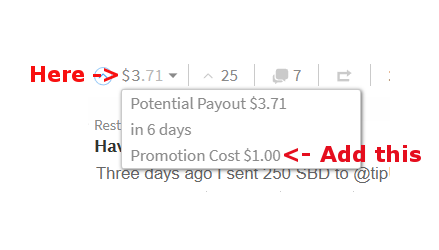 But great comment by @lukestokes under this post showed me that there are better solutions to this problem. Of course the conclusion is the same - Promote needs some serious upgrade.
---
Before that happens though, the community already found a way to make Promote functionality more appealing. It is the @promote voting bot - it upvotes every post that uses the Promote functionality so the author can get something in return for burning his SBD. And burning SBD is important because it lowers the SBD supply thus making it more valuable.
---
The idea is that if someone burns 1 SBD for Promote, the @promoted upvotes this post with power of 1 SBD. Sadly, it's not as powerful yet. For every SBD burned it can give about 0.30 SBD upvote. Keep in mind that you don't have to pay anything to @promoted - it upvotes promoted posts automatically because it's creator believes that it's the right thing to do.
That's why if you have any leftovers from STEEM or SBD - just send it to @promoted so it can have greater voting power.
See you next time!