For those of you unaware - the Alt-coin NXT is currently undergoing what many have dubbed the "snap-shot phase"
Basically since July 14th - and up until October 12th, those holding NXT in the official wallet or Poloniex/Bittrex Exchanges. Will receive equal 1:1 ratio of the new coin ARDOR after the snap-shotting phase is complete.
https://nxt.org/announcing-ardor/
Although because of the snap-shotting average, if you are buying in now your average will be exponentially lower than from holding NXT at the beginning of the phase - It is however good for those who are just looking to trade NXT for profit, and receive a small amount of ARDOR for free.
The majority of my NXT was bought around 4300 satoshi's but you could easily buy and sell all the way up until the conclusion on October 12th. Of course you can expect many to get out of NXT early but the reward of ARDOR may prove worthy of holding as well.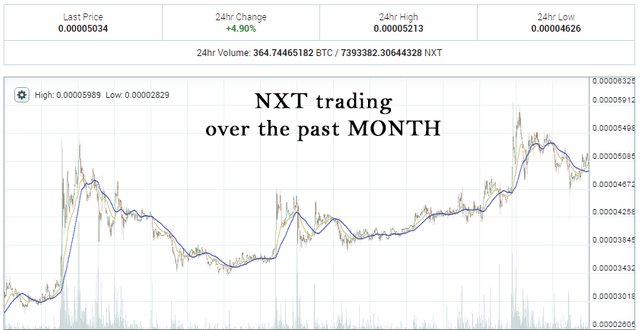 I'm not saying you're going to double your money or anything. But if you buy in now at a decent dip you are almost guaranteed to make a profit AS LONG AS YOU'RE NOT GREEDY AND PICK A DECENT EXIT. Don't take my advice though but if you have BTC just sitting around it might even be a good way to practice trading for the next month or so. Good luck.