The simple way to earn with us; be part of us!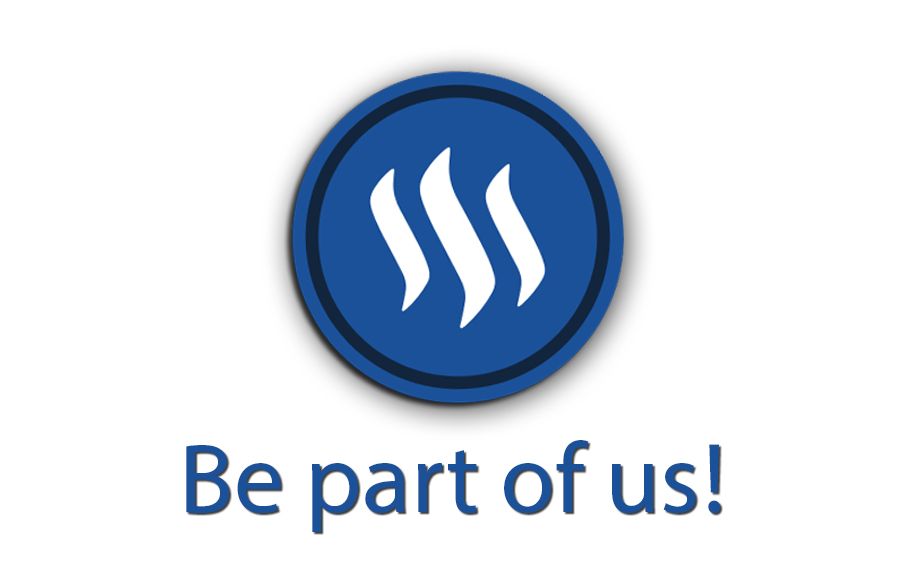 Hello everyone,
Almost everyone on Steemit want to get popularity, grow and earn more power through their posts in order to get success on the platform.
As the Steemit community is growing, getting visibility for our content is becoming difficult, so we give an opportunity to our users to get visibility for their posts.
Visibility is the key to get rewarded for our work and also the way through which we get more followers , comments on our posts & upvotes for our content.
The people with some steem power who invested in this block-chain, also want to get good profit from their investment.
We not only give them a reasonable profit for their investment but a comfortable choice to leave us when ever they want.

So, How to earn with us?
You can earn both as a customer or as a supporter.
The first service is for our customers; we give them visibility through our paid upvotes. One have to take part in bids to get an upvote from our bid bot, @thebot. Thebot receives bids & gives upvotes after every 2.4 hours.

The second service is for our supporters/delegators. Anyone who want to earn through his/her Steem Power then we give them back a good profit on daily basis. If you are ready to delegate us some of of your Steem Power, then we offer 97% of our daily payouts rewards to our delegators.

Benefits of delegating SP (Steem Power):
Its a safe and comfortable way of earning money through your investments/Steem Power.

You don't have to do anything except delegating and then your will receive daily rewards onward, so one can earn a regular income through delegating some SP.

You will have full control of you delegated Steem Power so whenever you want to leave us to use it any other way then you can leave by only some clicks.

Why to delegate us?
Because,
We are giving 97% of our daily rewards profit to our delegators.
We only get 3% from daily rewards for our services.
We are already listed on steembottracker.com.
We have more than 12 delegators right now & we are getting more supporters.
We are growing very fast, so if you want to earn more, be part of us!

How to delegate Steem Power?
There are some simple ways to delegate Steem Power.
1.
Click on this link and write your steem account name here.


And on next page don't hesitate to write your account name and active key if not written already because steemconnect.com is the trustworthy source many steemit apps like busy.org are using. click on continue to complete the process.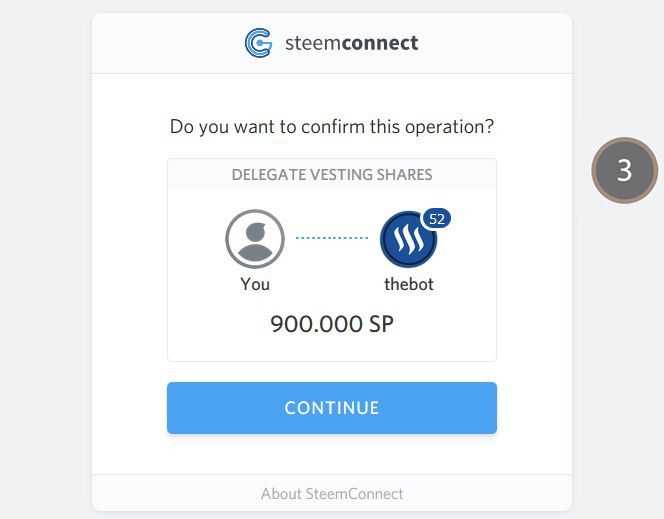 ---
2.
Click on this link and fill the form according to the screen shot below click delegate button and then click on continue on next page of "steemconnect.com".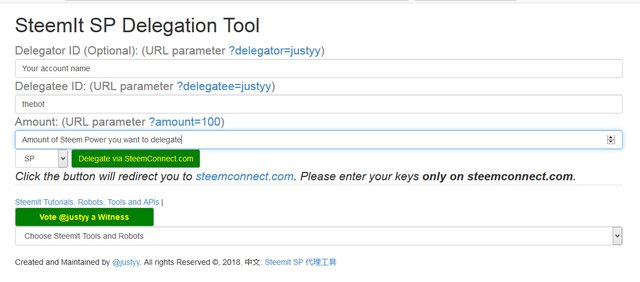 ---
3.
It's actually the same process through same source (steemconnect.com) repeated in both other ways but we have to take a look on it because once we have dlegeated some one and now we want to update (increase or decrease) the delegation amount then we should use it because updating delegation is more easy through it.
You have to just edit this link mentioned below. delegatee neme is thebot because we are delgating to @thebot but if you want to delegate someone else other than thebot then you have tor replace thebot with that account name. The amount of Steem Power we are delegating through this link is 1000 SP but we can change it to 50 , 100 , 5000 or any other amount we want to delegate to @thebot.
https://v2.steemconnect.com/sign/delegateVestingShares?delegator=&delegatee=thebot&vesting_shares=1000 SP

How to update delegation?
If we have already delegated some Steem Power to an account or @thebot and now we want to increase or decrease the delegated SP then we redelegate the new amount. I mean if we already delegated 1000 SP to @thebot and now we want to delegate more 500 SP then we have to delegate total amount and its total amount is 1500 so we will edit 1500 SP in the link above. If we mistakenly delegated 500 SP then only 500 SP will remain delegated to @thebot and remaining 500 will be undelegated, so be clear that if you want to increase or decrease the delegation amount then rewrite the total amount you want to delegate.
If you want to undelegate you SP then you have to replace 0 SP to 1000 SP in the link mentioned above but un-delegation always takes 7 days period.
---
We are trying to improve our services so if you have some suggestions for improvement then feel free to comment.

Thanks a lot for reading this post, You can help us by delegating some Steem Power, resteeming & upvoting this post and inviting your friends to use our service.

You can also join us on our Discord server.
To get 97% daily profit share, please delegate US!
10 SP, 20 SP, 30 SP, 40 SP, 50 SP, 75 SP, 100 SP
150 SP, 200 SP, 250 SP, 300 SP, 400 SP, 500 SP, 750 SP, 1000 SP
5000 SP, 10,000 SP
Fill in any amount of Steem Power or click here.
---
Note: Leave at least 15 Steem Power in you own account.
---
Resteem it to your followers!
Feel free to comment & give us suggestions for improvement. Thanks ♥