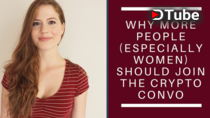 ---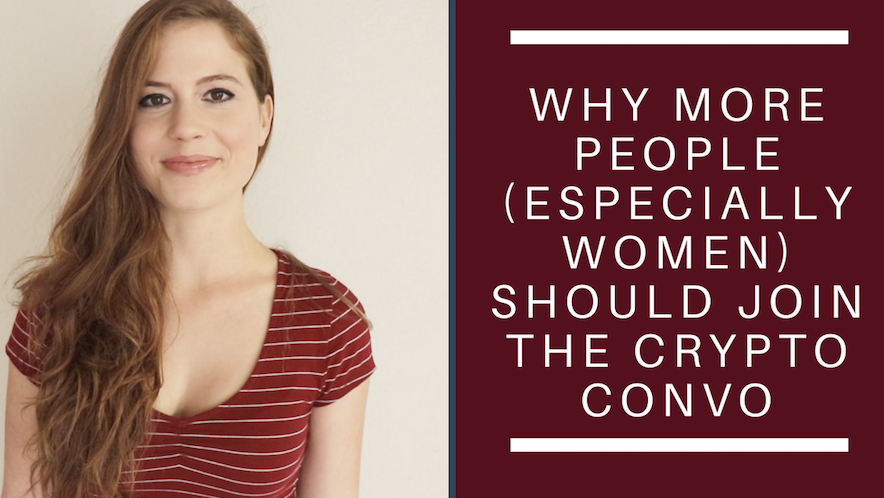 Matthew, @liveyourdream made a comment on my first post welcoming me & stating how I should check out Jane, @paolajane 's feed because he thought even more girlpower on crypto in Steemit would be nice. Her profile is amazing, but it also got me thinking:
How can we encourage more people to join Steemit and the crypto world, especially females?
When I am in public and talking about cryptocurrency (often it is at the gym), a stranger will chime in and say, "You follow cryptocurrency? Me too!" I love that feeling because it's an instant bond with someone I have honestly just met seconds prior.
There is a lot of buzz around crypto, I don't believe that the hype is undeserved. I personally think that blockchain technology is here to stay & can't be ignored. The tech behind it is revolutionary & can steer us into an even better world.
It's not all sunshine and butterflies and lambos though with cryptocurrencies as it is still extremely volatile (and has been the past 2 months and multiple times in the past).
For example, Bitcoin had reached almost $20,000 mid-December and hit a low of around $7,700 at the beginning of Feb. Additionally, many alt coins were taking steep plunges.
However, if you find a coin that you truly believe in (I'm talking the mission, what it serves to accomplish, etc.), you can handle the roller coaster because you see the bigger, long-term picture.
Despite the risk from the volatility, there are opportunities especially financially for new people to get involved, specifically women.
Only 5-7% of Cryptocurrency Users are Women
This statistic came from Forbes.
As a woman who is interested in blockchain technology, I found that statistic alarming and think that there are a few problems with it:
1.) The success of cryptocurrencies does depend partly on mainstream acceptance of blockchain technology. The more people that don't see it as a threat or a bubble, like many articles claim, will only help see its adoption in our everyday life that much sooner. If we are missing a majority of a gender in this category, then I see that as an issue. I think that as time passes, people will have to adapt to this new technology no matter what, but I would like to see more women at the forefront taking advantage of all the opportunity just as males are.
2.) The gender gap additionally shows that women aren't perhaps receiving all information about crypto. The good thing about the media is that it can help share big partnerships with corporations and blockchain and further the excitement about this new future. However, the bad thing about the media is that it also skews people's perspective of crypto to where they don't even want to learn more because they think they have heard enough about how it is a scam, a bubble, not going to last, and a million other reasons. Essentially, we are seeing a lot of the "centralized" world spread FUD about the "decentralized" world … because I think they are yet to fully understand it. Being that a majority of people consume their media from these large platforms though, that is why I think they aren't getting all of the right information.
3.) More and more jobs are/will be opening up for people who have blockchain expertise or knowledge and it would be great to get some women filling these jobs. It's a new enough field to where women can join and grow with the industry as it evolves. Women often advocate for equality in the workforce and giving them the resources/having them take the time to understand it will help us diversify this industry even more. :)
The Opportunity
Where I see an opportunity, is to make it a point to further educate women on this changing technology world around us. To share with them the basics of blockchain/crypto, the positive impact that it could have on the world, and how to navigate this space that seems like is already too far advanced for new people to join in.
It can be intimidating to learn a whole new industry, but with a good amount of research under someone's belt, it makes everything exciting & they can take part in this next stage of the future! Not going to lie, in the beginning of my journey I was very intimidated by this topic and didn't understand because I couldn't properly conceptualize it in my head – "money that is a means of exchange but is digital and can fluctuate in a matter of hours (who am I kidding, I mean MINUTES… or seconds)?" However, I researched, I learned, & I got pretty freaking excited about it all haha. What we're seeing are real solutions to real problems.
Of course, there are women in the space and influential ones at that, but there's room for growth in the sector & I would like to do my part in encouraging that.
Crypto isn't all about investing your debt and making enough money to buy a lambo. It's about changing many broken & outdated systems out there and making them more secure, safe, and efficient.
So, coming from a woman, I encourage you to support those close to you and the women in your life to join the crypto conversation!
---
▶️ DTube
▶️ IPFS